Everything we had in Maui was so delicious (and amen for someone else cooking and cleaning up afterwards), and I can't help but think it would be so nice to be surrounded by fresh island fruit, out-of-this-world Kona coffee, homegrown root vegetables, and rum punch all the time. 😉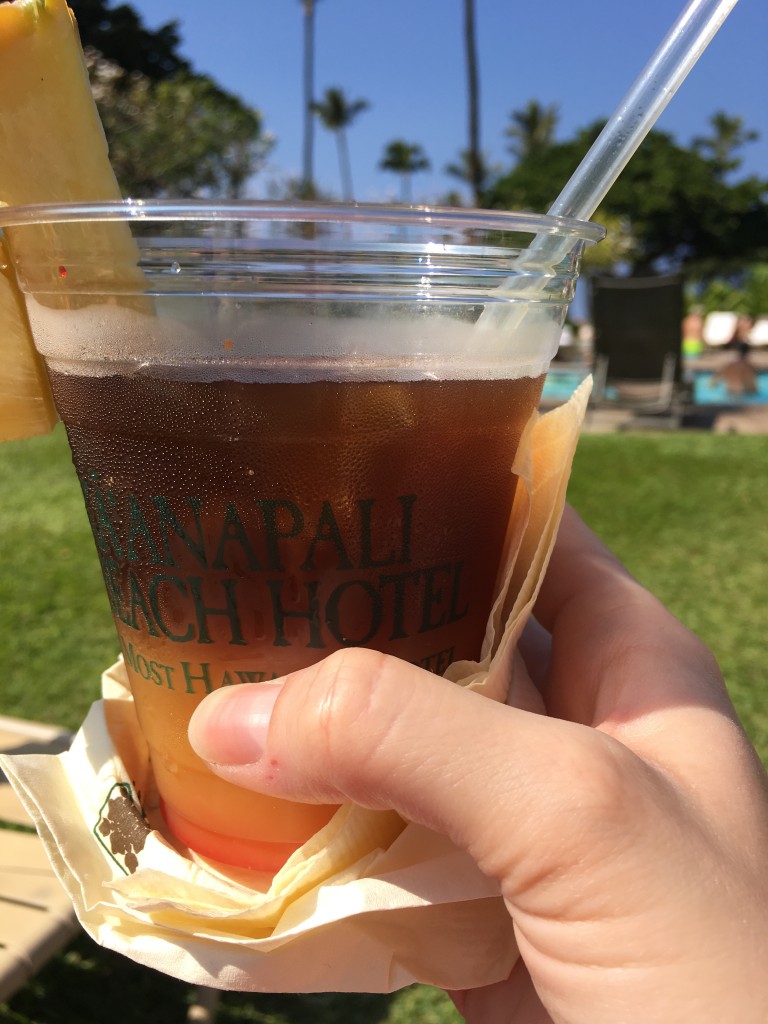 I apologize in advance for the lack of food-specific photos. I'm not a food blogger, and it's not my first instinct to take a photo of my food. I'm usually way too interested in shoving it into my face first (insert monkey covering face emoji here). I'll get better for future food-related posts. For now I'll post some exterior and other photos of the restaurants/food found online!
Since I already shared some adventures and where we stayed, here's a recap of some of the amazing things we ate in Maui!
Day One
Breakfast: Nikki's Pizza in Whalers Village Shopping Center. We were looking for a quick, easy, and filling breakfast option after getting in late the night before so we could hit the beach ASAP. This restaurant is located in the food court and nothing fancy, but it hit the spot. I had the Hawaiian Omelette which came with roasted potatoes and toast. Jordan had the Egg Burrito. The portions were insane, and though it was a bit of a wait, breakfast was served hot and fresh – no mushy fake eggs from a carton in these bad boys.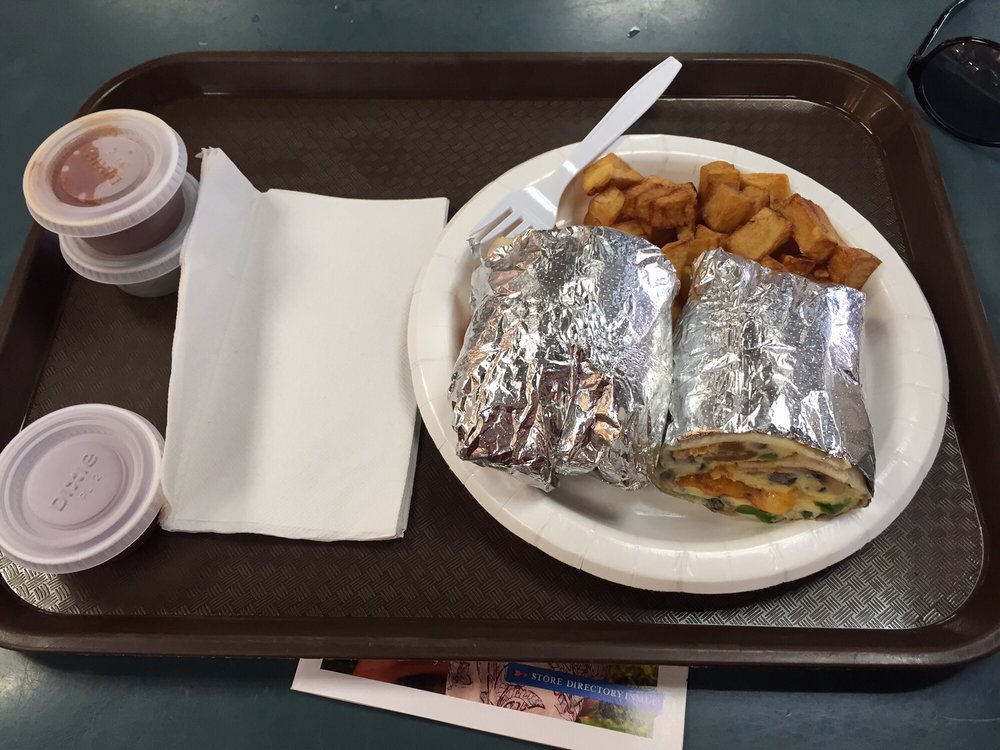 (Source)
Dinner: Old Lahaina Luau. I didn't go into all the details of the full spread when I recapped the luau, but I'll copy the menu below so you can get a full idea of the wide variety of food we were offered, not to mention the unlimited tropical-inspired cocktails (Mai Tai, Lava Flow, etc.). It was what food dreams are made of. Jordan's fave was the Poke 'Ahi and mine was the Island Crab Salad. While I loved everything, the Poi (which is pureed taro root, known for its bland flavor and disgusting texture despite its status as a long-standing Hawaiian tradition) left something to be desired.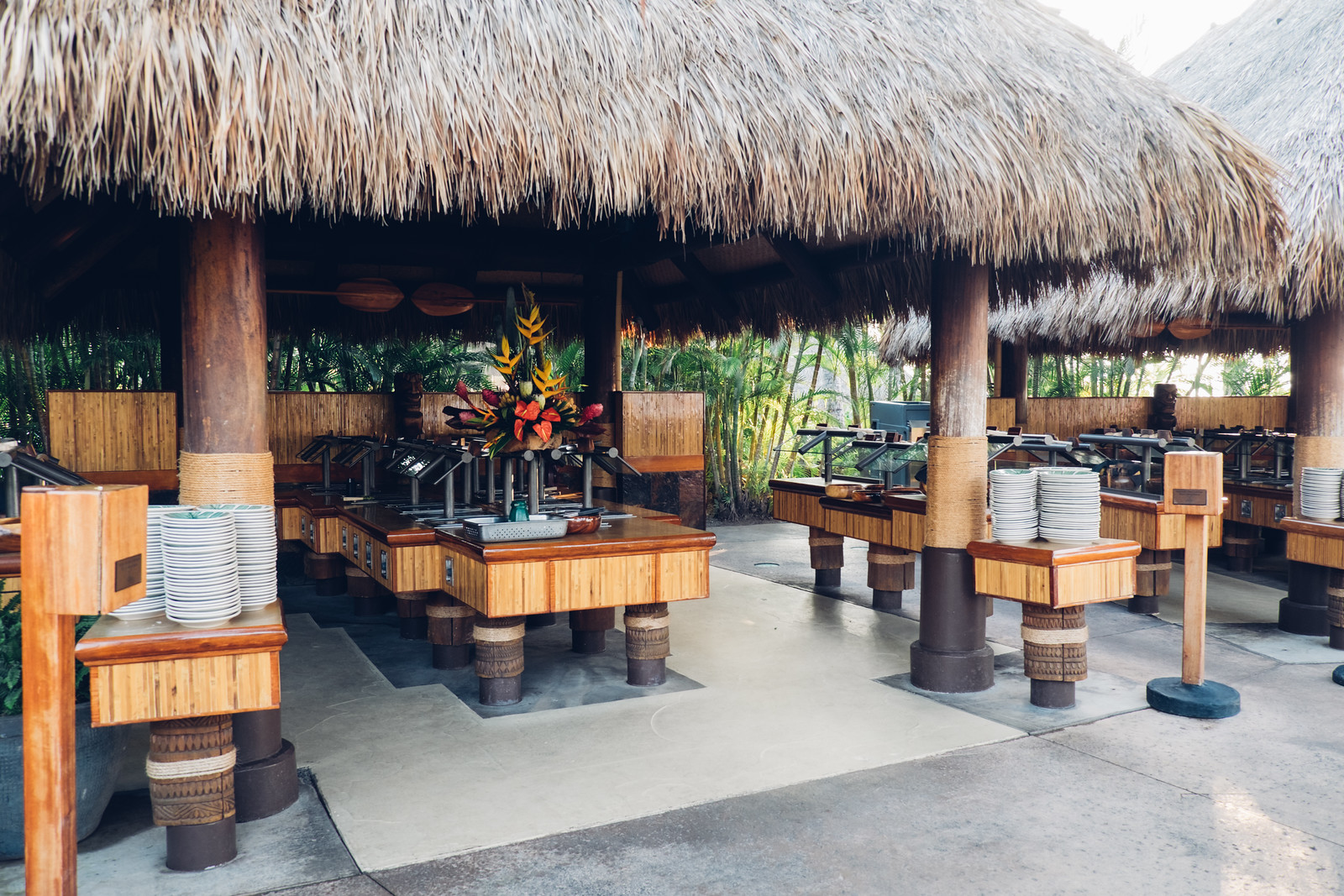 Pua'a Kalua – Pork roasted in our beachside Imu; the Hawaiian underground oven

Laulau – Lu'au leaf wrapped pork – Succulent bundles of pork wrapped in taro leaf and cooked until tender.
I'a – Maui Style Fish
Pipi Ko'ala – Grilled Beef Steak
Chicken Long Rice – Shredded Chicken, Maui onions, ginger and rice bean noodles in broth
Moa – Island Style Chicken – Chicken marinated with guava sauce garnished with fresh pineapples and toasted sesame seeds
Stir Fry Vegetables – Zucchini, Maui onions, carrots, broccoli, and sugar snap peas
Local-Style Fried Rice – Fried rice with green onions, peas, and sesame oil
'Uala – Warm sliced Big Island sweet potatoes
Island Crab Salad – Crab, shrimp and water chestnuts
Lu'au Kalo – Taro Leaf Stew – Taro and Lu'au leaf combined with creamy coconut milk for an authentic island favorite.
Pohole Salad – Fern shoots, Maui onions and tomatoes served in a vinaigrette sauce
LomiLomi Salmon – Local tomatoes, Maui onions, and salted salmon – Lomilomi or "massaged" together with Aloha
Poke 'Ahi – Fresh raw ahi (yellow fin tuna) with green onions and Maui onions
Poke He'e – Marinated cooked octopus/tako
Poi – Made from boiling and mashing the root of the taro plant
Fresh Island Fruit & Banana Bread
Passion Fruit Cake, Upcountry Lavender Lemon Shortbread Cookies, Hawaiian Chocolate Chili Pepper Brownie, and Haupia
Day Two
Breakfast: Ka'anapali Beach Hotel. When the hotel hosted their introductory presentation for guests, they also provided a complimentary breakfast buffet. It was a typical hotel continental breakfast containing the standard fare such as pastries, waffles, cereal, scrambled eggs, etc. with a few special items thrown in, like the Hawaiian meal staple of fried rice (which is apparently appropriate to serve at every meal when you're on island time – and it wasn't a bad savory breakfast option when paired with eggs).
Dinner: Leilani's. Because I'm a little obnoxious about my dining experiences sometimes (read: always), I insisted that we have at least one sunset beachside dinner. After a full day of driving, hiking and exploring during our Road to Hana adventure, we were ready to relax in some classic Hawaiian ambience to enjoy a formal seafood dinner. This restaurant is located right on Ka'anpali Beach, and our table's location had an absolutely gorgeous view (I feel so cliché saying that all the time, but it's 100% true!). I went with that evening's special which showcased the Opah fish on a bed of parsnip puree and roasted root vegetables all drizzled with Macadamia nut butter (Macadamia nuts, I learned, are another Hawaiian food treasure)!!! Jordan ordered the Hawaiian Opakapaka (Pink Snapper) with gnocchi in a lobster cream sauce which was probably one of the most delicate, delectable fish I've ever tasted.
Day Three
Breakfast: This was the day of our snorkeling adventure, so when we boarded the Trilogy boat early in the morning, we were immediately served gigantic cinnamon rolls, fruit, coffee, and OJ. They kept it light since we would be in the water swimming/snorkeling.
Lunch: Our excursion was a half day in length, so we were also served a barbecue lunch aboard Trilogy, which included legit boatside grilled teriyaki chicken (the captain grilled it himself!), the famous Hawaiian fried rice, salad, dinner roll, grilled pineapple, and mango ice cream (swoon). Then we were spoiled with two complimentary adult beverages while sailing on the open sea.
Dinner: Teddy's Bigger Burgers. Since I chose the restaurant the night before, Jordan got to choose this meal. This is a chain located on Maui and Oahu (as well as other mainland states). The atmosphere was that of a regular fast food joint, but the burger was top-notch. I had the Kailua burger (teriyaki sauce, grilled onions, Swiss cheese, and mushrooms) which was cooked perfectly and the topping combination was superb. I opted to upgrade my fries to the garlic butter version…big mistake. It was basically imitation butter flavoring with jarred minced garlic poured on top. But at least the burger made up for it.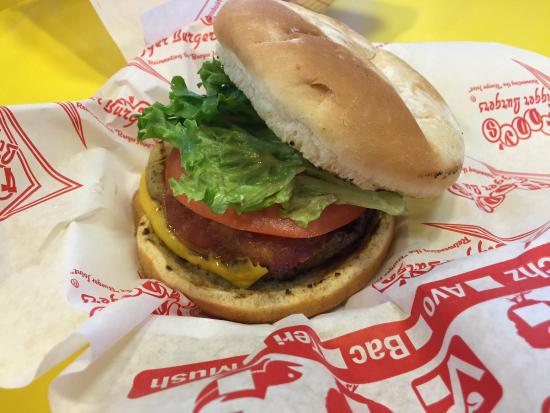 (Source)
Day Four
Breakfast/Brunch: Leoda's Kitchen & Pie Shop. We decided to stop here on our way out of Maui after hearing that they're known for more than their famous homemade pies. I ordered the Ham'n Benedict – Rye bread, duroc ham, poached Launiupoko eggs, local basil pesto, apricot-tomato jam, hollandaise sauce and breakfast potatoes. Yeeeaaahhh, it was perfection. And because I need to have a taste of everything and obsessively read Yelp reviews for the best items to order at a restaurant, I got a side order of the coconut French toast – coconut crusted bread with coconut creme anglaise. It speaks for itself. Jordan went with the Seared Ahi Benedict because he was in a tuna lovin' mood ever since we stepped foot on the island. And why not when you can get it caught fresh? Can you tell we're land-locked much?
Desserts
Banana Bread take-home favor from the Old Lahaina Luau. It was nice to have a takeaway of one of my favorite items from the buffet. It was still good when I ate it as a snack several days later.
Ululani's Shave Ice. This is on the must-do list for Maui (and Hawaii in general) and they have various locations. I ordered half Liliko'i (passionfruit) and half strawberry. It wasn't overly sweet (a good thing) and very refreshing while walking on the sun-beaten Front Street in Lahaina.
Banana Cream Pie from Leoda's. It was so hard to pick one flavor. They have a ton of options but the top picks we read on review sites were this one, Coconut Cream Pie, and the Macnut Chocolate Pie. The graham crust was to die for.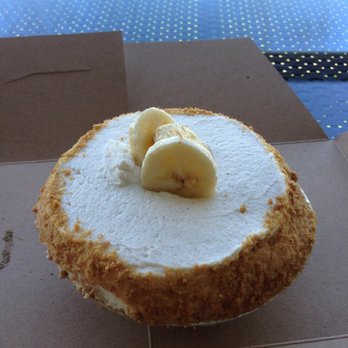 (Source)
Maui, we love you and hope we can visit again soon. In the meantime, I'll be savoring the pictures and memories.
What's your favorite thing you ever ate on vacation?