I'm finally getting around to sharing the details of our travels in late April to Las Vegas where we went for work and pleasure. Well, Jordan for work, and me for pleasure. 😉 A bunch of wives tagged along with their husbands for the same reason, and we were able to hang out, eat, and relax while they toiled away during their annual business retreat. Many of us are moms, so this was a much-needed and well-deserved break where we could enjoy each other's company and spend the days childless and carefree.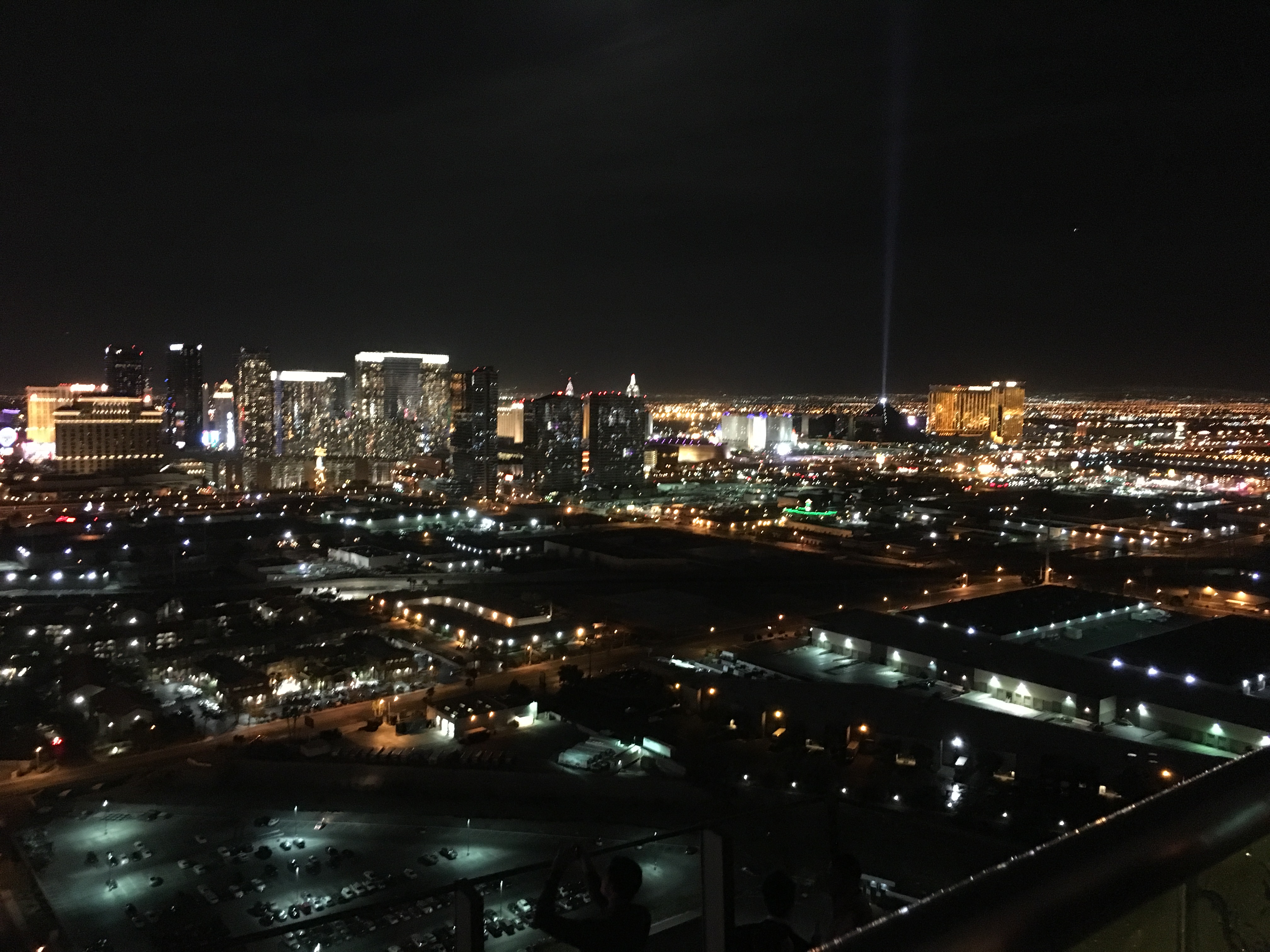 I've been to Vegas one time prior – for our honeymoon almost eight years ago. And Jordan has gone without me the past couple years for work. We spent most of our honeymoon trip checking out all the casinos, people watching, attending shows, and walking up and down the strip taking in the full Vegas experience. So this time around I didn't feel as compelled to do all the things, and instead took the opportunity to be a little more laidback and focus on having a good time with some new and old friends. This means I stayed up way too late every night and had a heck of a time getting back on schedule when we returned home. Worth it.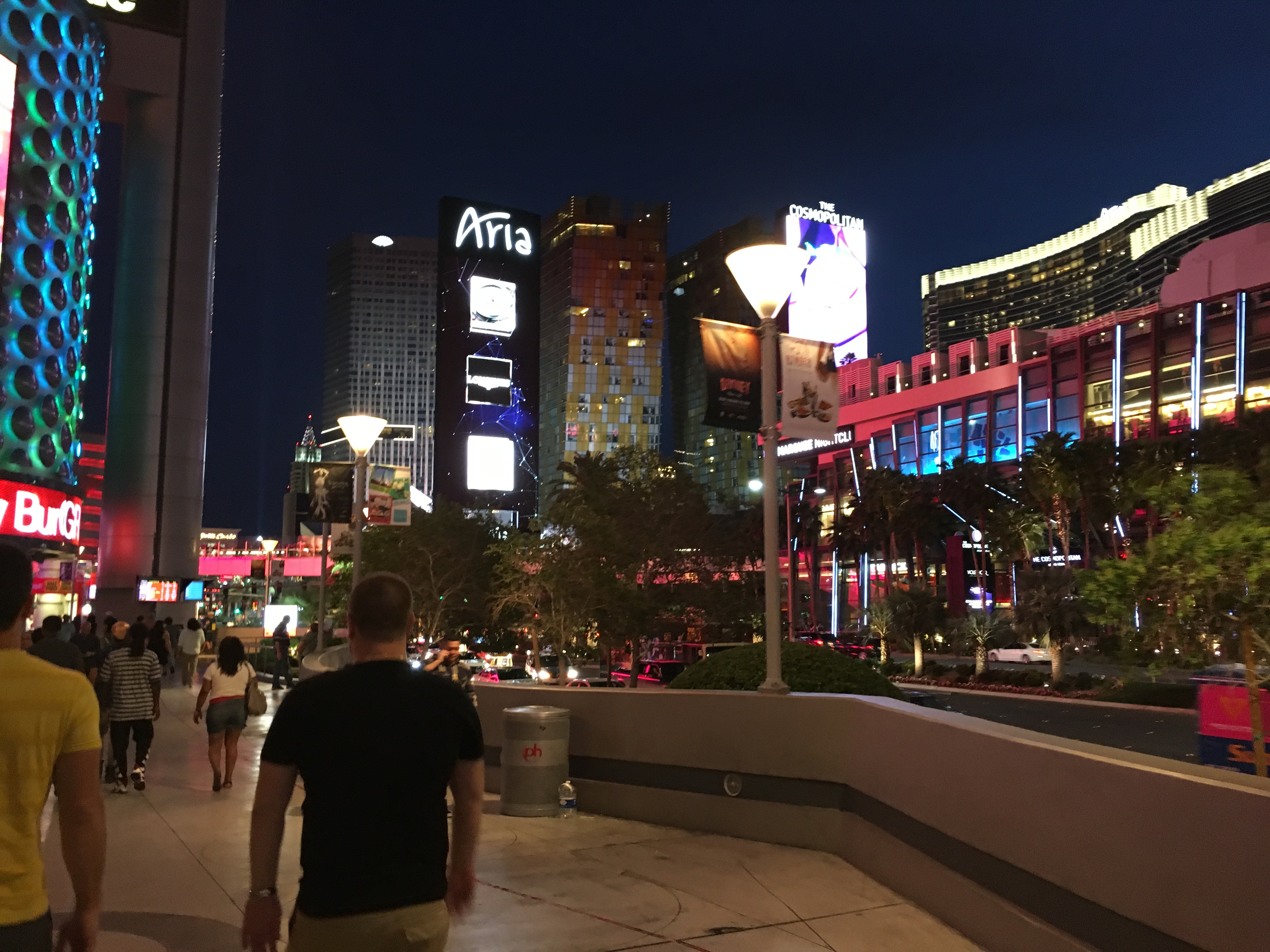 Day 1
We were spoiled by an awesome suite at the Elara with a pretty decent view on the 17th floor. The Elara connects to the Miracle Mile Shops in Planet Hollywood which is dangerous for shopaholics but also pretty darn convenient.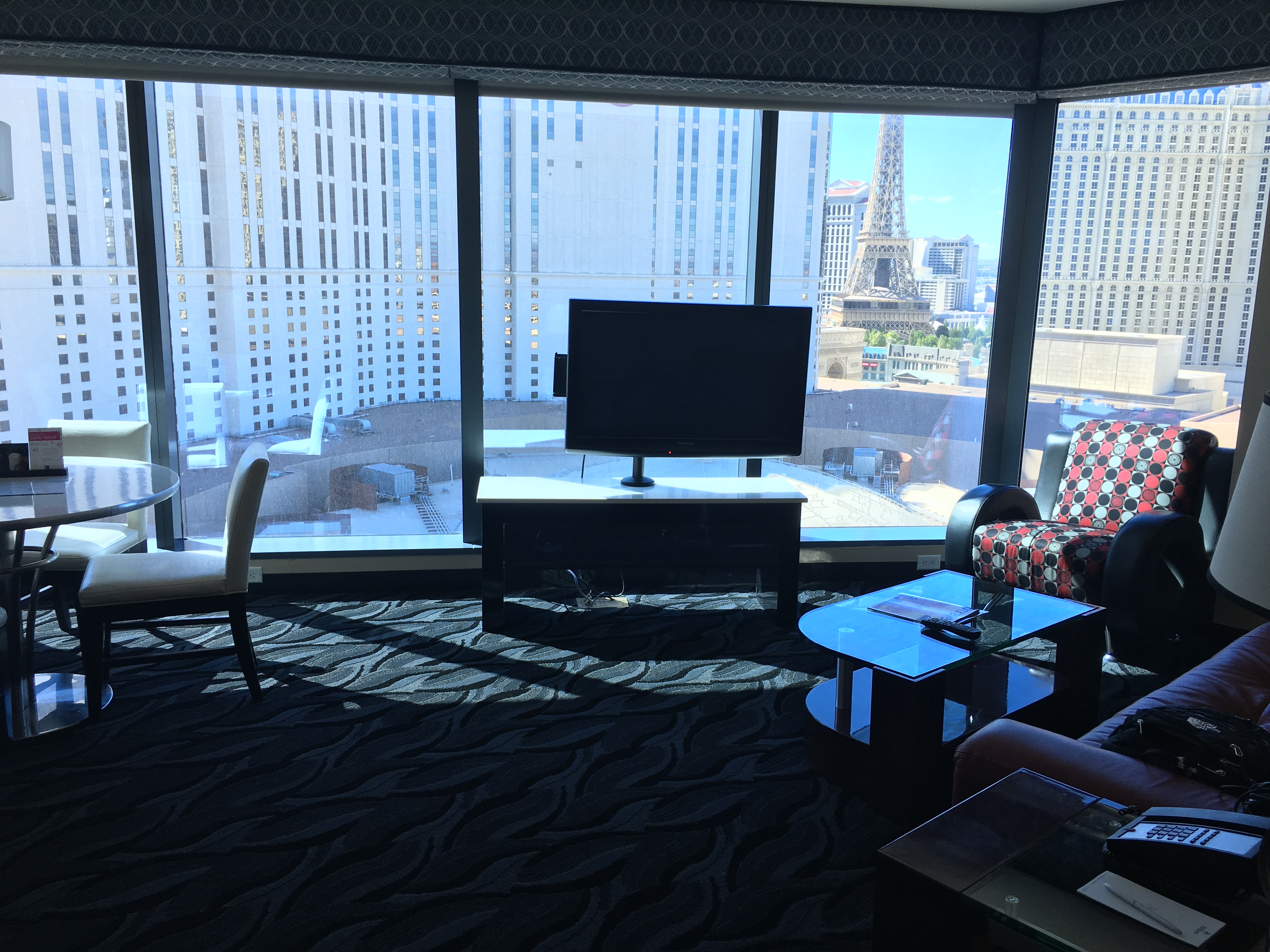 Our first night started off on the right foot with dinner at Burgr – a Gordon Ramsey restaurant located in Planet Hollywood. I love me a gourmet burger, and the Euro Burger did not disappoint with its truffle aioli, goat cheese, arugula, and oven roasted tomato toppings.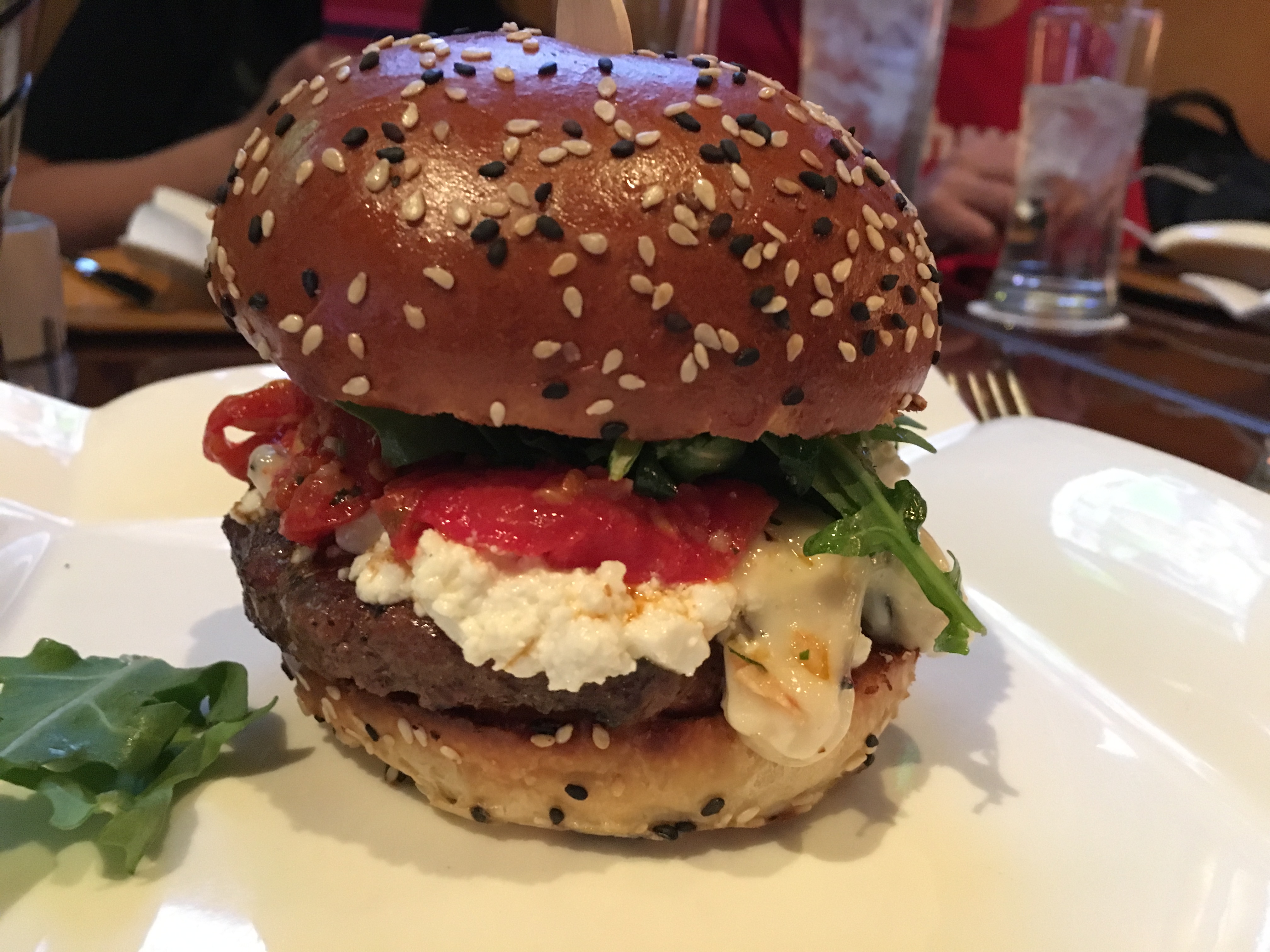 Jordan felt equally enamored with his Pig Burger – made of Mangalitsa pork, and topped with bacon, pulled pork, crisp onions and slaw.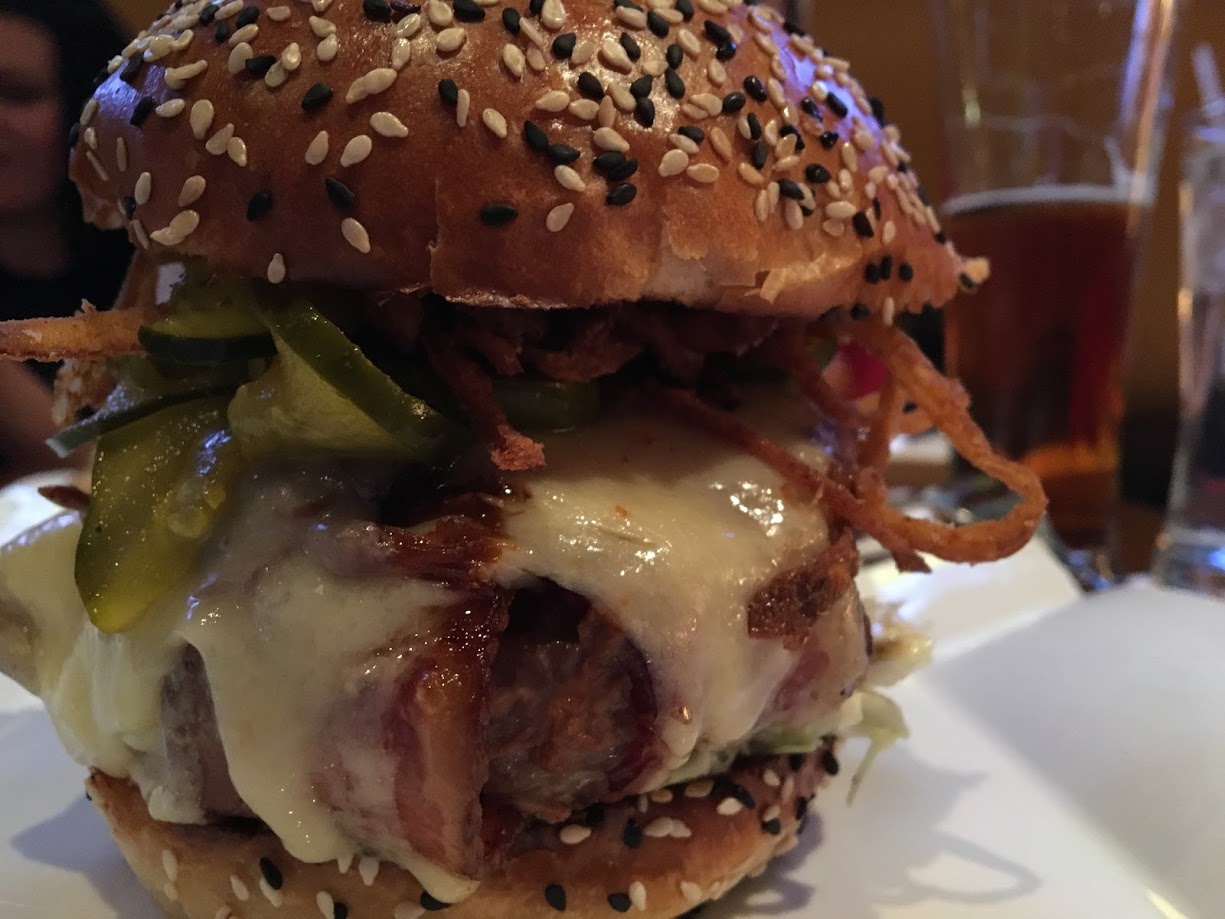 We shared some sweet potato fries (with vanilla powdered sugar and HONEY JALAPENO MAYO) and gooey fries (topped with an over-easy egg…OMG) with our dinner companions, and we were stuffed in the best way possible.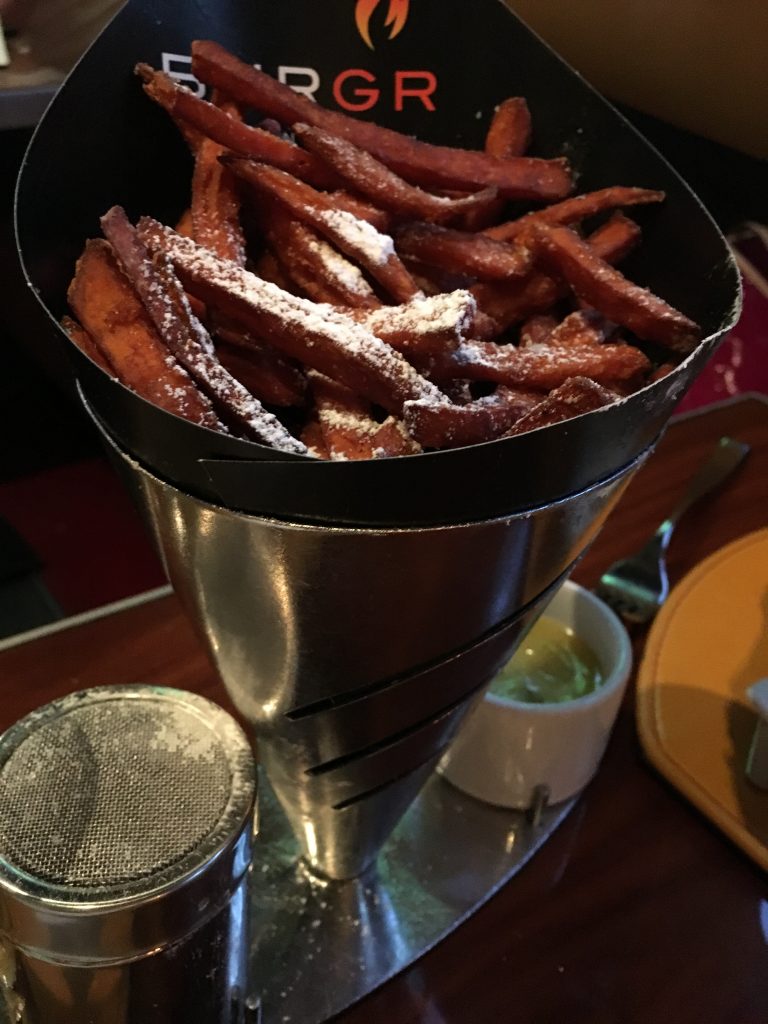 Day 2
The next day we slept in (hallelujah), took a leisurely stroll through The Miracle Mile, and landed at a fast casual restaurant for a Mexican brunch at La Salsa Cantina. I'm 30 and have still never tried a Bloody Mary, so I decided their 99-cent one was the perfect opportunity to do so. I ordered the Breakfast Quesadilla with chorizo for my entrée, and it hit the spot. The Bloody Mary was a bit spicy for my taste, but it was fun to try it for next to nothing.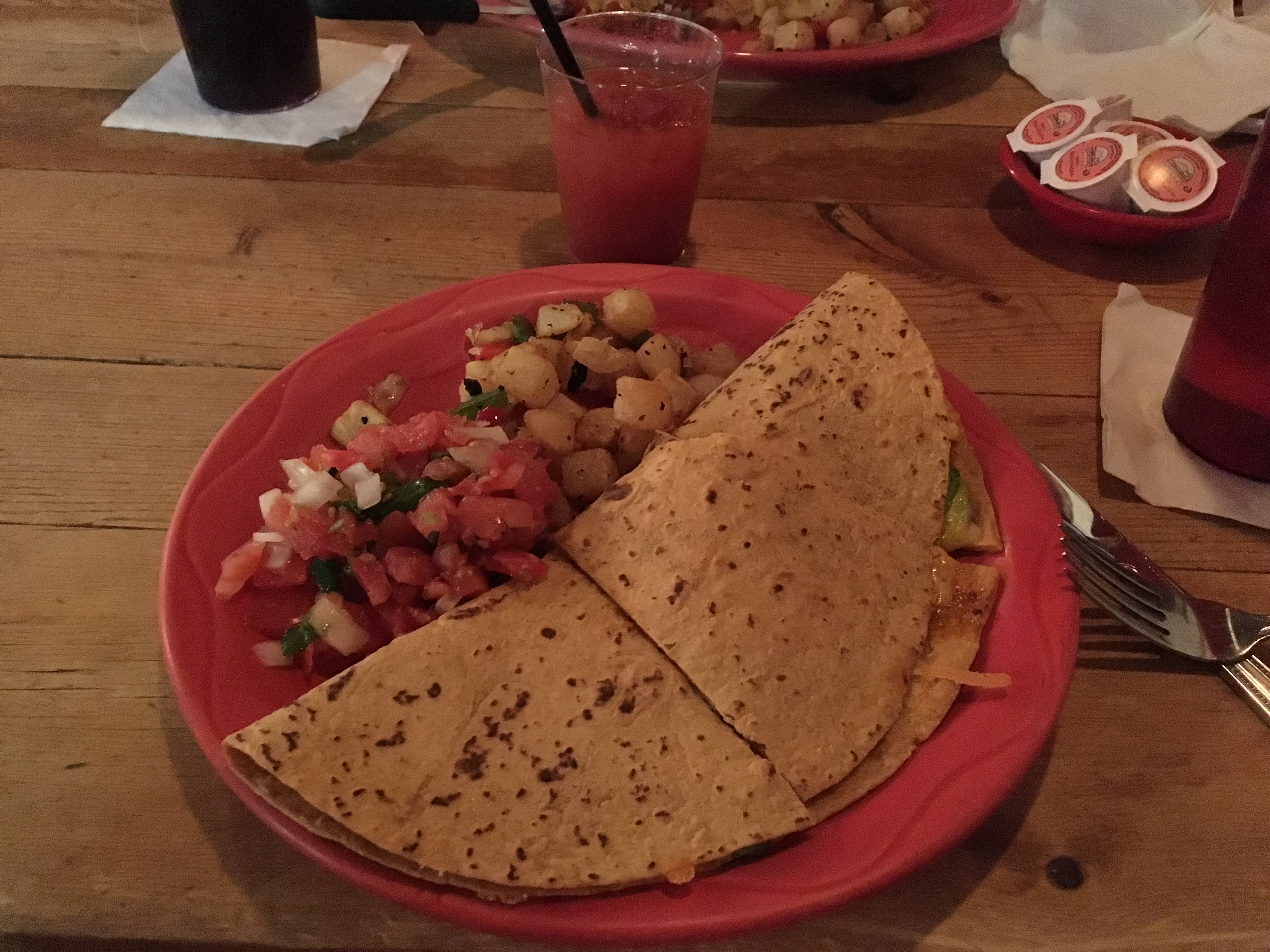 Jordan and I parted ways in the afternoon – him to a meeting and me to a rendezvous with a smaller group of wives. Some of us had decided to experiment with a new-to-us online clothing service – Rent the Runway (previously mentioned in a Friday Faves post) – when selecting our dresses for the company party later in the week, so we stopped at their Vegas store in The Cosmopolitan to try on and pick up our dresses.
The entire pickup process was seamless. Some of us weren't scheduled to get our dresses until a day later, but when we asked if our order might be in early, they had it all ready to go. You get to pick a free back-up size in addition to your regular size, so we slipped into a dressing room to confirm, and then off we went with our garment bags (complete with a carrying handle so we could fold them up and go on our merry way to continue shopping). Loved it!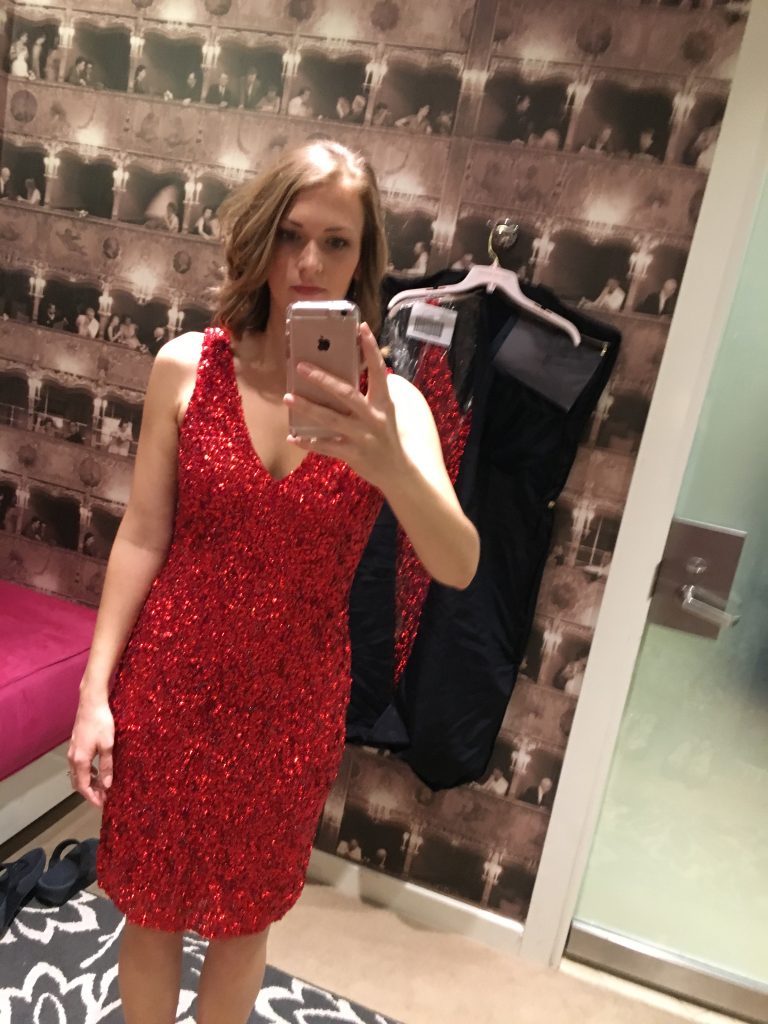 Some of the ladies hadn't yet eaten lunch, so we popped into Holstein's Burgers and Shakes – also located in The Cosmo. The rest of us sipped on some cocktails (when in Vegas…) while we chatted and planned out the rest of the day's agenda. I wish I'd had the appetite for one of their boozy shakes – they serve crazy combos like Coffee & Donuts and a Drunken Monkey – but I was still feeling plenty full from my early lunch. It's definitely on the short list for next time!
We zipped over to The Shops At Crystals which is connected to the ARIA Resort and Casino. After making the rounds through some luxury retail stores like Tiffany and Co., Louis Vitton, etc. we headed back to the pool for an afternoon of R&R.
For dinner that evening, several people had raved about Secret Pizza (in The Cosmo – apparently that's where all the cool places are) so we made it our mission to hunt it down. It's literally a secretive pizza place tucked away without any signs or advertisement of its location. We were greeted with thin-crust style pizza piled generously with various toppings – Meatlovers, Pepperoni Mushroom, Sausage/Ricotta, and White Pizza (my personal favorite). The dollops of fresh ricotta were EVERYTHING that is right in the world.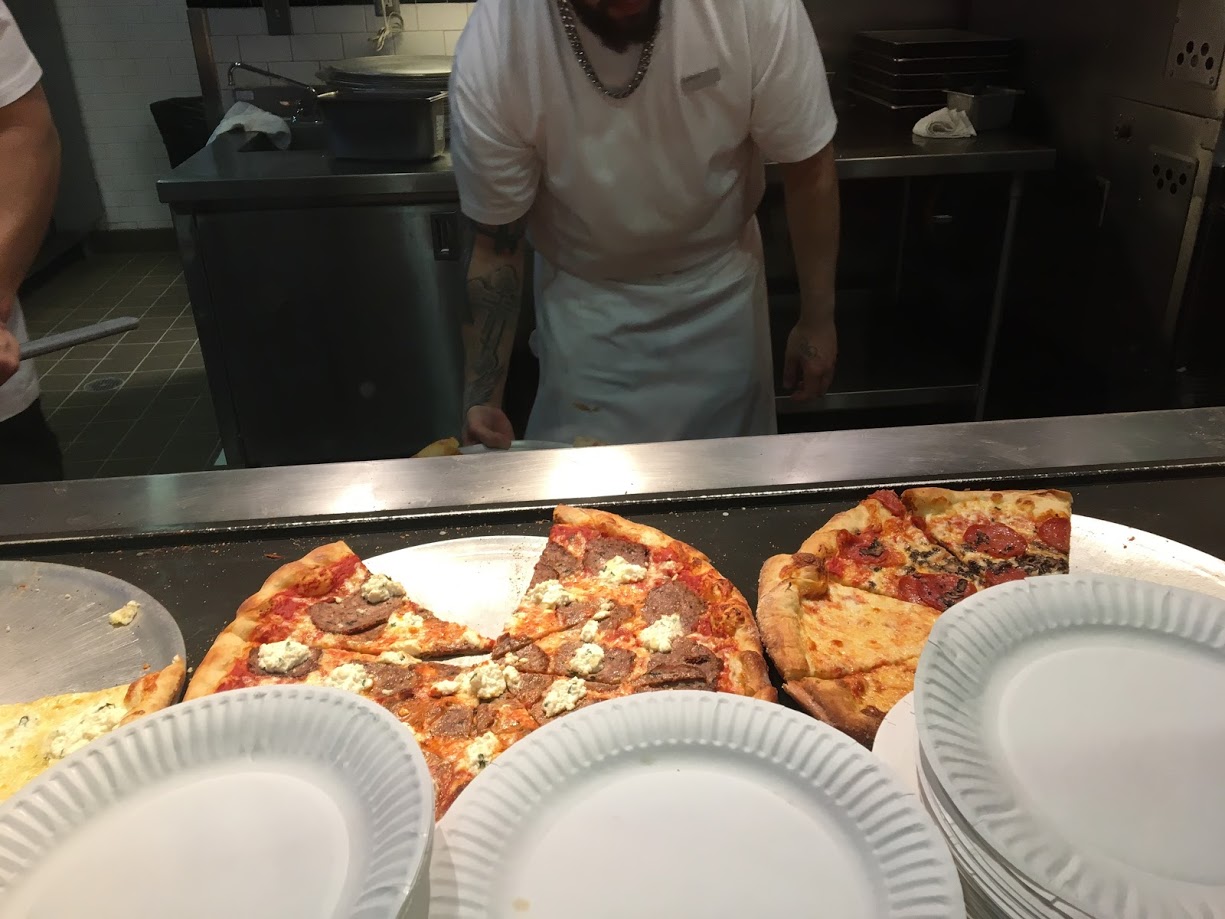 We grabbed our slices and a few pitchers of beer and headed out to a common area in The Cosmo (there's not much seating in the tiny hole-in-the-wall pizzeria) to inhale our meal. Totally a must-eat when in Vegas.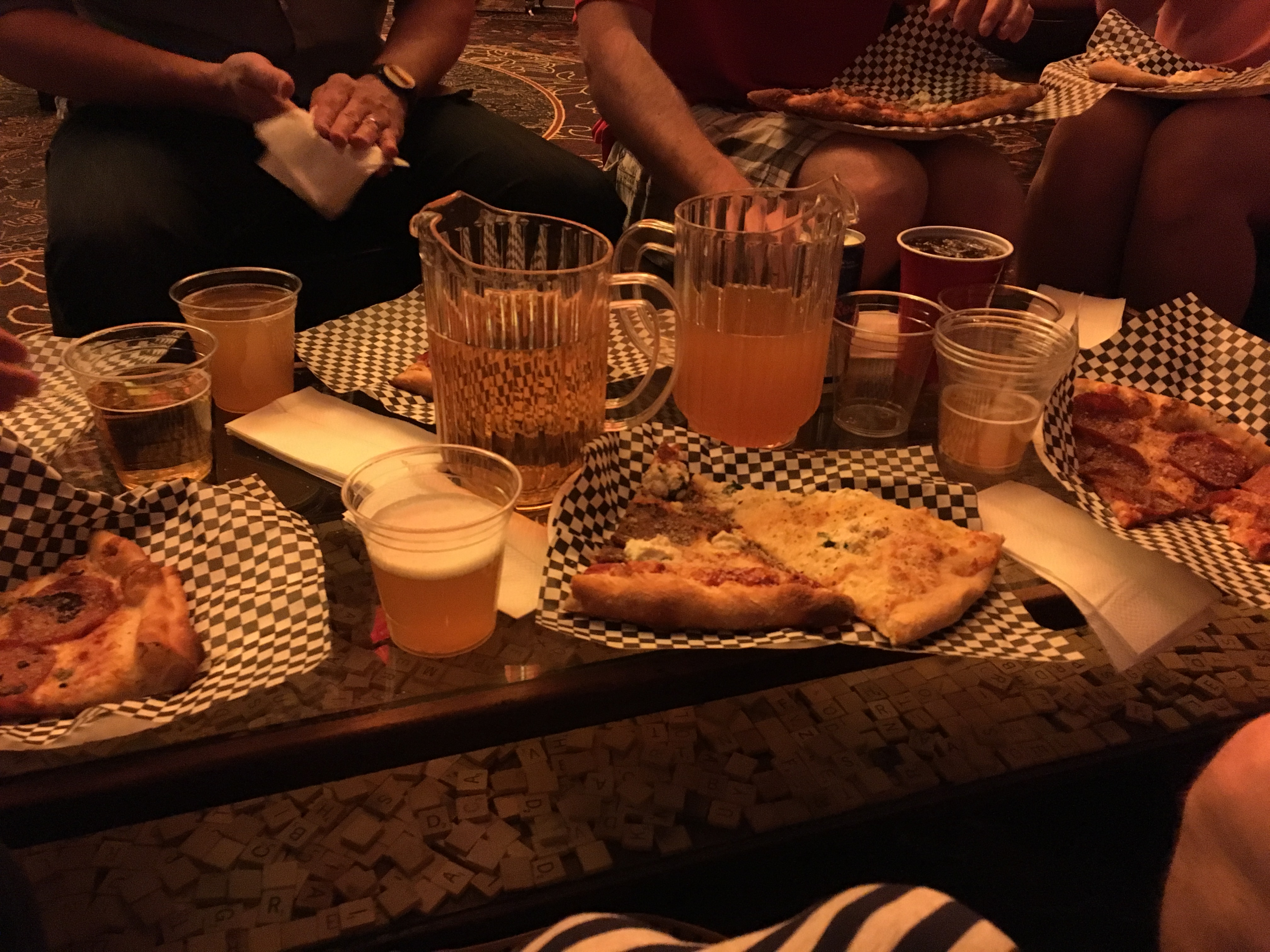 The night lived on with a visit to Ellis Island Casino & Brewery – a Vegas off-the-strip casino whose visit has become a bit of a tradition amongst Jordan's coworkers. While we didn't personally gamble, we enjoyed watching the tables and the large crowds that gathered. It was fun to experience a casino that was off the beaten path from the typical flashy hotel versions that have come to be the norm.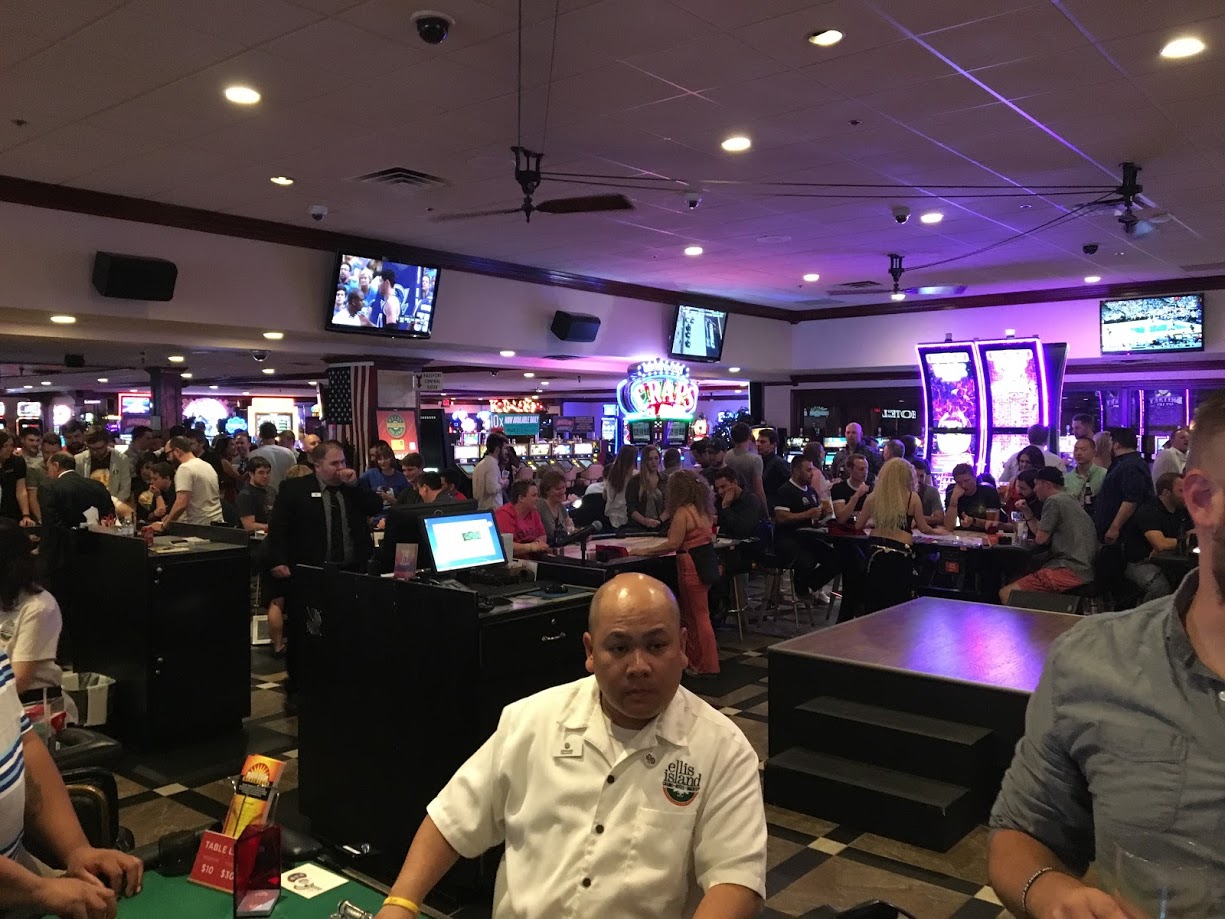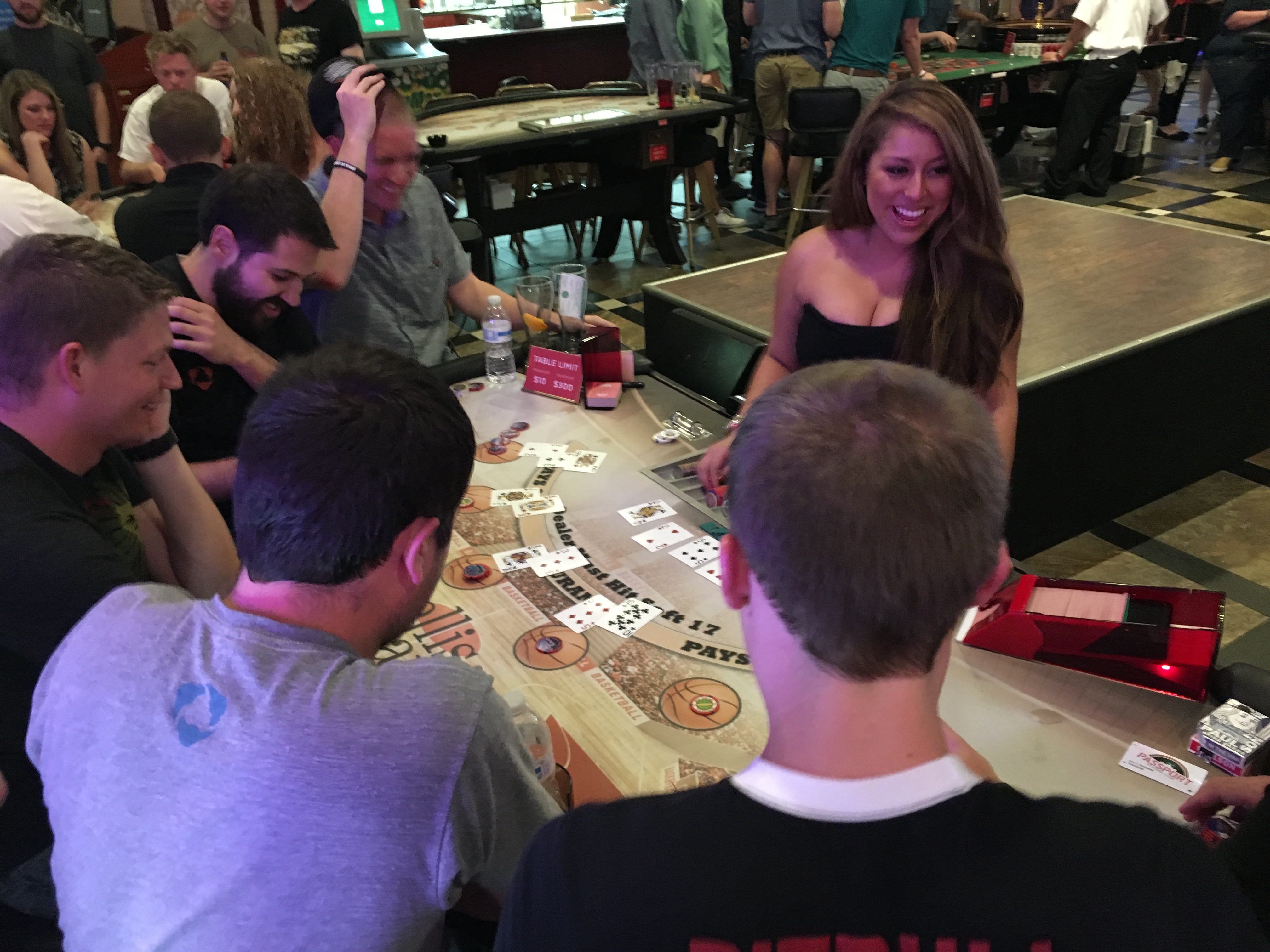 Day 3
It's become a regular occurrence each year for the wives who travel to Vegas to attend a brunch together. This year it was a pretty big crew – over 20 people. Thankfully because of Facebook groups, organizing a large gathering like this was possible. When our primary spot Hash House-A-Go-Go didn't pan out due to a longer than anticipated wait time, we moseyed on over to Chayo Mexican Kitchen + Tequila Bar. This restaurant, and our server Christina, knows how to handle a large party. My food was so-so, but the service was great, and I enjoyed the quality time getting to know the other women.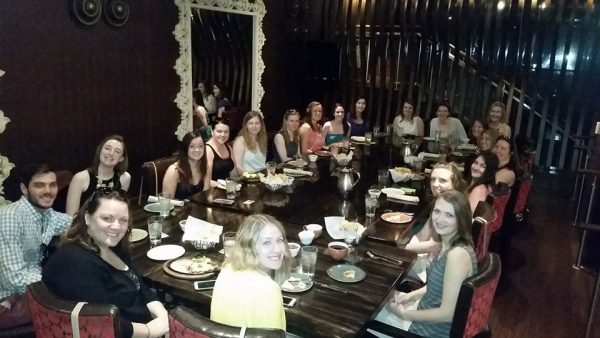 After brunch some of us opted to head out for another pool day, and of course while we were in Vegas there was a wind advisory which made for a bit of an interesting outdoor experience complete with tables and umbrellas toppling over. It was still awesome to just hang out, have no responsibilities, and get some sun.
That evening was the famous company party. Jordan's company rents out The Moon Nightclub at the top of The Palms Casino Resort.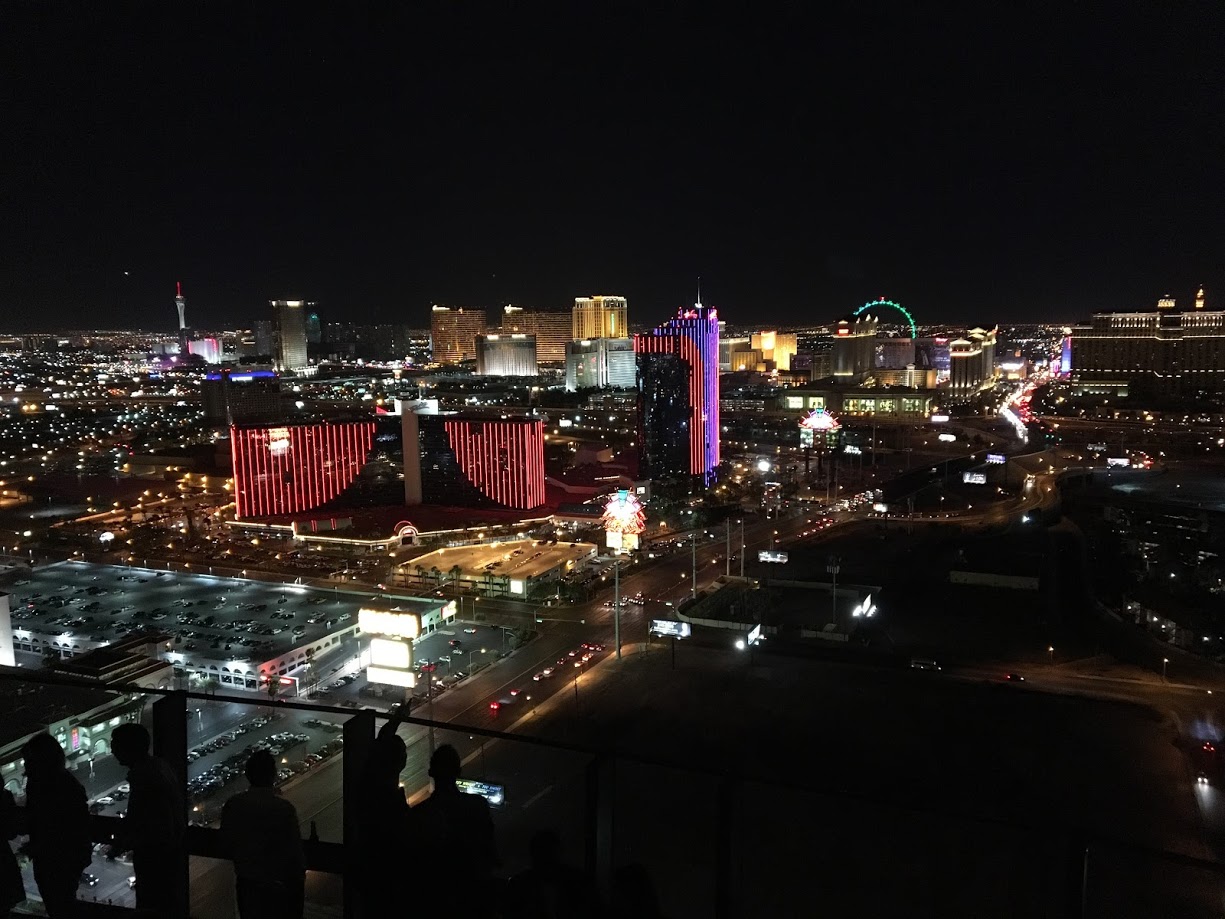 It was such an unforgettable night with balcony views that were jaw-dropping, a DJ that knew how to get people on the dance floor, and partying Vegas-style 'til we dropped.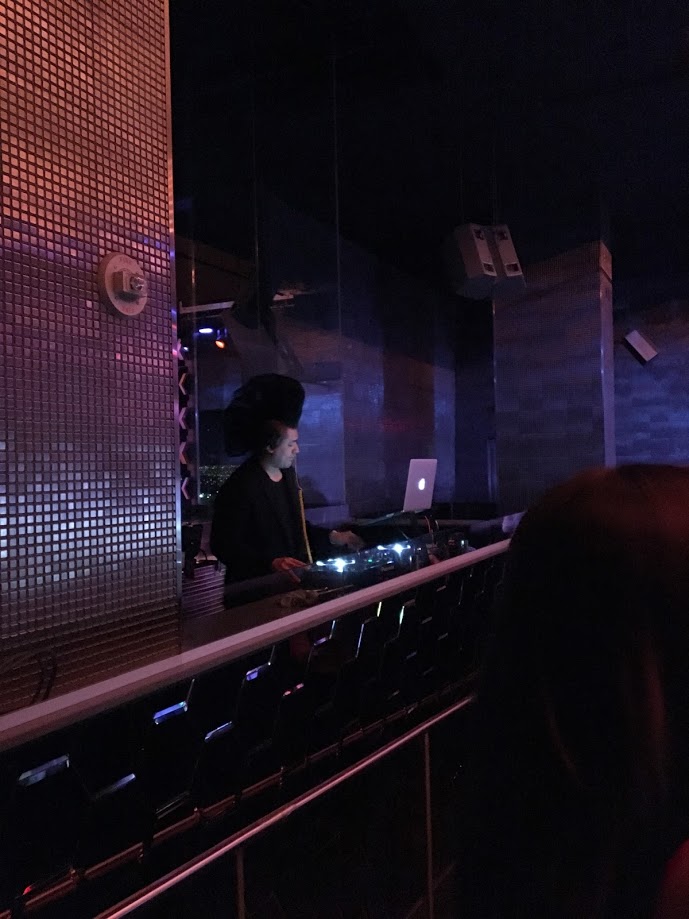 Day 4
When Jordan and I first visited Las Vegas on our honeymoon, we stumbled upon the Le Village Buffet in the Paris Hotel for brunch, and it was hands-down the best meal we'd had on our trip. So this time around we knew we had to go back, and with great friends – Joel & Meghan! Although it's on the pricy side (as most food is in Vegas), the food selection is mind boggling. Everything you could ever dream up is served in several different stations throughout the restaurant. Crab legs? Sure. Crepes? Yep. Dessert? You bet. Truffle mushroom pasta? They've got it. Such a wide variety is available – Mediterranean, American, French, and even Chinese foods – which is what I crave in a restaurant. An additional bonus is the cozy interior. I've never been to Paris, but the decor and architecture made me feel like I was in a quaint Parisian bistro (picture fail – please enjoy this exterior photo instead ;)).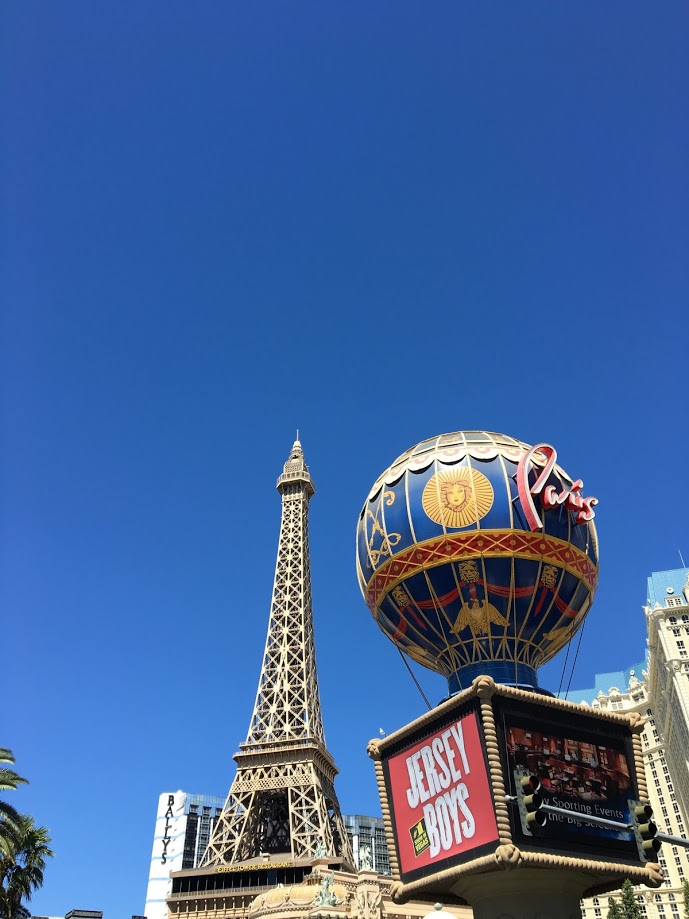 Since this was a Saturday and Jordan didn't have to work, we enjoyed casually strolling, including a stop at The Bellagio Fountains and a visit to the inside of the hotel to reminisce on our time there during our honeymoon, which included a trip to the world's largest chocolate fountain, the Chihuly glass sculpture in the lobby, and the conservatory filled with fresh flowers. Love the ambiance of that place.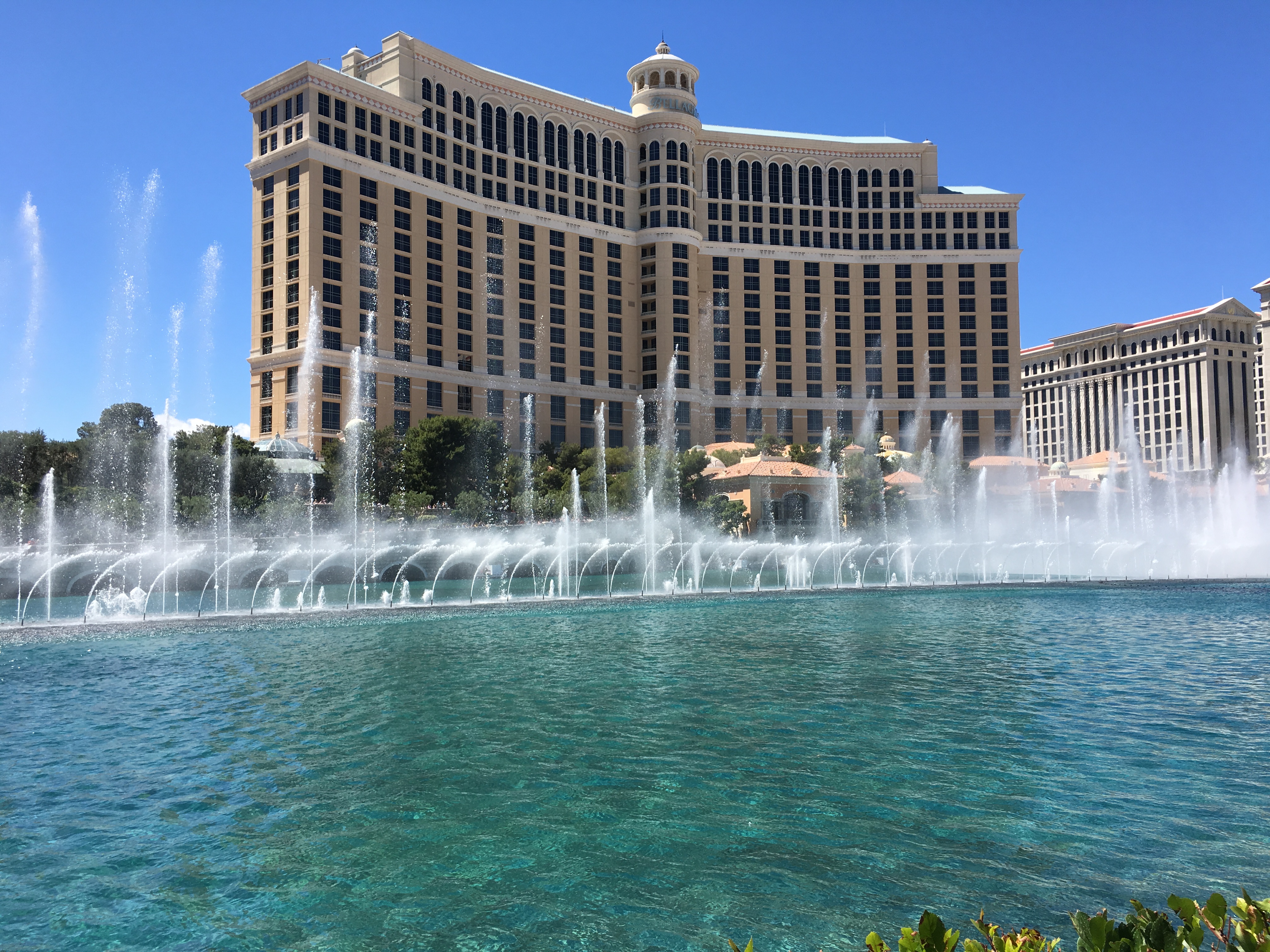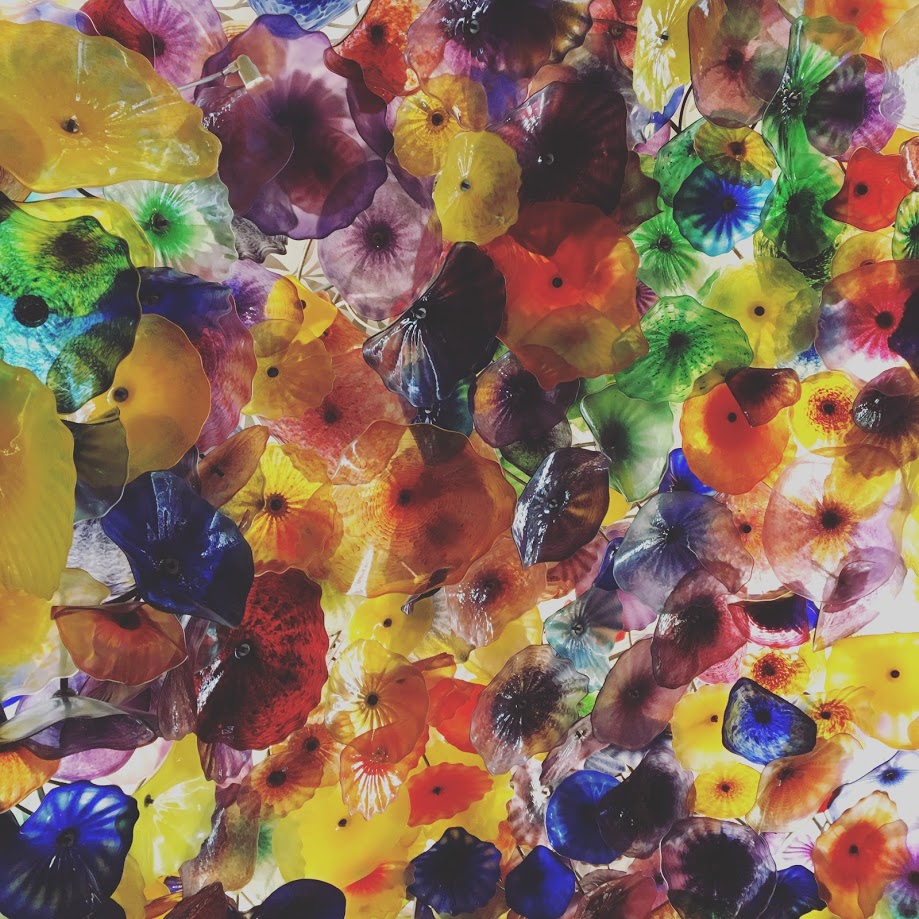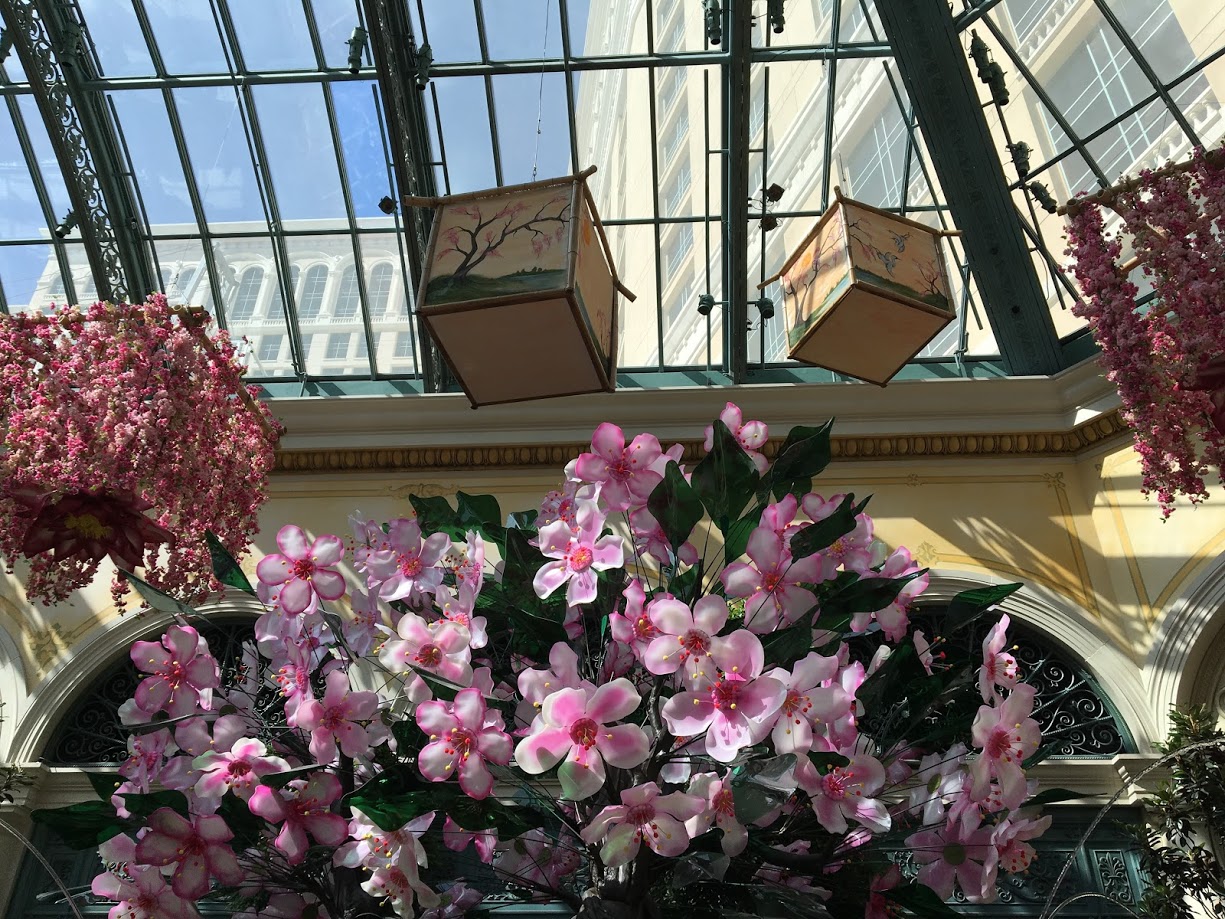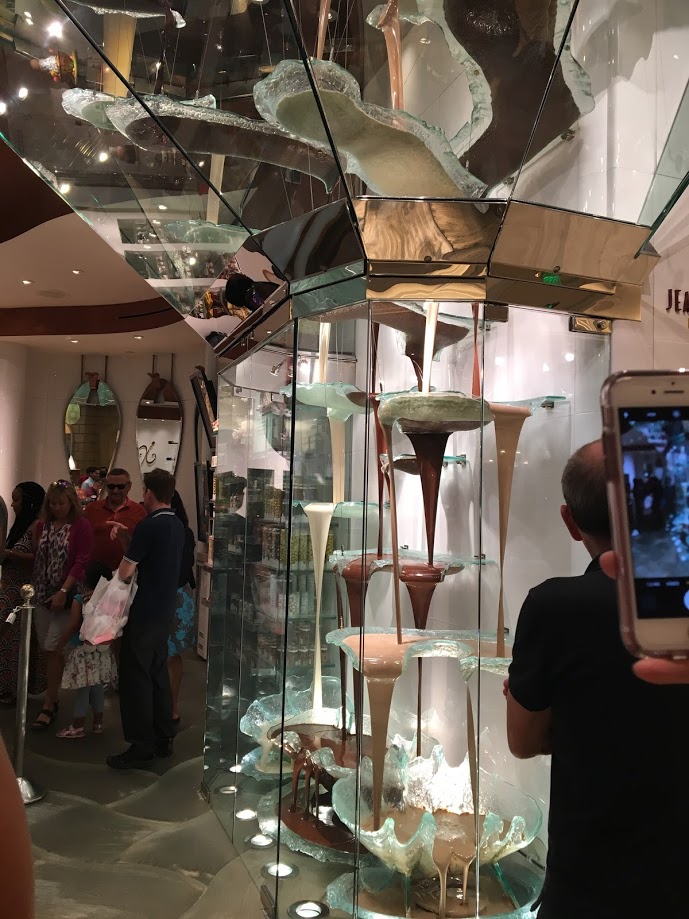 We took it easy the rest of the day exploring, returning my Rent the Runway dress, hitting up the pool, and grabbing a quick bite to eat at Pink's Hot Dogs (we shared the classic Chili Cheese Dog since we were still pretty stuffed from brunch) before our last major Vegas activity of heading to Penn & Teller at The Rio.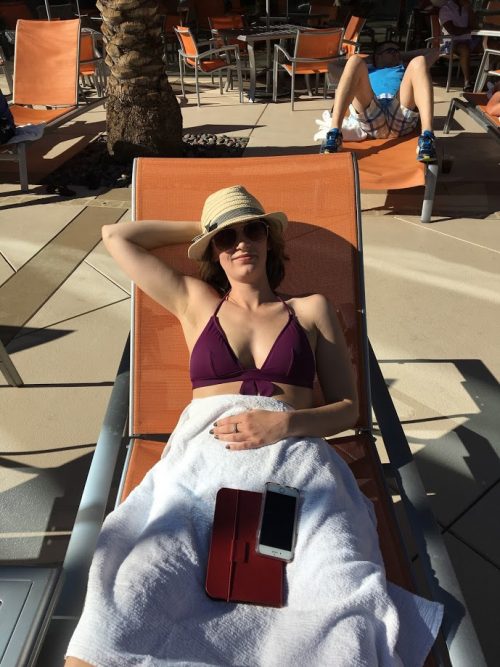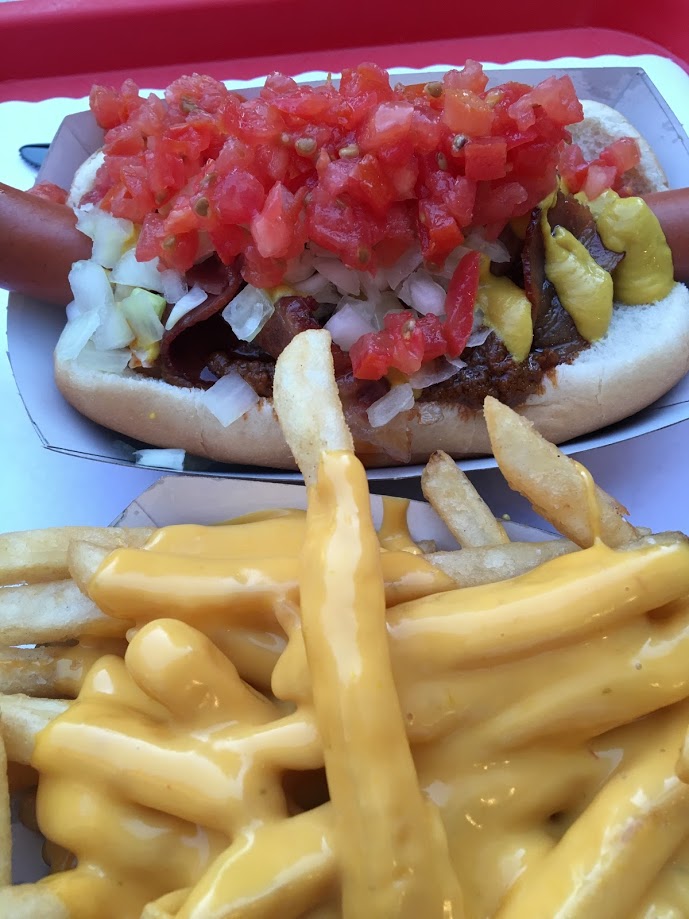 Jordan has evolved into a big P&T fan over the last couple years, so my 30th b-day present to him last fall was tickets to see their show while we were in Vegas.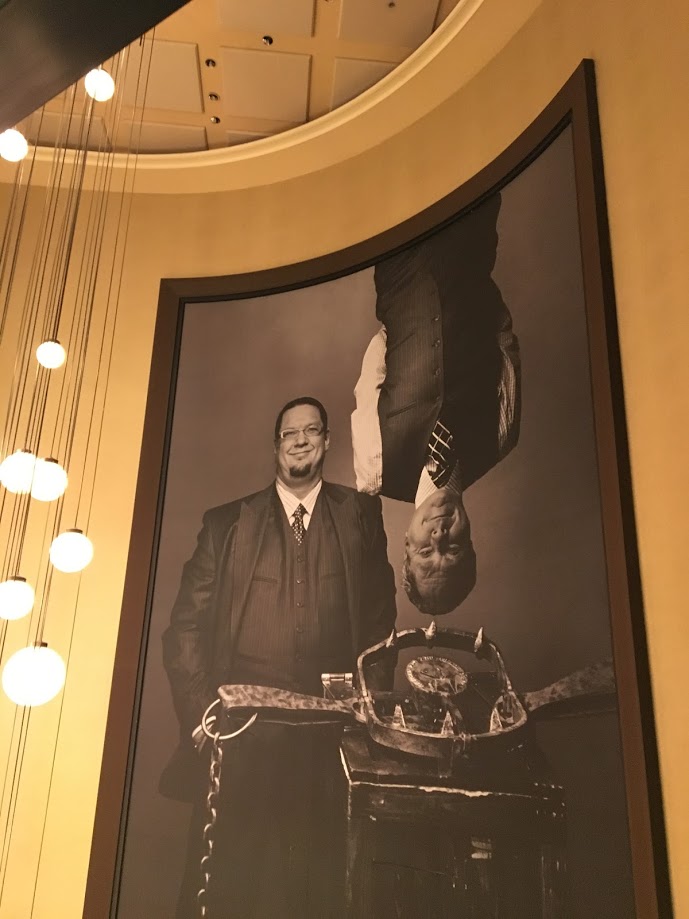 The show is entertaining and moves quickly, at only an hour and half in length. I wish it'd had a bit more content, but I can only imagine the behind-the-scenes logistics that go into a magic show and why they structure it the way they do.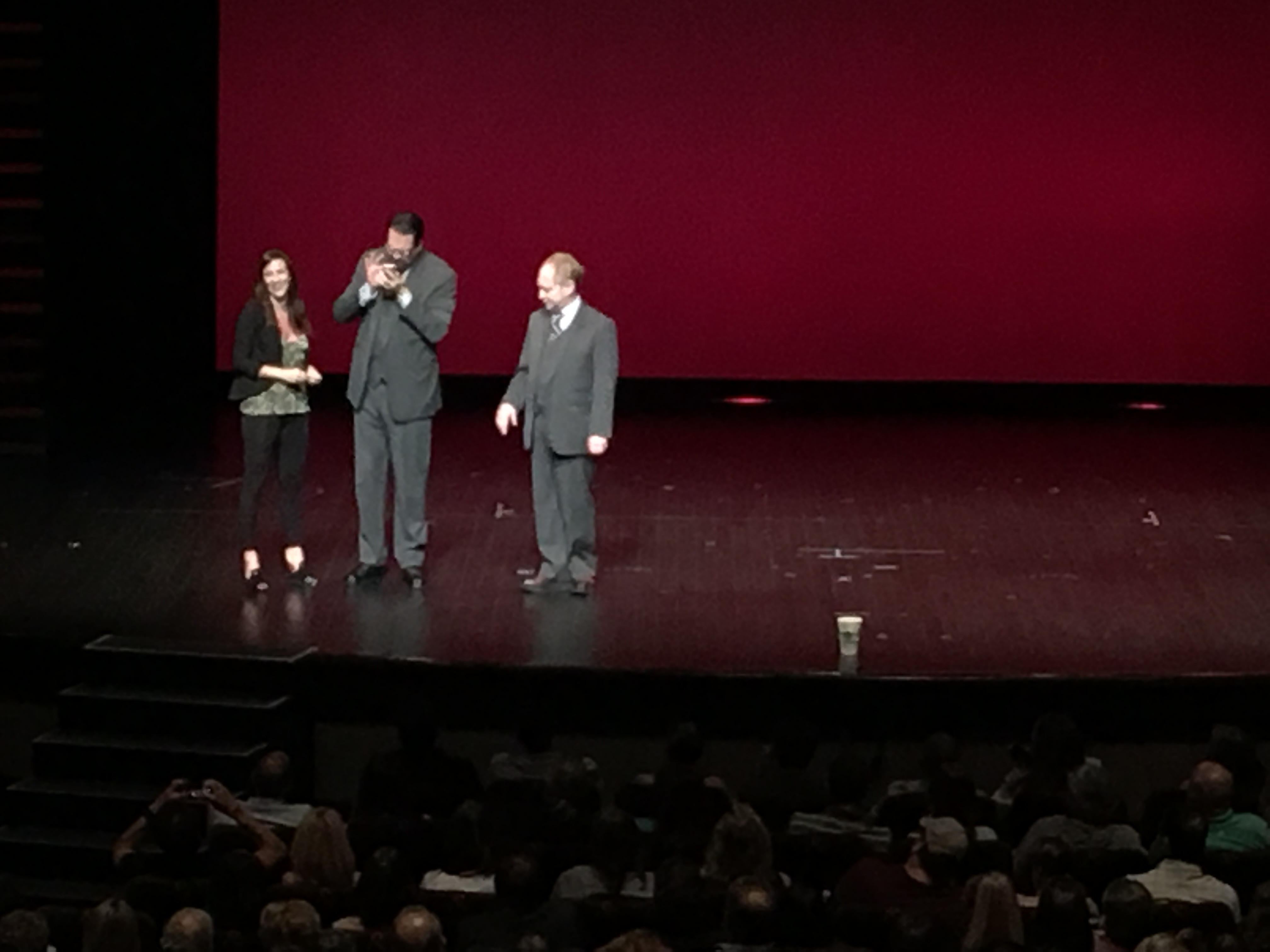 The illusions and effects were head-scratchingly well executed, and P&T have their rhythm down pat. Penn was very compelling, articulate, intelligent, and a naturally funny storyteller, so listening to him talk was enjoyable, but I could see how non-fans might find him long-winded and boring.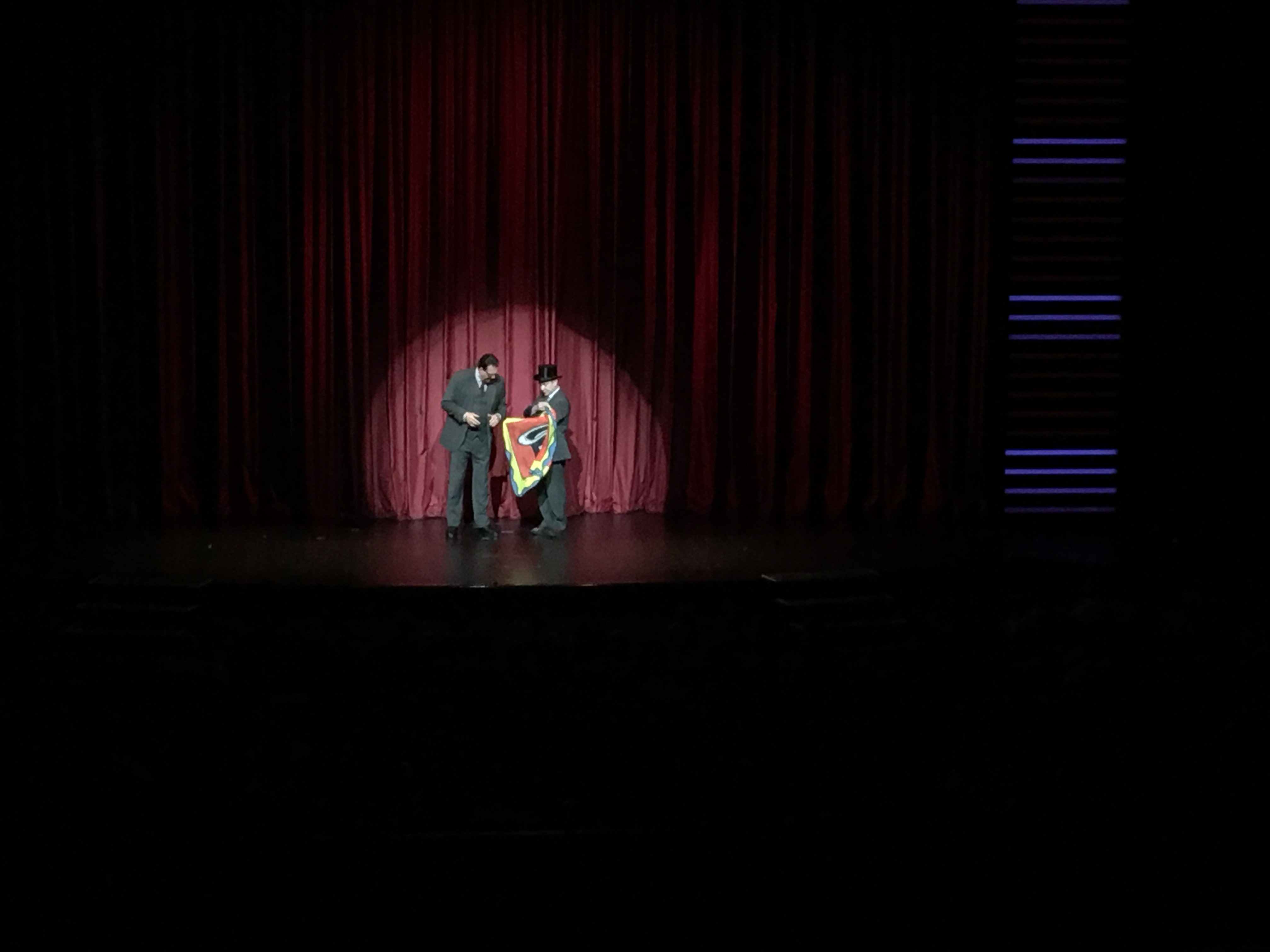 I appreciated them engaging the audience and performing tricks that we hadn't seen before on televised shows. Their tricks aren't super flashy and blingy, but they still wow the audience.
At the end of the show, Penn & Teller stand outside the theater and take selfies with audience members who would like a picture with them which is a nice touch; they seem to genuinely care about their fans. And we were total groupies and took advantage of the photo op.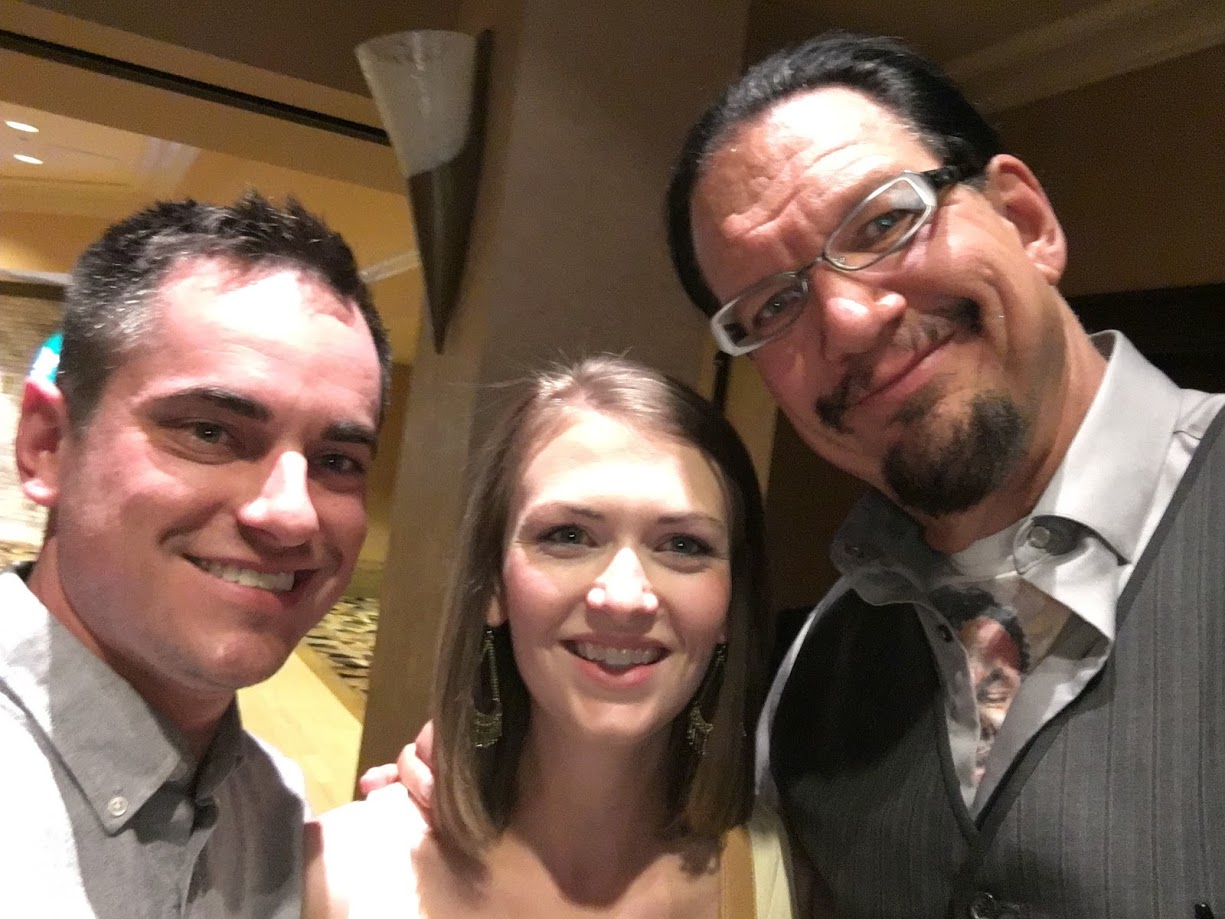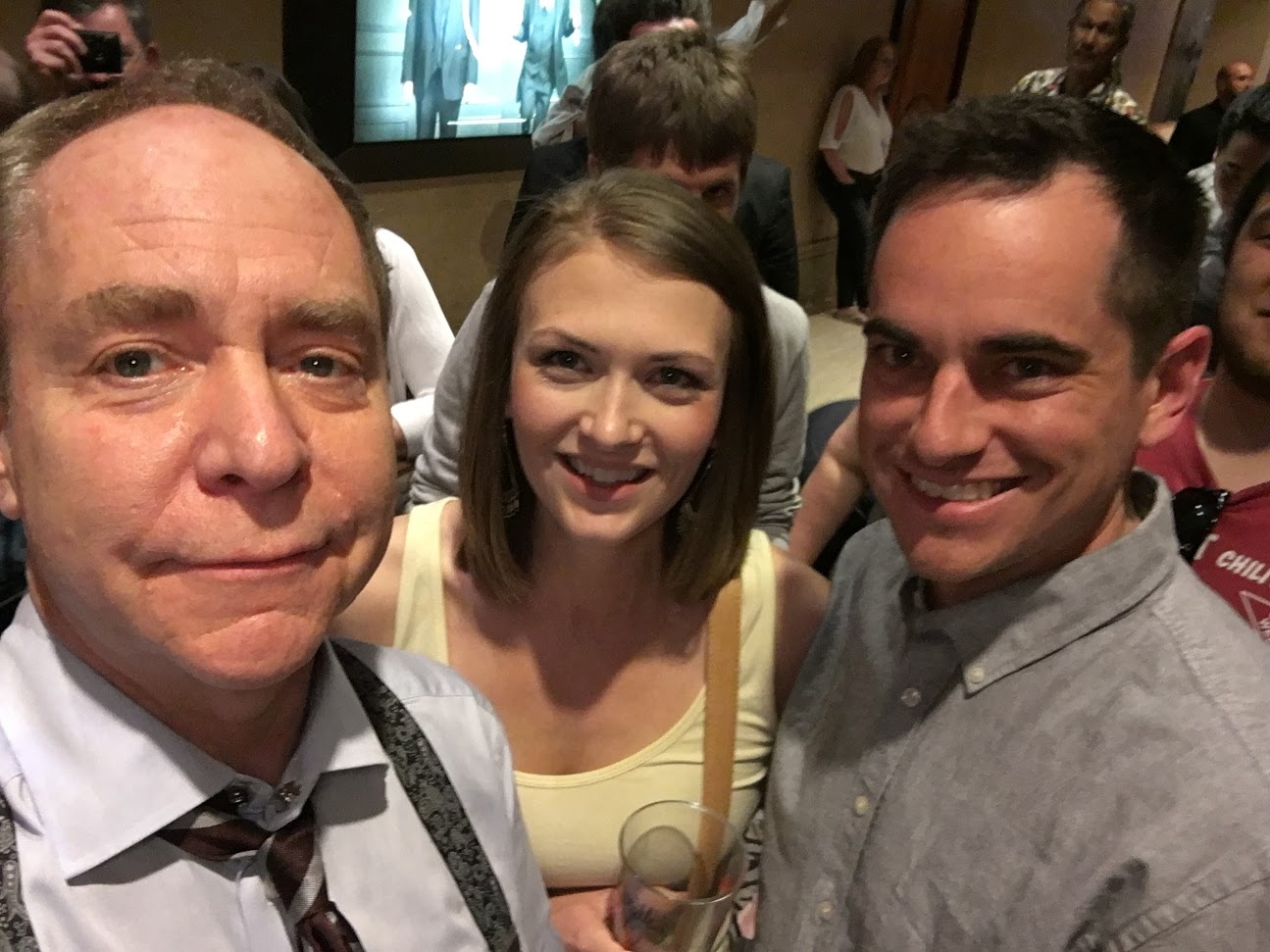 And just like that, our Vegas vacation was over and the next day we were on a plane back to Nebraska. My favorite part of this trip by far was getting to know Jordan's co-workers and their spouses on a better level, letting loose a little with Vegas shenanigans, and sleeping in – apparently I'm getting old. :p
'Til next time, Vegas.
Here's a list of links to Vegas activities we did when we first visited in 2008:
Madame Tussaud's Wax Museum
Eiffel Tower Ride at Paris Hotel
Treasure Island Outdoor Pirate Show –> I guess they cancelled it!
The Forum Shops at Caesar's Palace
M&M's World
The Beatles Cirque du Soleil Love Show
Secret Garden & Dolphin Habitat at The Mirage
Lion Habitat at MGM Grand –> which is apparently no longer there!
Gondola Ride at The Venetian
What's your favorite thing to do in or around Las Vegas? I'm hoping to hit Hoover Dam or partake in a nature activity on a future trip.