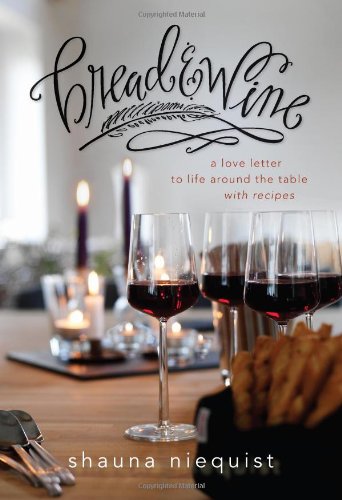 Bread and Wine: A Love Letter to Life Around the Table with Recipes
 by Shauna Niequist
I'd heard great things about Shauna's writing, and this book just blew me away. Even though food is the central theme throughout, you don't have to be a foodie to appreciate it. She's a relatable friend sharing her life stories and encouraging readers to prioritize relationships by gathering friends and family around the dinner table. My biggest takeaway is to be more honest, real, and vulnerable so I can connect on a deeper level with the people in my life. Food, entertaining, hospitality – those are just some of the vehicles to make it happen. And by the way, her recipes are spectacular and doable for even the most novice of chefs.
Via Amazon:
As a follow up to her two bestselling books, Bittersweet and Cold Tangerines, author and blogger Shauna Niequist returns with the perfect read for those who love food and value the community and connection of family and friends around the table.
Bread & Wine is a collection of essays about family relationships, friendships, and the meals that bring us together. This mix of Anne Lamott and Barefoot Contessa is a funny, honest, and vulnerable spiritual memoir. Bread & Wine is a celebration of food shared, reminding readers of the joy found in a life around the table. It's about the ways God teaches and nourishes people as they nourish the people around them. It's about hunger, both physical and otherwise, and the connections between the two.
With wonderful recipes included, from Bacon-Wrapped Dates to Mango Chicken Curry to Blueberry Crisp, readers will be able to recreate the comforting and satisfying meals that come to life in Bread & Wine.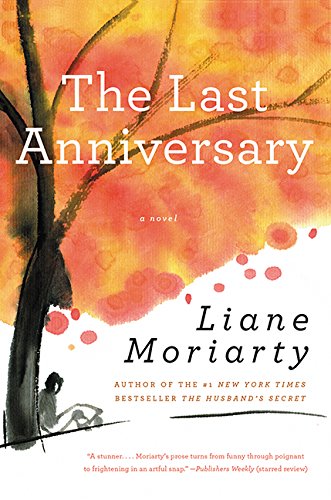 The Last Anniversary: A Novel
 by Liane Moriarty
I think I've now read every Liane Moriarty book except Three Wishes. Needless to say, I'm a fan. She's the Australian author most popularly known for writing the best seller The Husband's Secret, but I've found all of the books to be delightful reads. This one was no different – lovable characters and intertwining plot twists with some humor sprinkled in. The great thing about her books is that they can be enjoyed in any order, plus you get a dose of Australian charm in each story.
Via Amazon:
Sophie Honeywell always wondered if Thomas Gordon was the one who got away. He was the perfect boyfriend, but on the day he was going to propose, she broke his heart. A year later he married his travel agent, while Sophie has been mortifyingly single ever since. Now Thomas is back in her life because Sophie has unexpectedly inherited his aunt Connie's house on Scribbly Gum Island—home of the famously unsolved Munro Baby mystery.
Sophie moves onto the island and begins a new life as part of an unconventional family, where it seems everyone has a secret. Grace, a beautiful young mother, is feverishly planning a shocking escape from her perfect life. Margie, a frumpy housewife, has made a pact with a stranger, while dreamy Aunt Rose wonders if maybe it's about time she started making her own decisions.
As Sophie's life becomes increasingly complicated, she discovers that sometimes you have to stop waiting around—and come up with your own fairy-tale ending.
Liane Moriarty once again combines sharp wit, lovable and eccentric characters, and a page-turning story for an unforgettable Last Anniversary.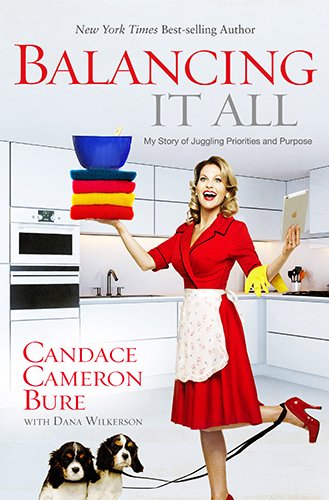 Balancing It All: My Story of Juggling Priorities and Purpose
 by Candace Cameron Bure
I have to admit I was first drawn to this book after 1) being an unapologetic Full House fan (who's excited for Fuller House coming to Netflix in summer 2016??) and 2) seeing Candace on Dancing with the Stars when she'd come back onto the entertainment industry scene, learning she was a celebrity with strong Christian values. Besides getting a peek into her life during the DJ years and how she came to start her family, I also thought this was an uplifiting read for the multi-tasking moms, wives, and working women in all of us, rooted in Candace's faith and beliefs.
Via Amazon:
"How do you do it all?"
That's the question that wife, mom, actress, and best-selling author Candace Cameron Bure is often asked. And it's a question that women everywhere are asking themselves as we seek to balance all of our roles, responsibilities, and opportunities.
So, how do we do it? Working since the age of 5, Candace has been in a balancing act for nearly her entire life. She is the first to tell you that there is no miracle formula for perfect execution in every area of your life, but there definitely are some lessons to be learned, lessons that come to life in Candace's story.
Come along and dig into Candace's story from her start in commercials, the balance-necessitating years on Full House, to adding on the roles of wife and mom while also returning to Hollywood. Insightful, funny, and poignant, Candace's story will help you balance it all.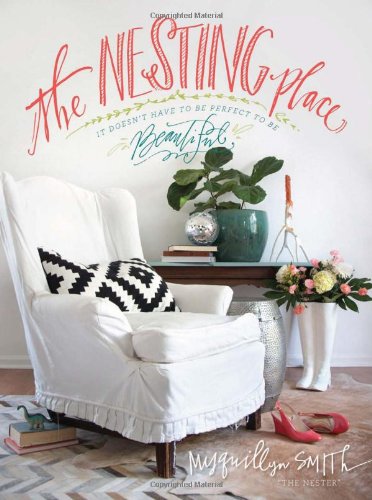 The Nesting Place: It Doesn't Have to Be Perfect to Be Beautiful by Myquillin Smith
As someone who loves picking out home decor and thinks a good time involves rearranging furniture, this book could not have entered my life at a better time. While I do enjoy the process of decorating, I still struggle with the urge to have my interior design appear "acceptable" to guests while at the same time not falling into the "cookie-cutter" trap. This book hit on all of my decorating insecurities and talked about the bigger picture of what our homes are for. From conquering the fear of nail holes to embracing the house you're in, Myquillin gave me permission to own my style, and I love her for it.
Via Amazon:
Popular blogger and self-taught decorator Myquillyn Smith (The Nester) is all about
embracing reality―especially when it comes to decorating a home bursting with boys, pets, and all the unpredictable messes of life.
In The Nesting Place, Myquillyn shares the secrets of decorating for real people―and it has nothing to do with creating a flawless look to wow your guests. It has everything to do with embracing the natural imperfection and chaos of daily living.
Drawing on her years of experience creating beauty in her 13 different homes, Myquillyn will show you how to think differently about the true purpose of your home and simply and creatively tailor it to reflect you and your unique style―without breaking the bank or stressing over comparisons. Full of easy tips, simple steps, and practical advice, The Nesting Place will give you the courage to take risks with your home and transform it into a place that's inviting and warm for family and friends.
There is beauty in the lived-in and loved-on and just-about-used-up, Myquillyn says, and welcoming that imperfection wholeheartedly just might be the most freeing thing you'll ever do.