Hawaii is really everything people describe it to be – relaxing, breathtaking, charming, calming, beautiful, and magical.

Jordan and I took a week-long vacation to Maui and Oahu smack dab in the middle of a Midwest winter. To say the weather there was perfect would be an understatement. Low 80s during the day and low 70s in the evening. I couldn't imagine better conditions for enjoying the picture-perfect scenery.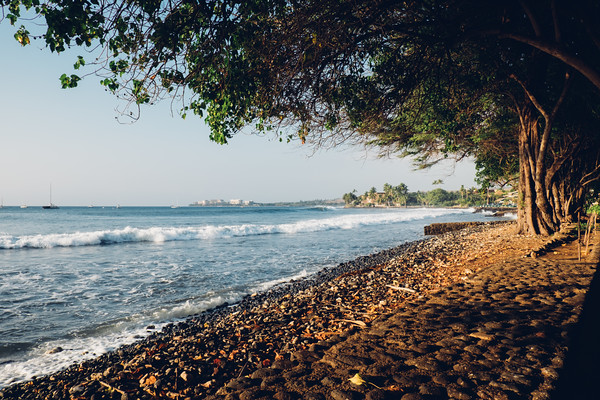 But that was only one of the merits of our trip. The drop-dead gorgeous beachside sunsets, the kind and hospitable locals, the spread of diverse and fresh food, and the laid-back island lifestyle were enough to make me want to stay forever.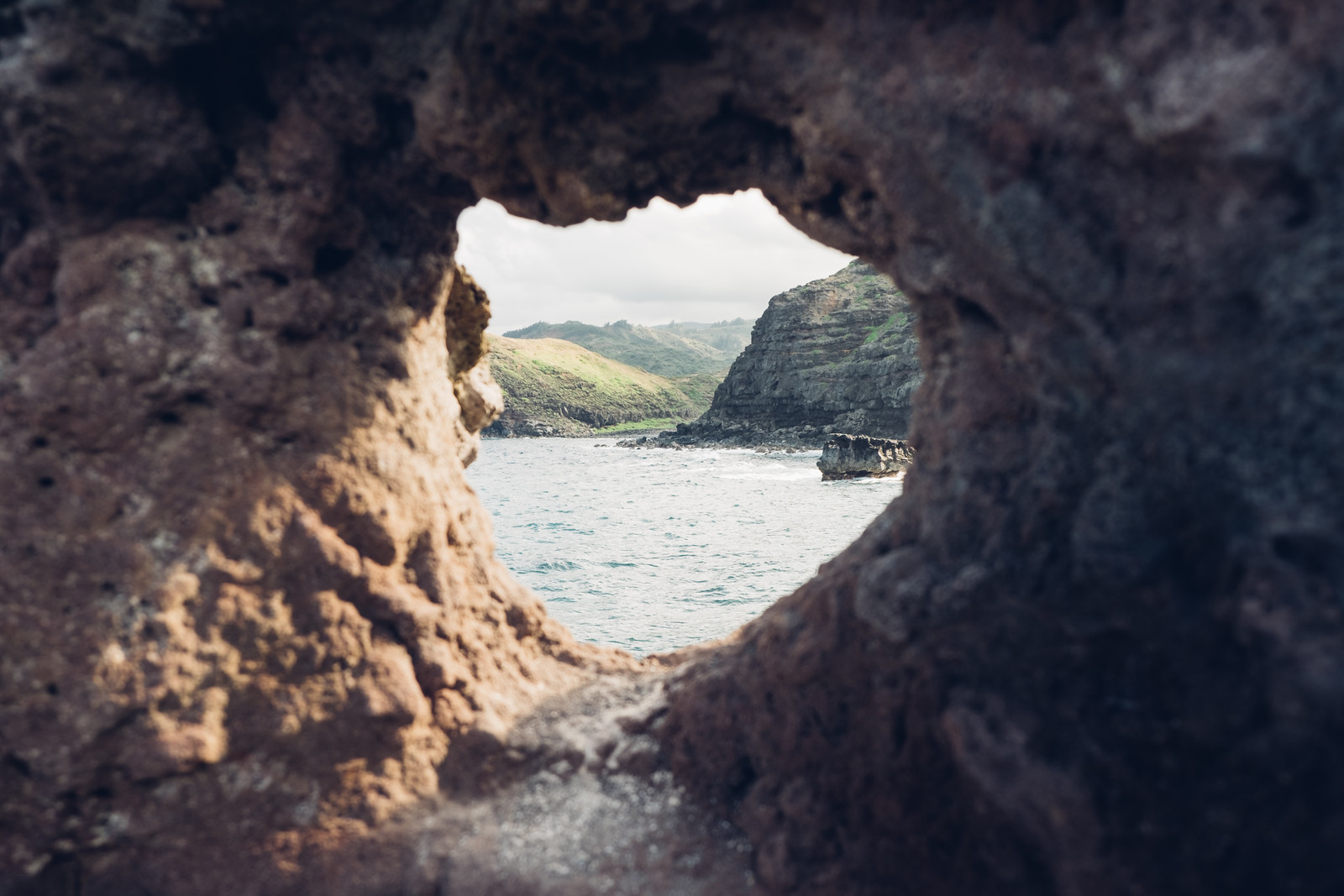 Backing up a bit, when I was in second grade and we had a unit in school where we learned about multiple world cultures, the Hawaii week was my very favorite. I remember getting to put on a hula show for the entire school where we wore our swimsuits and grass skirts while dancing along to some cheesy canned Hawaiian ukulele music. In hindsight I should have been mortified, but I was just so enthralled with the cultural uniqueness, plus the art and flair of hula dancing.
Fast forwarding to when Jordan and I were about to get married, it was my dream to go to Hawaii for our honeymoon, but since we were about to graduate from college just weeks before getting married we didn't exactly have a travel budget that would allow for a tropical vacation. Seven and a half years and one child later, the stars aligned and we finally had the opportunity to visit my dream destination.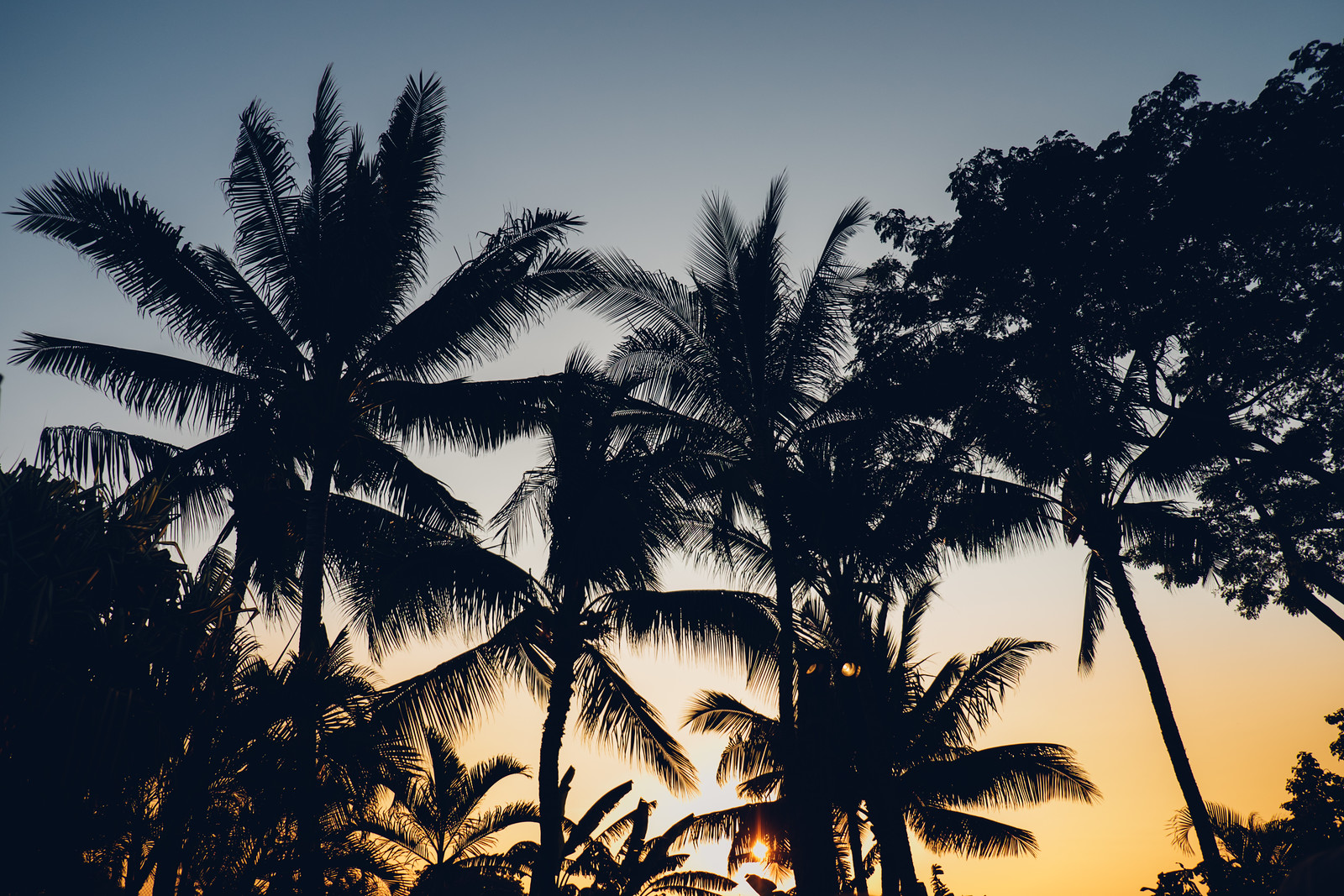 In this post, I'll recap our trip to Maui, with another post following on the food (yes, it requires a post in itself) and another post on our time spent in Oahu. We paid for all of these trip expenses on our own; the people and companies in Hawaii don't know me from Adam. 😉
Hotel
We booked our vacation on our own based on several recommendations from friends and family. We stayed at the Ka'anapali Beach Hotel in Ka'anapali, which is a beach lined with exquisite hotels and resorts. It was my first time in an open-air hotel – a strange concept for this Midwesterner – and even though the hotel was definitely older and a bit dated, you could tell it was genuine Hawaii all the way.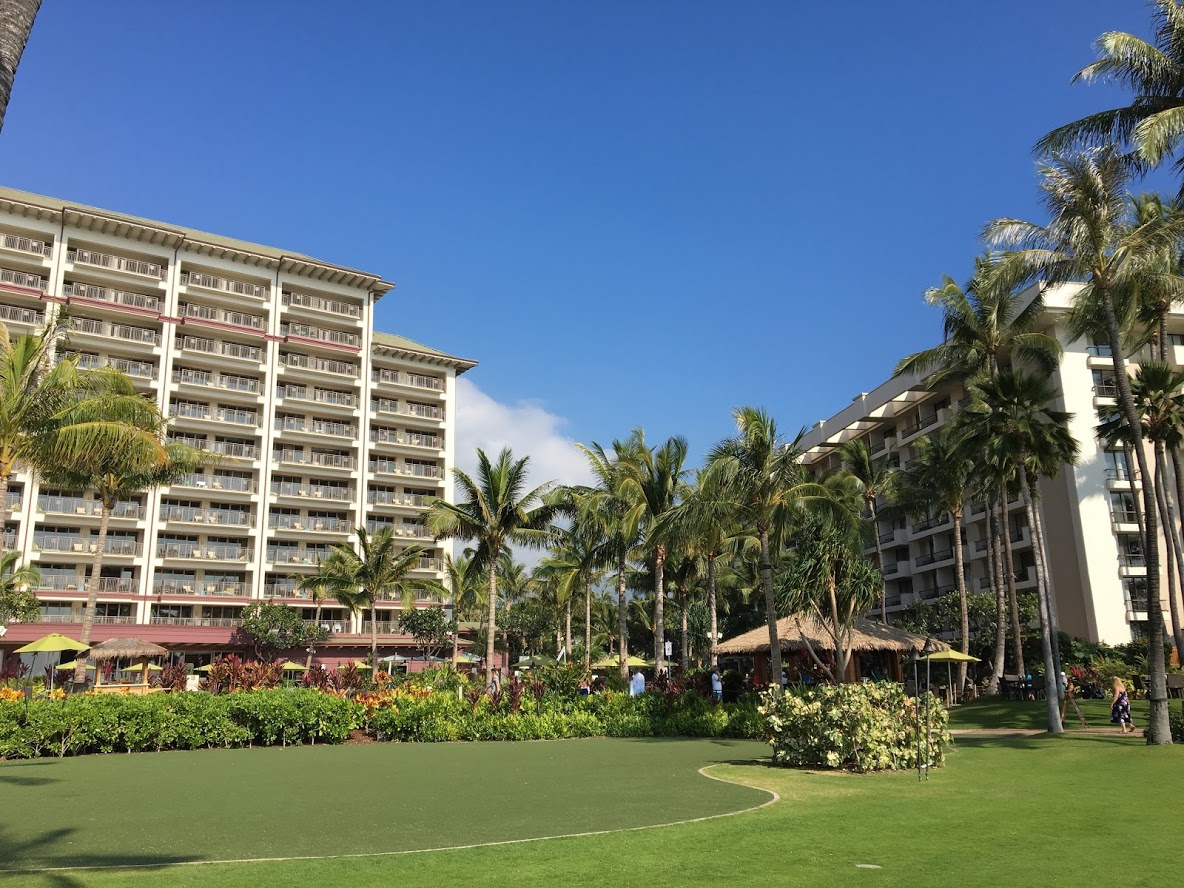 Among my favorite services they offered was a welcome presentation and brunch. We learned a lot about the island, beach etiquette, Hawaiian tradition, etc. For instance, did you know it's a myth that you're greeted at the airport with a lei? The hotel actually has a lei ceremony when you depart. While at the end they definitely gave their pitch for the local excursion companies, it was really informative, warm, welcoming, and fun to meet the other hotel guests, each who had their own stories about their history with visiting Maui.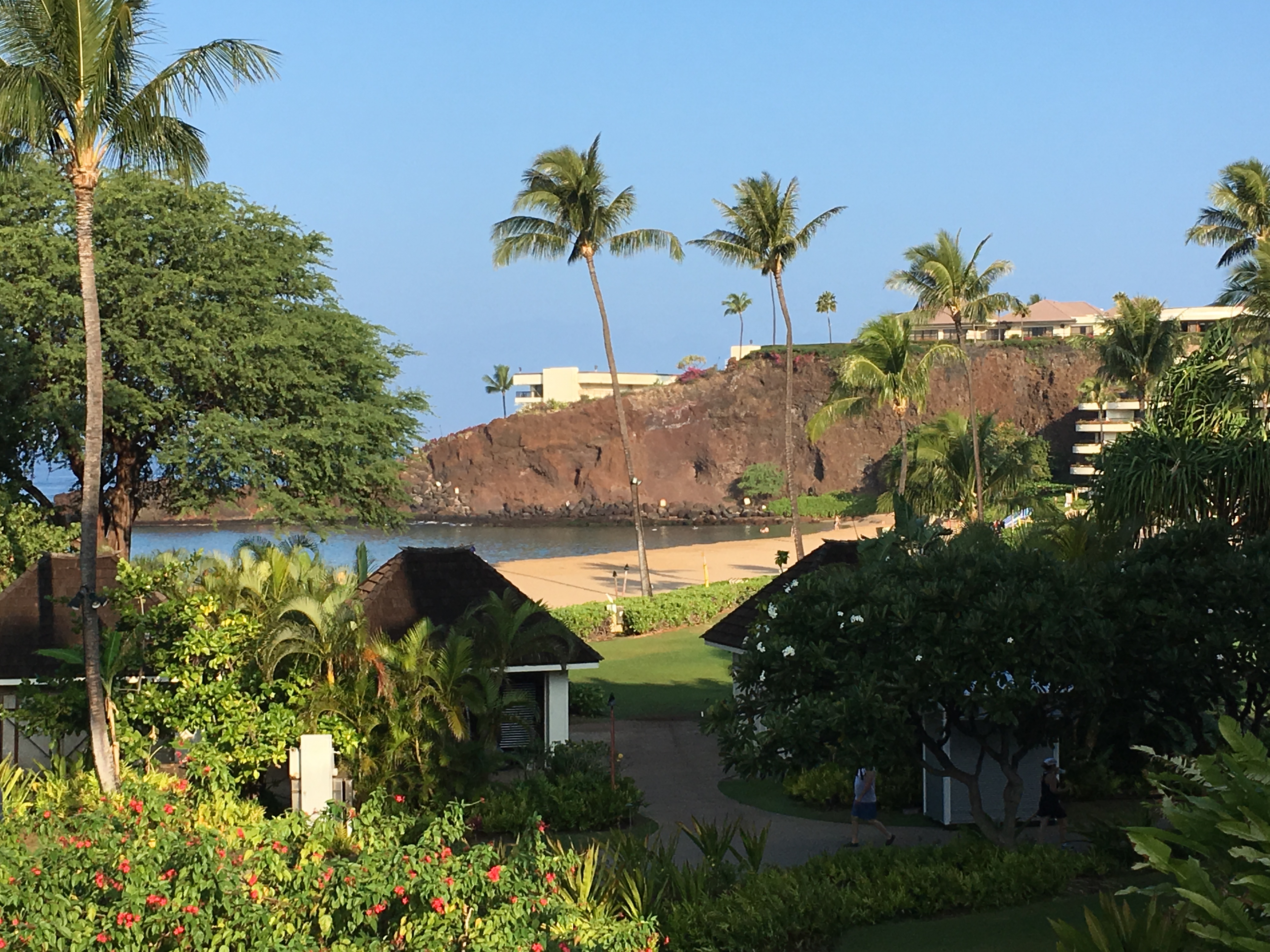 The hotel was in a prime location along the beach. It's very close to Black Rock – which is known for its calm waters that are ideal for snorkeling and other water sports. It's also close to many restaurants and the Whalers Village Shopping Center.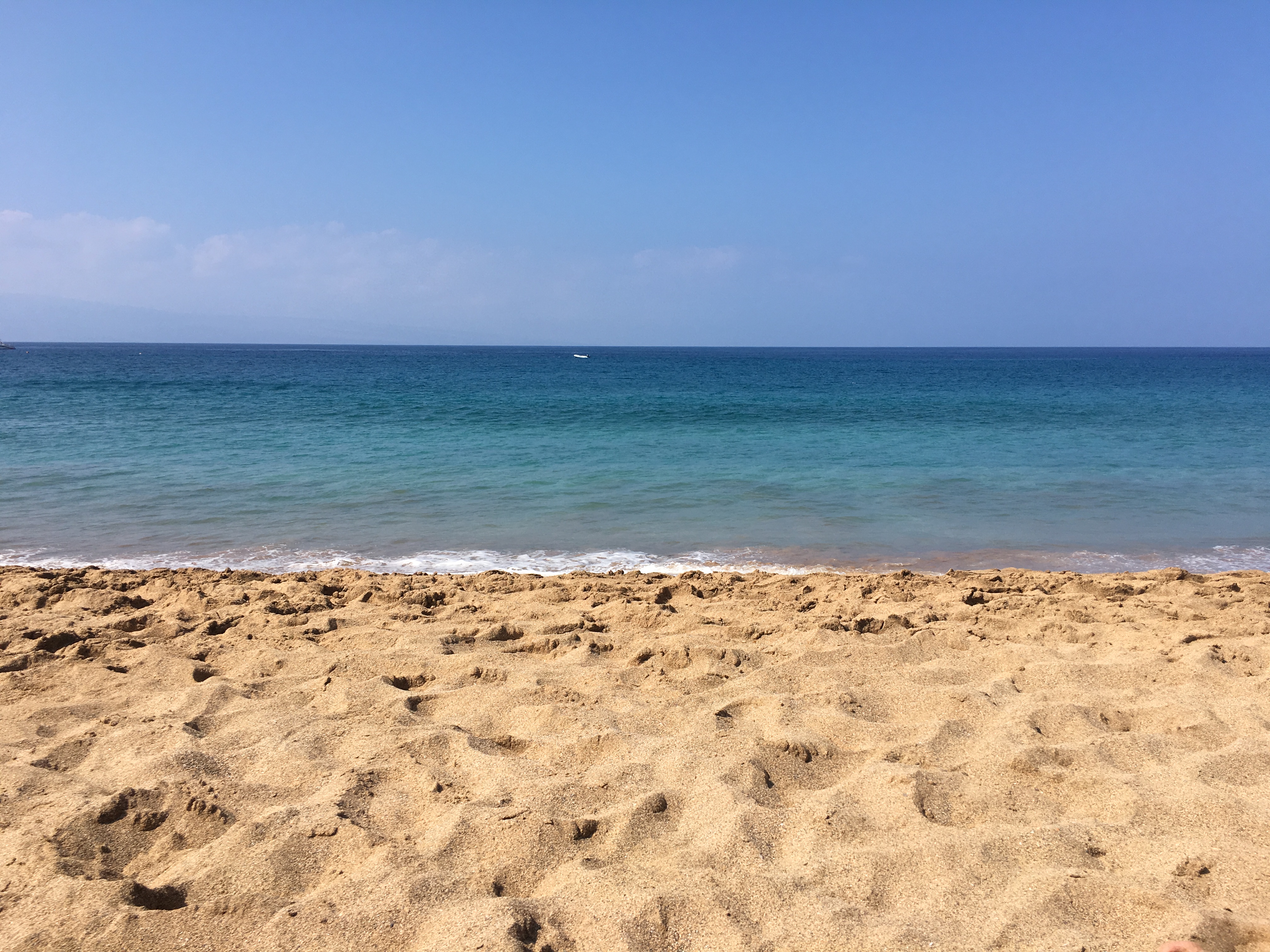 Luau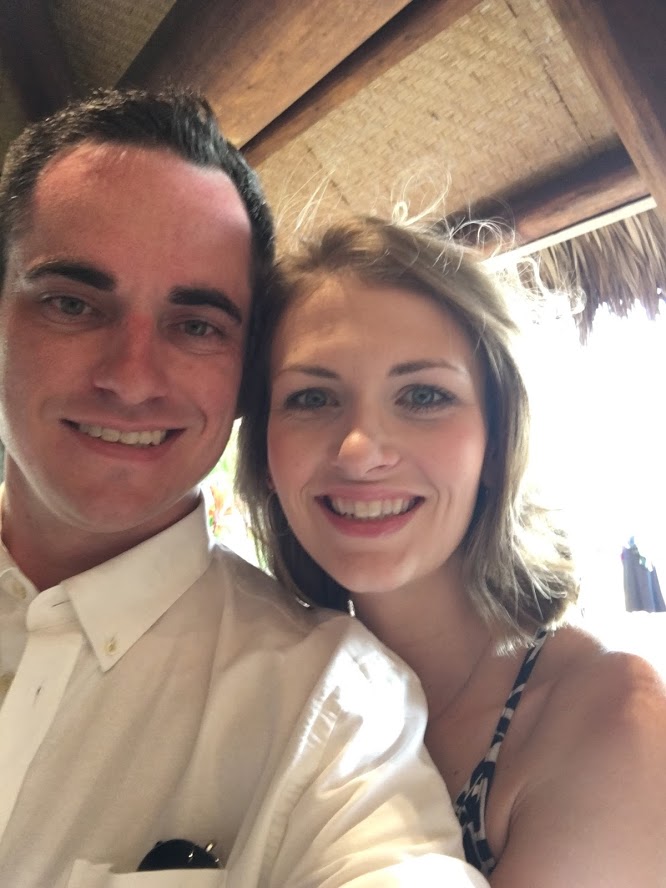 After spending hours at the beach and pool the first day (and developing a wicked leg sunburn…dumb), we headed to the Old Lahaina Luau. We knew that we wanted to attend at least one luau for the full Hawaii experience, and to enjoy some traditional dance, music and food during our stay. It has a reputation for being the most authentic luau with the best food and entertainment. It was beyond our expectations.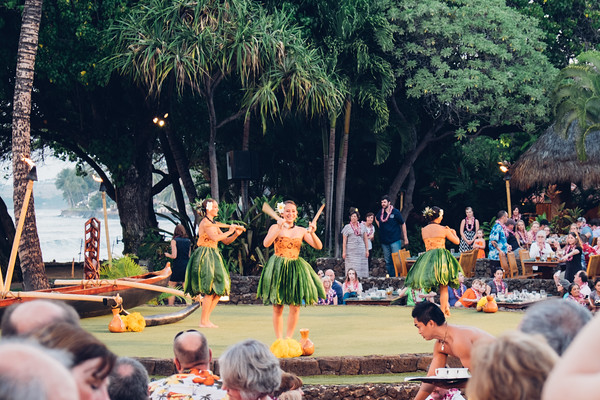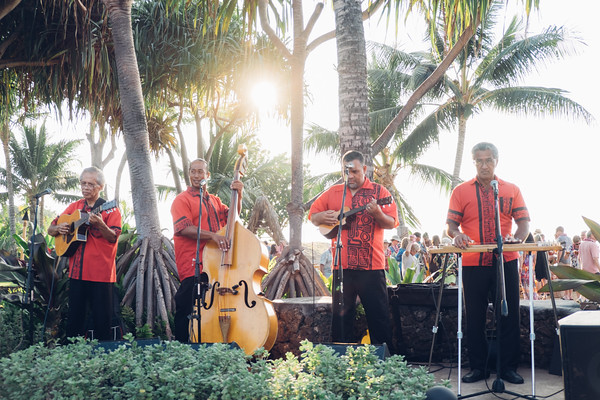 We were greeted with fresh flower leis and (bottomless) drinks and spent the time prior to dinner taking in the sprawling area of lush greens with the oceanside sunset in the background, learning about the underground pig roasting and practicing our hula skills.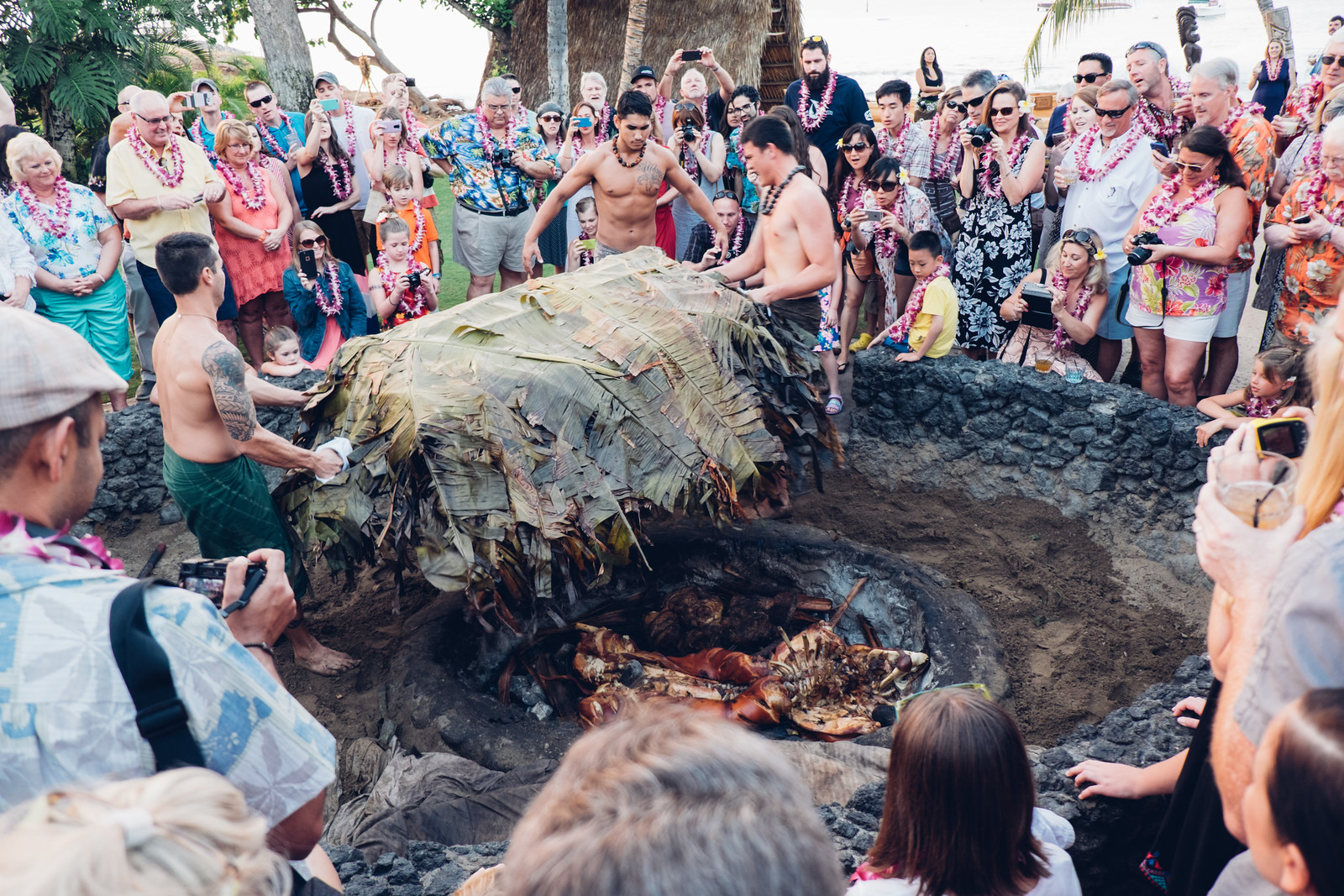 We were called up one table at a time to the all-you-can-eat buffet which was a full spread of every Hawaiian cuisine you could ever dream of. While we feasted to our hearts' delight, the show began, which included live music, chanting, singing, dancing, and an enchanting narration of the history of Hawaii.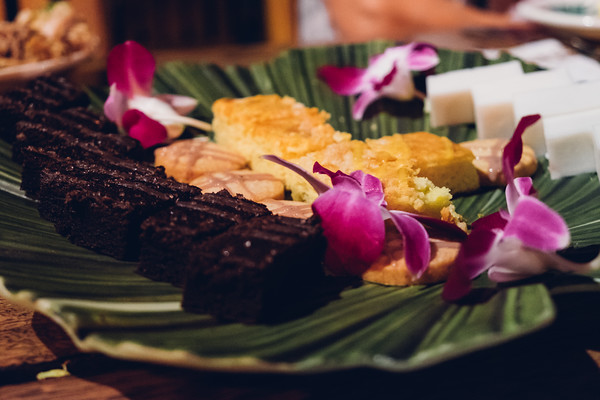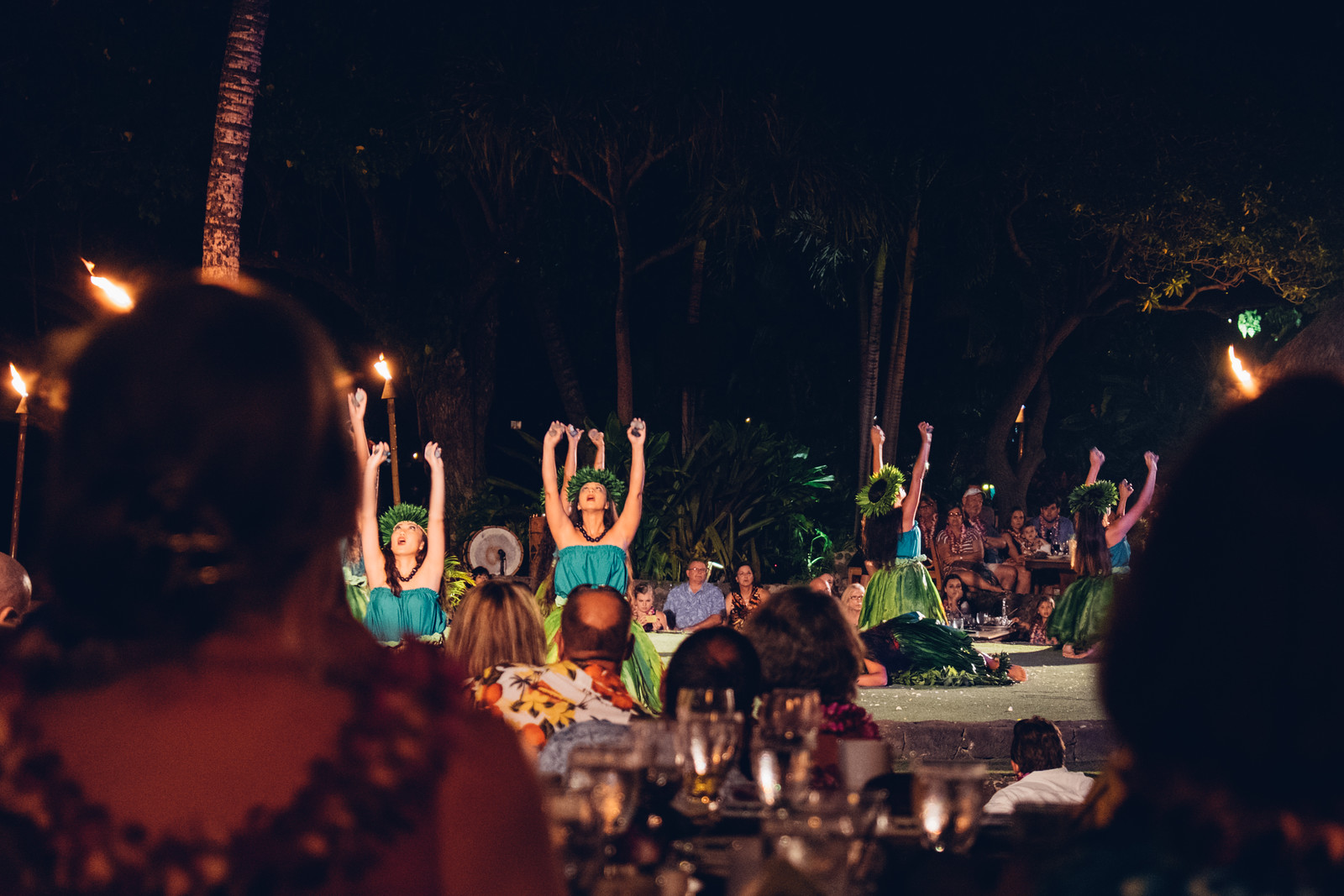 Road to Hana
Several people told us to dedicate a day to driving the famous Road to Hana around the island, which stretches from the north side of Maui and wraps all the way around to the east and south before looping back around. It's a full day's trip, and while we wanted to do the whole thing, we decided we had too many other things on our list to spend 12+ hours driving it. So we compromised and went about 1/3 of the way. It was a great opportunity to see the less "beachy" parts of Maui.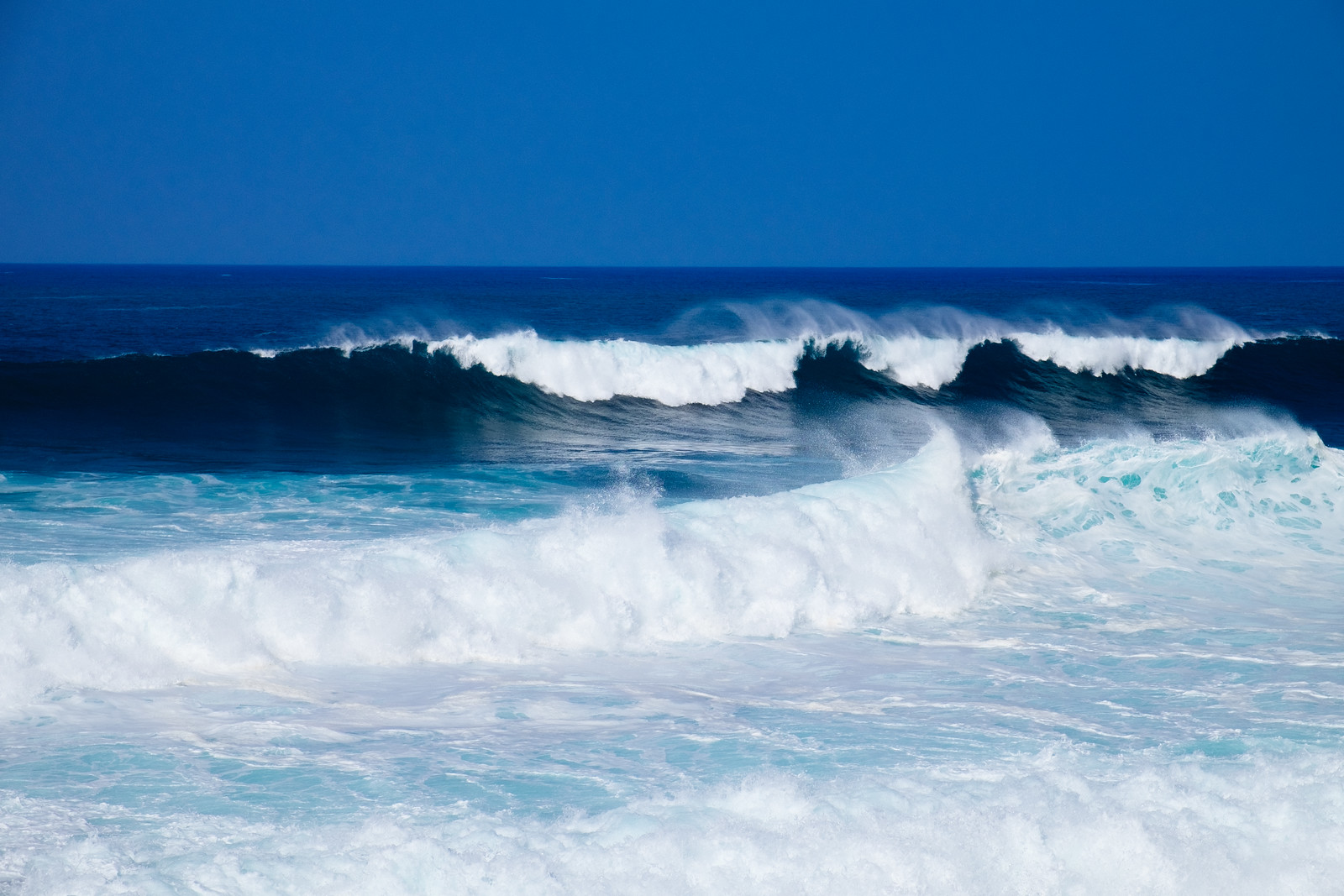 Several pull-offs are available with spectacular views of the ocean (which were especially insane with the crashing waves because of the high surf while we were there), lush greenery, waterfalls, and bamboo forests. We were quite captivated with Twin Falls, which was the farthest point we went along the Road to Hana. It was very secluded and we had an interesting adventure figuring out how to get down to the small, serene pools in the area. Extra bonus: That stop included a cute little smoothie hut that sold killer coconut candy.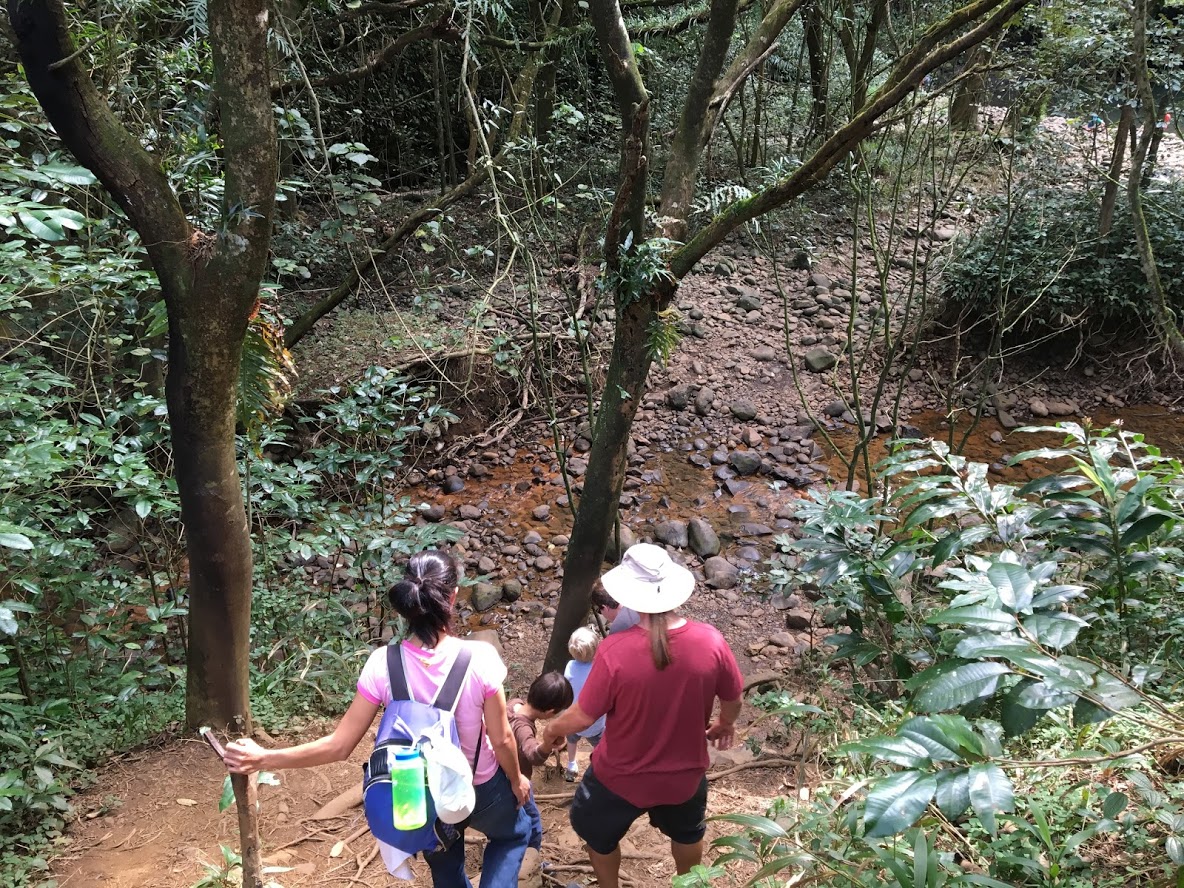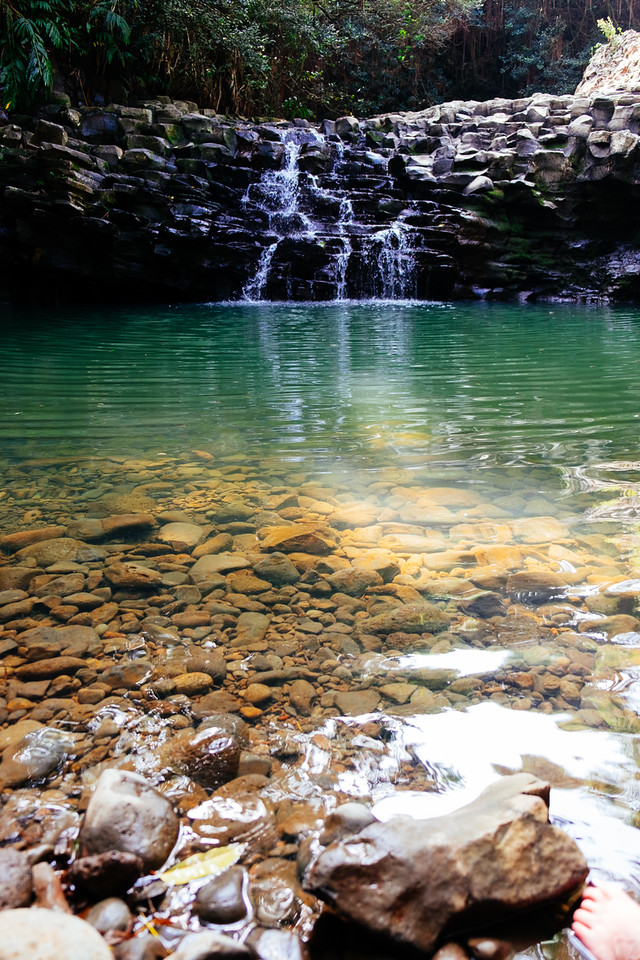 Snorkeling and Whale Watching Excursion
Jordan and I had never been snorkeling, so Hawaii seemed like the perfect place to try it while enjoying the calm waters of the bays and ocean wildlife. Because of the aforementioned high surf while we were there, snorkeling rentals were closed at Black Rock so we weren't able to venture out on our own. And since I was a nervous first-time snorkeler, I wanted some guidance and instruction. We found a Trilogy Excursion package that included that plus the added bonus of potential whale sightings and a light breakfast and BBQ lunch all while sailing over the Pacific ocean on a catamaran.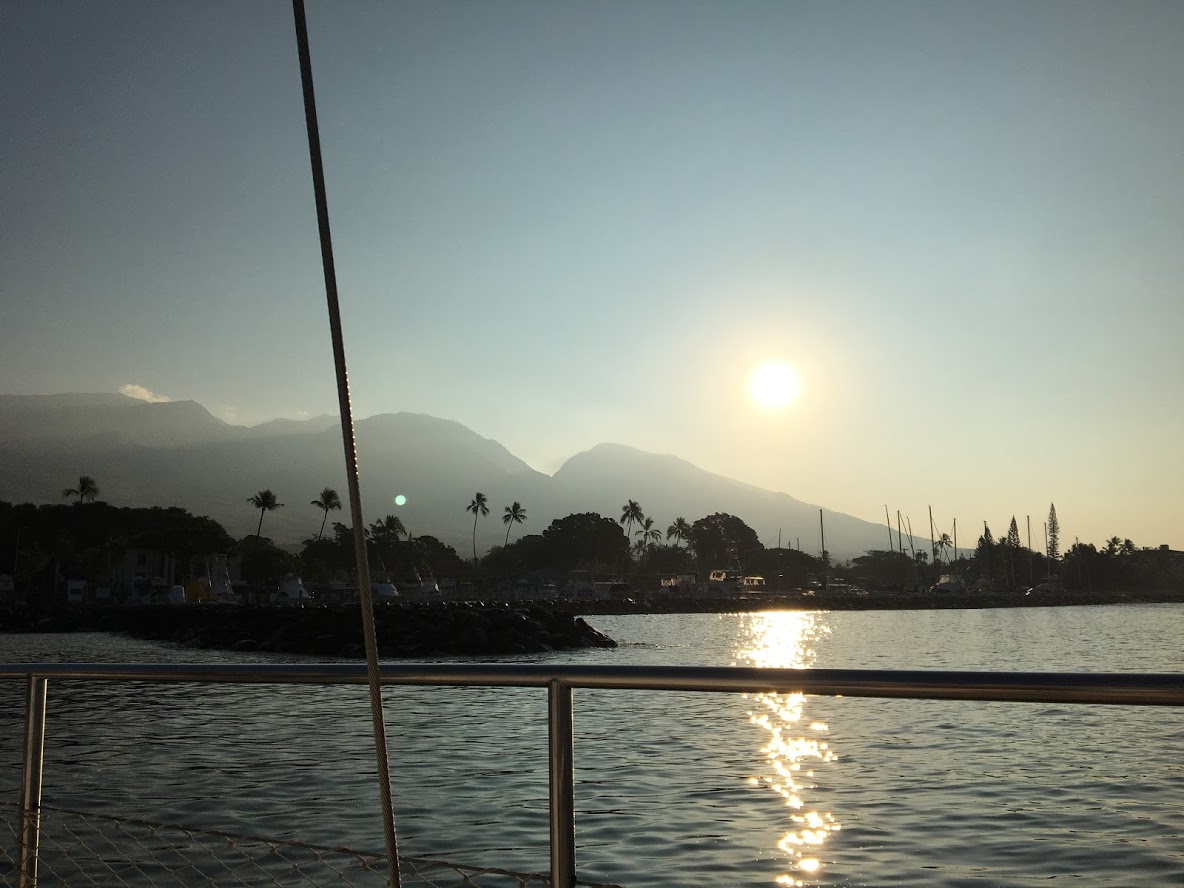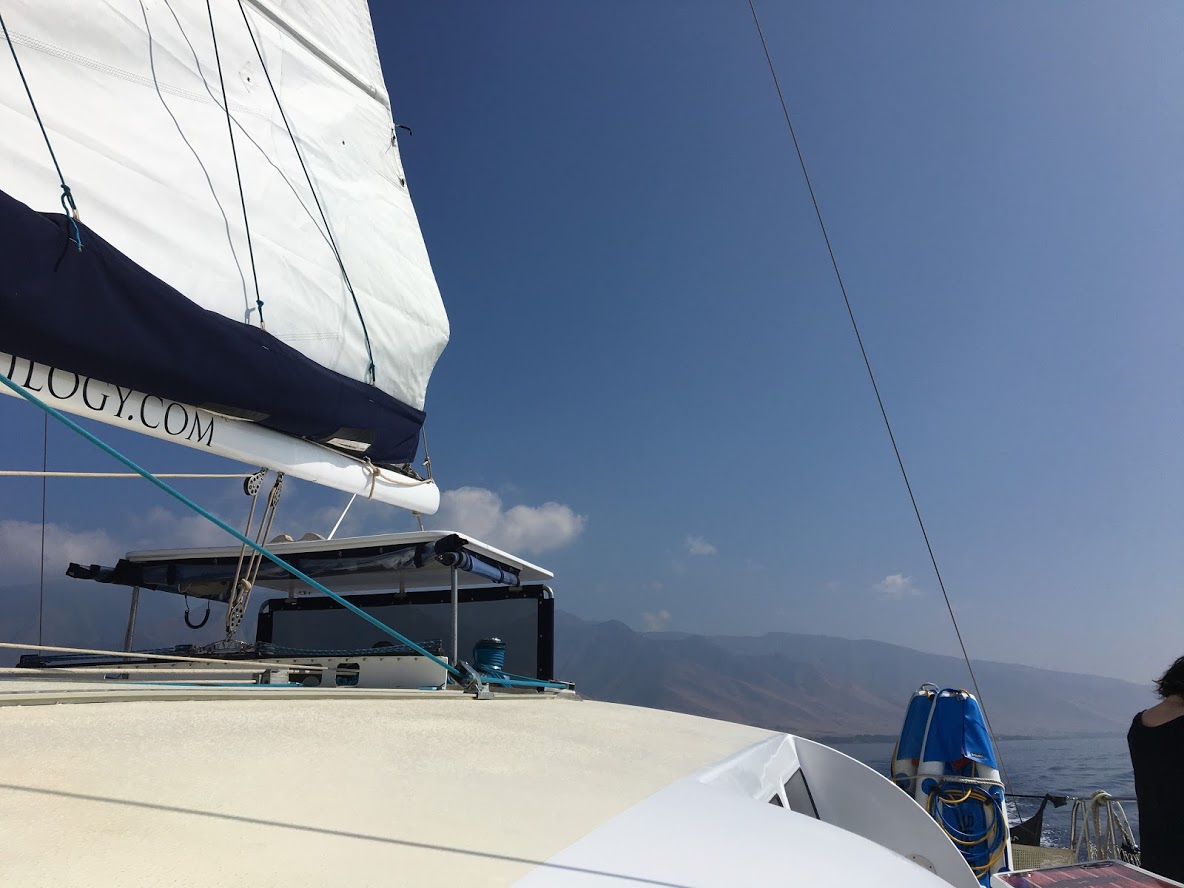 During the hour and a half or so that we were out in the water, we were very fortunate to see some rare sightings, including a sea turtle that swam up right in front of us.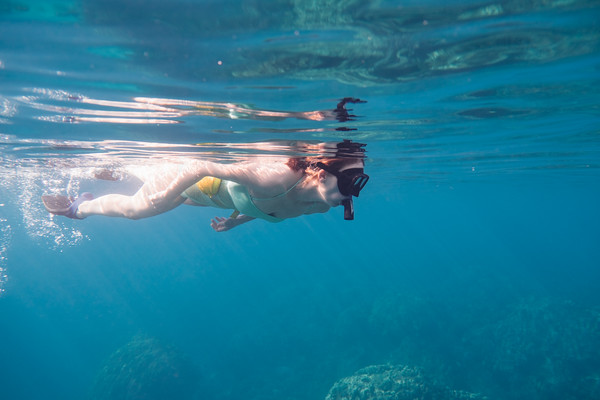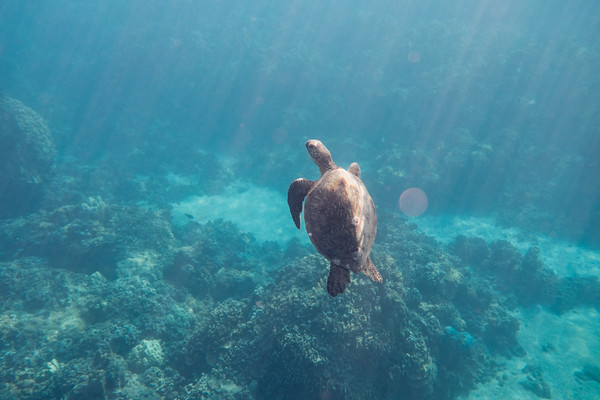 On the way to and from Olowalu Bay, which was our snorkeling location, we also lucked out with a ton of whale sightings. December to April is peak whale watching season, and we were close enough to hear the whales, see them breach, and blow water. It was nature at its finest.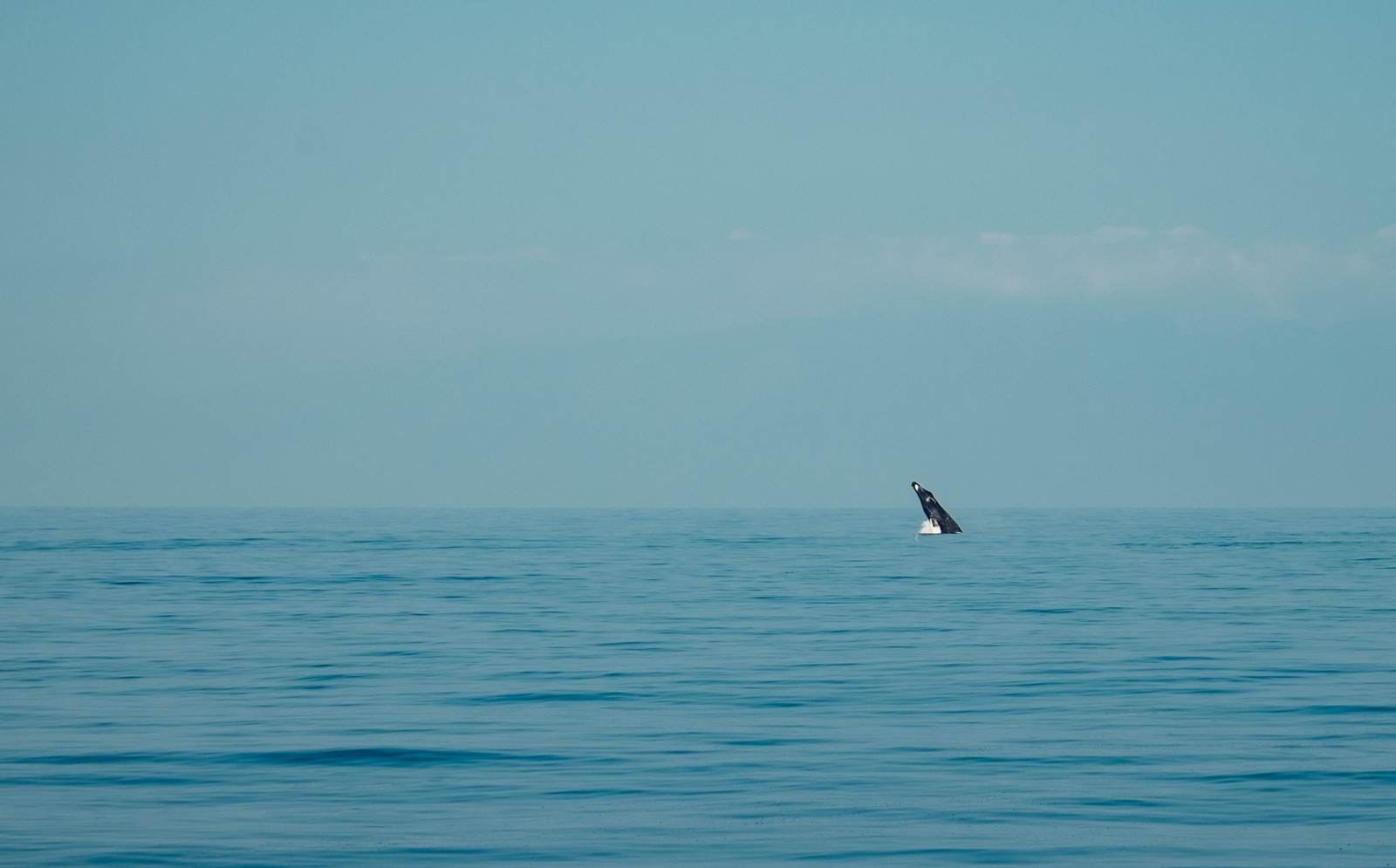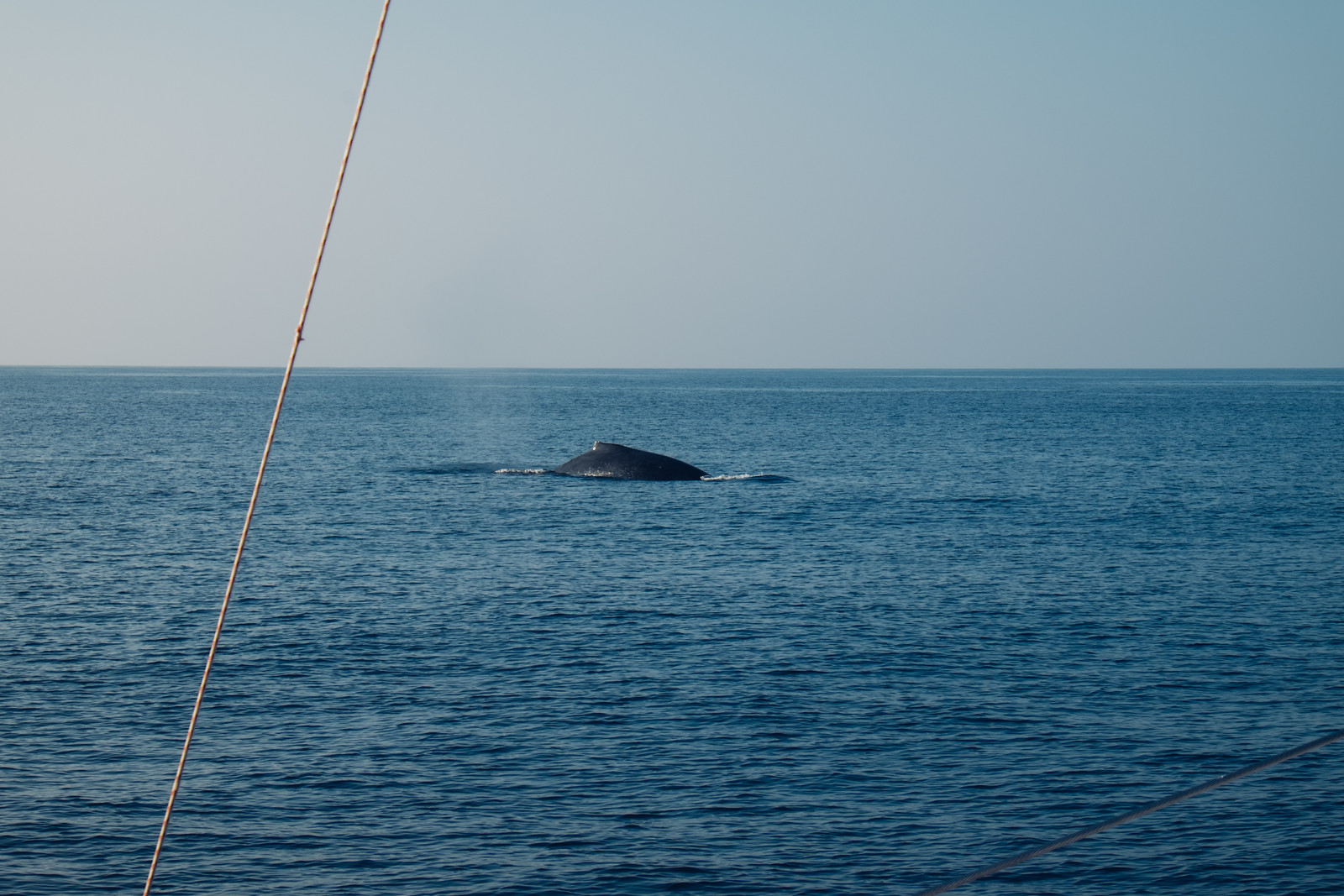 As if that wasn't enough, we were waited on hand and foot by the wonderful crew members and got to know their stories about how they came to be a part of the Trilogy family. The crew is what really made this excursion feel like a customized experience. They were very attentive, personable, and knowledgeable. The whole experience will go down as one of my fondest travel memories ever!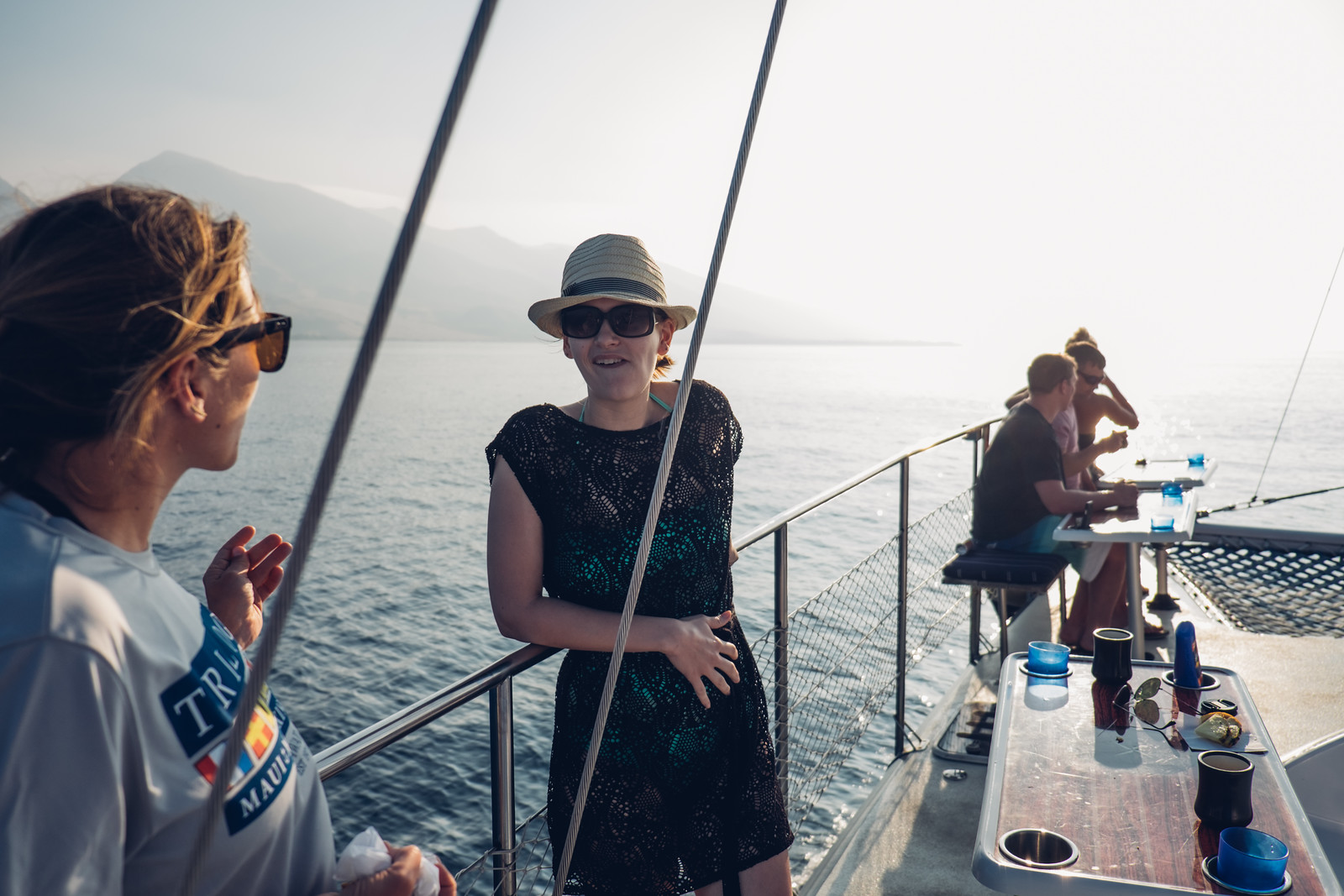 The rest of our time on the island was spent exploring the town of Lahaina and walking along Front Street (lots of quaint shops), enjoying scenic views along the coastal highway, eating (more on that below), and reveling in one of the most beautiful places on Earth.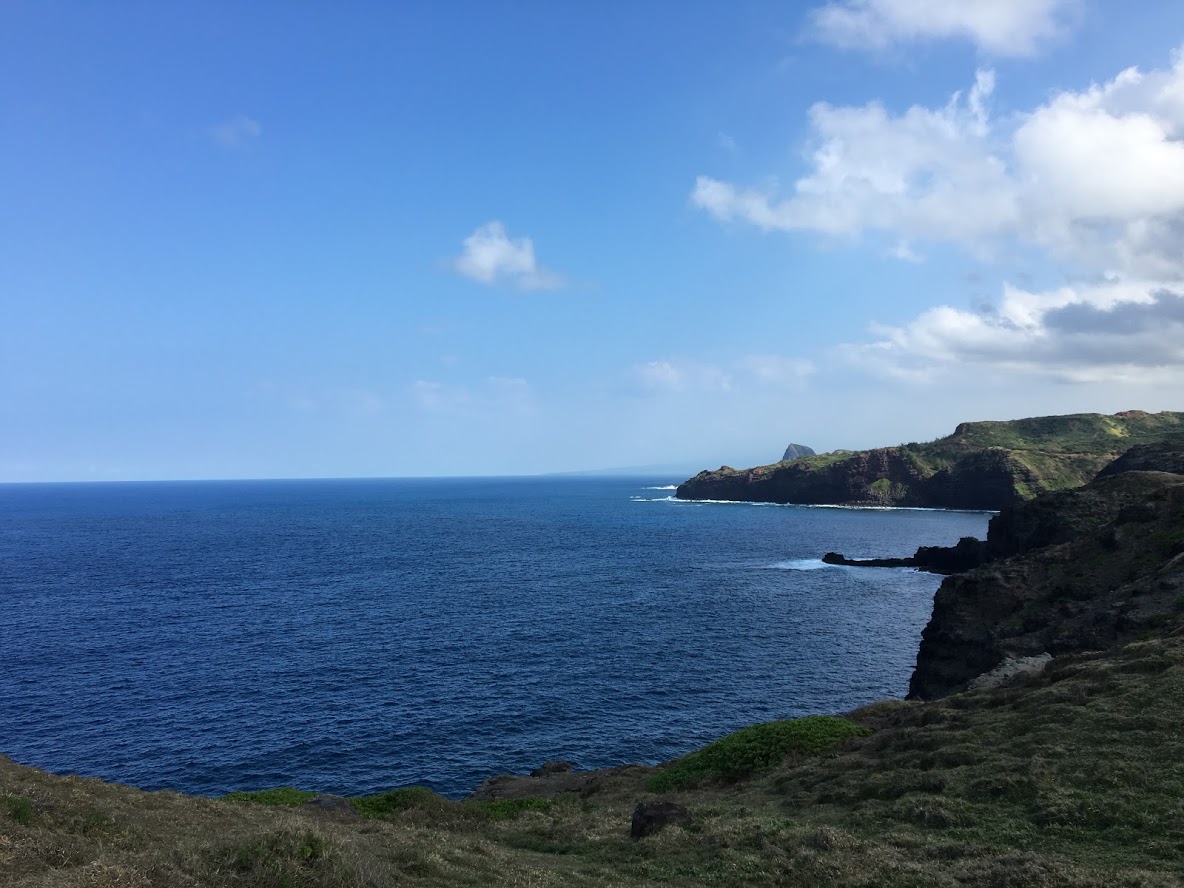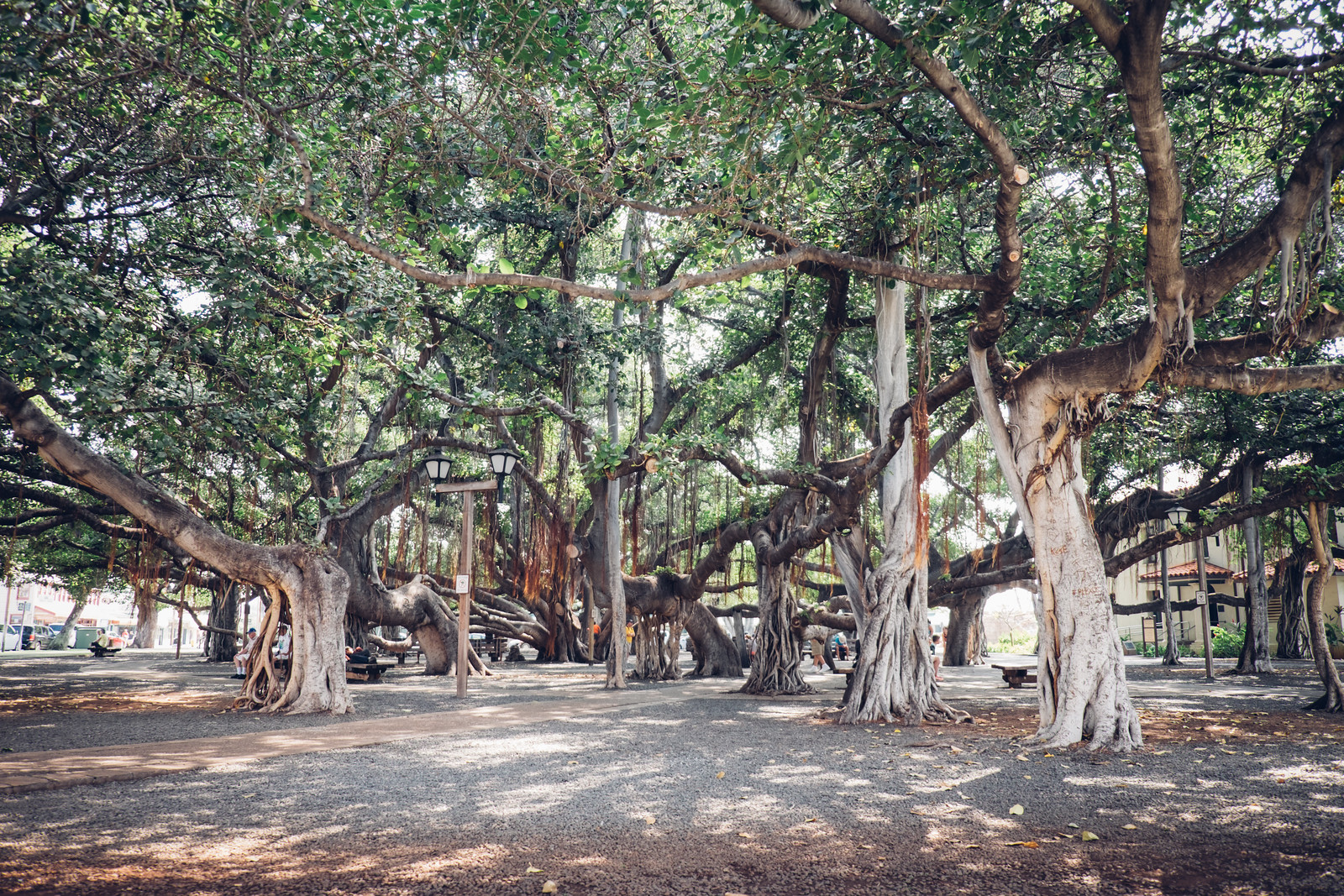 Next up…details on all of the Maui eats! It's no secret that I'm obsessed with food, so I'll be sharing everything we loved – fresh tropical fruits, the best coffee, sweet potatoes, and desserts (shave ice, pie, to-die-for banana bread!). Take me baaaack.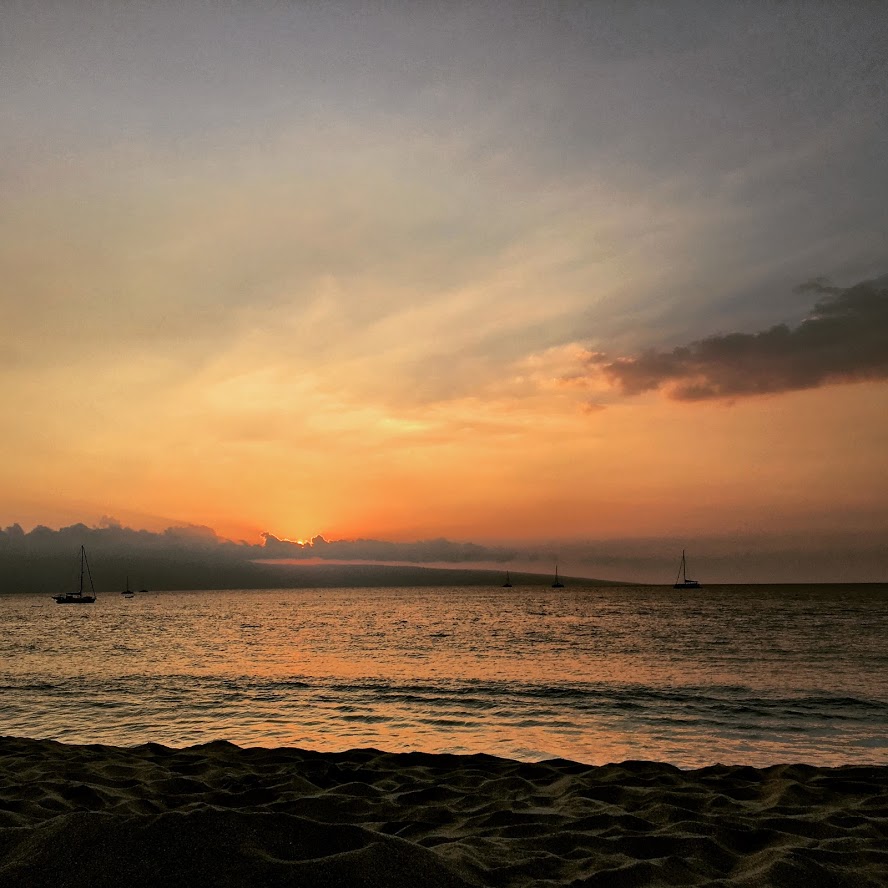 Have you been to Maui? What were your favorite activities on the island?