Oahu. Otherwise known as Hawaii's major tourist spot.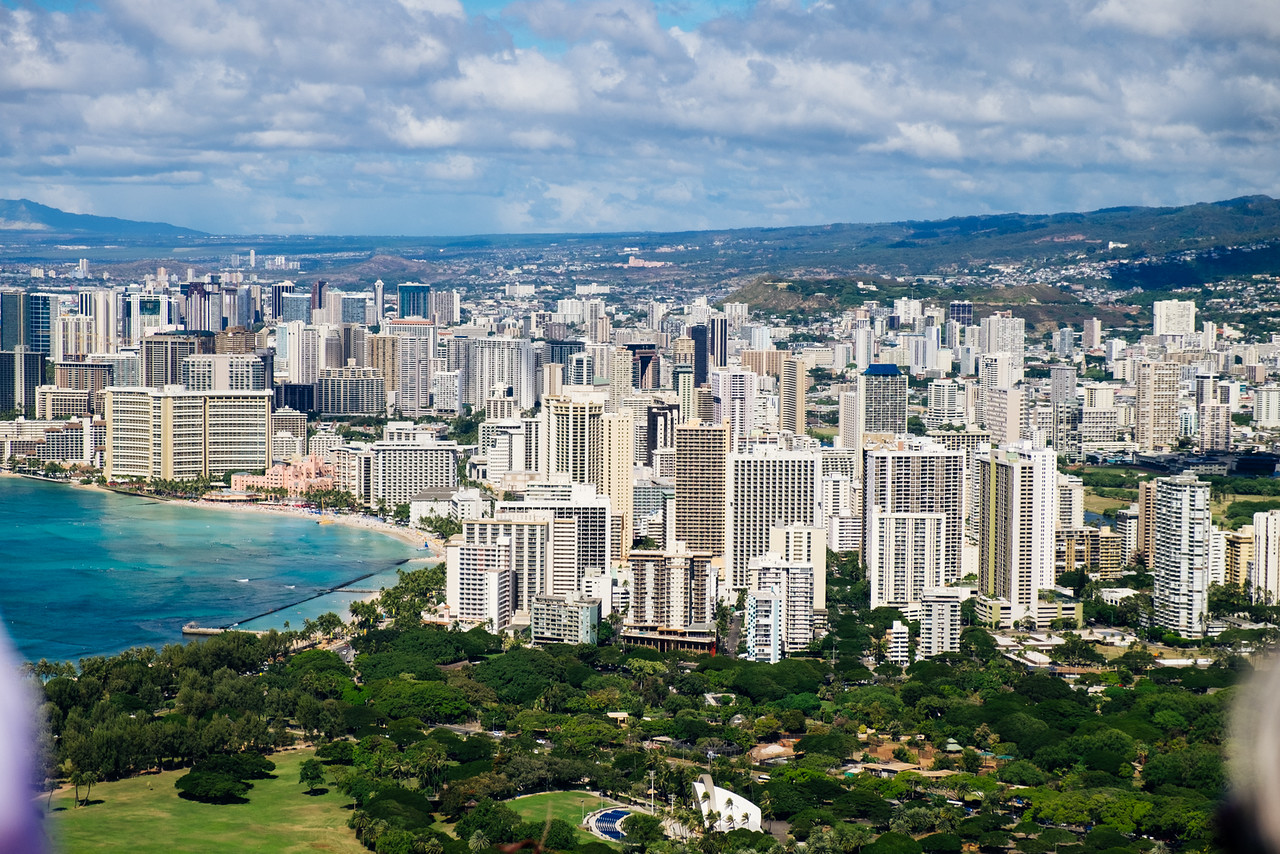 When we decided we were going to Hawaii, we wanted to experience the culture of more than one island. Oahu seemed like the obvious choice since 1) the state's capital (Honolulu) is located there and 2) the major beach of Waikiki is a popular vacation destination with tons of activities to do.
So once we wrapped up our stay in Maui, we island hopped over to Honolulu (via old-school propeller airplane…eek) and settled in to our Waikiki-based hotel. We were in for a bit of culture shock. Maui and Oahu couldn't be more different. I like to call Waikiki Beach the "Vegas" of Hawaii. Not that there's anything wrong with that, but it was definitely faster-paced and more crowded than what we experienced on Kaanapali Beach in Maui. It's basically a city beach lined with tons of shops and restaurants right next to a busy main street.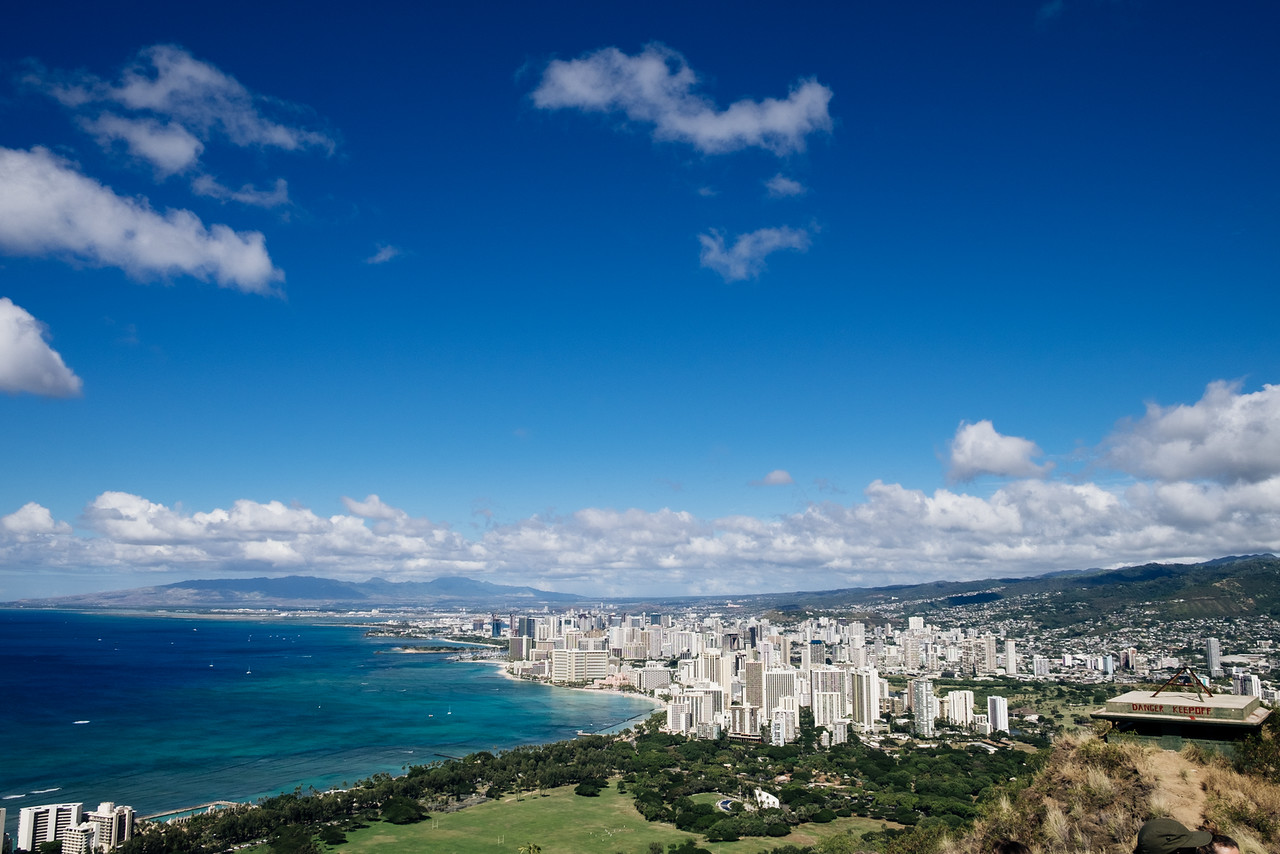 Day One
Hotel
We arrived in Honolulu late afternoon on the Saturday of Pro Bowl weekend, so Waikiki Beach was absolutely jam-packed with football fans. Our hotel was located just a few blocks away from the beach which was an ideal location – far enough away from the bulk of the crowd, but close enough to walk to the ocean and surrounding restaurants, stores, and sightseeing destinations.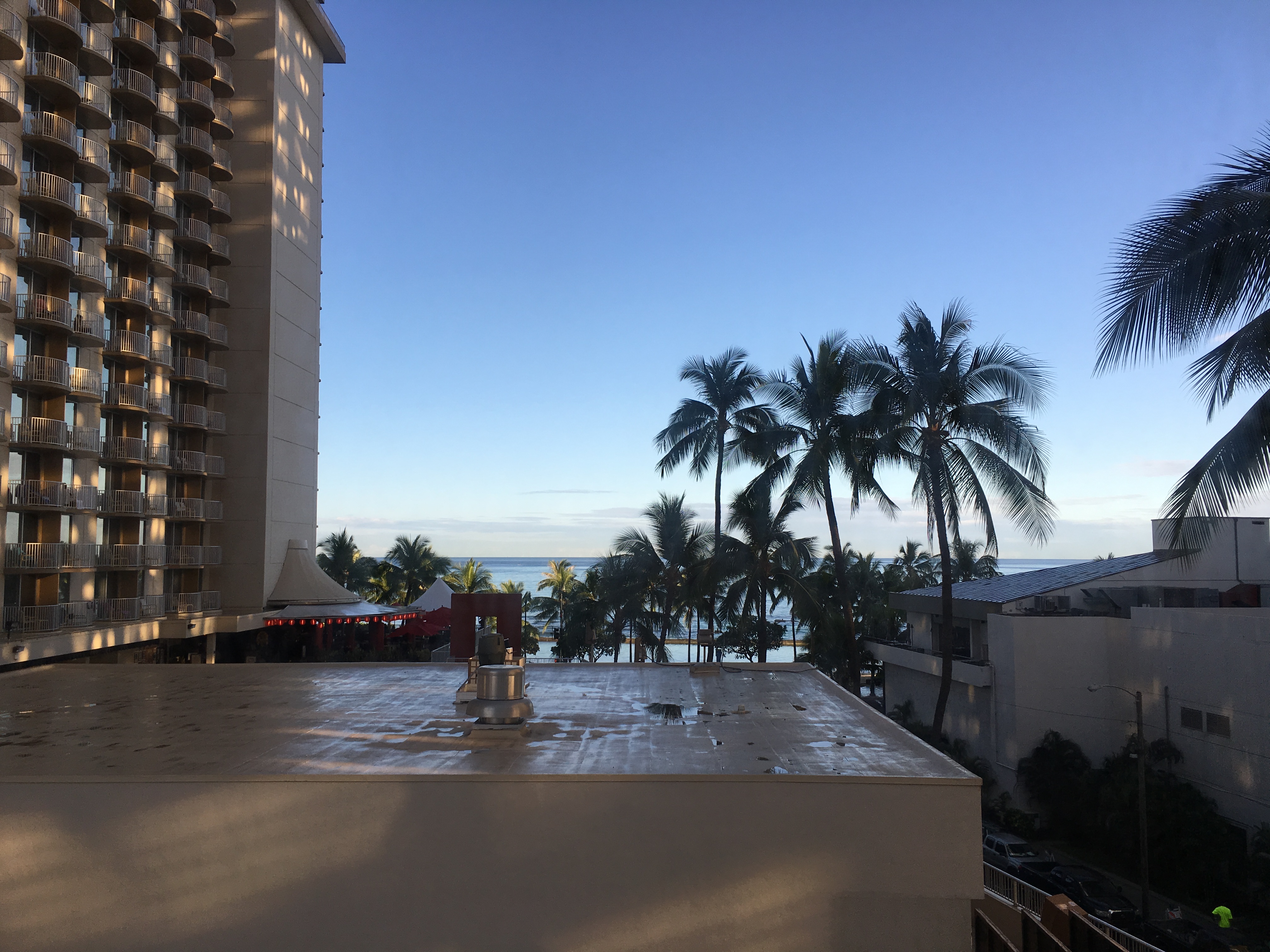 We stayed at Hotel Renew – a "boutique" hotel sandwiched between a bunch of big hotel chains in the Waikiki area. We were greeted with lemongrass soaked towels and fresh-squeezed pineapple juice when we checked in, so they were already on my good side at that point. The room was small but cozy, and the hotel staff was helpful and kind. It's a smaller hotel in general, so we felt like we were getting the best personalized customer service. The only negative point was that we didn't have a balcony, though I'm not sure how much time I would've spent on it with the noise of traffic whizzing by and the loud Pro Bowl fans.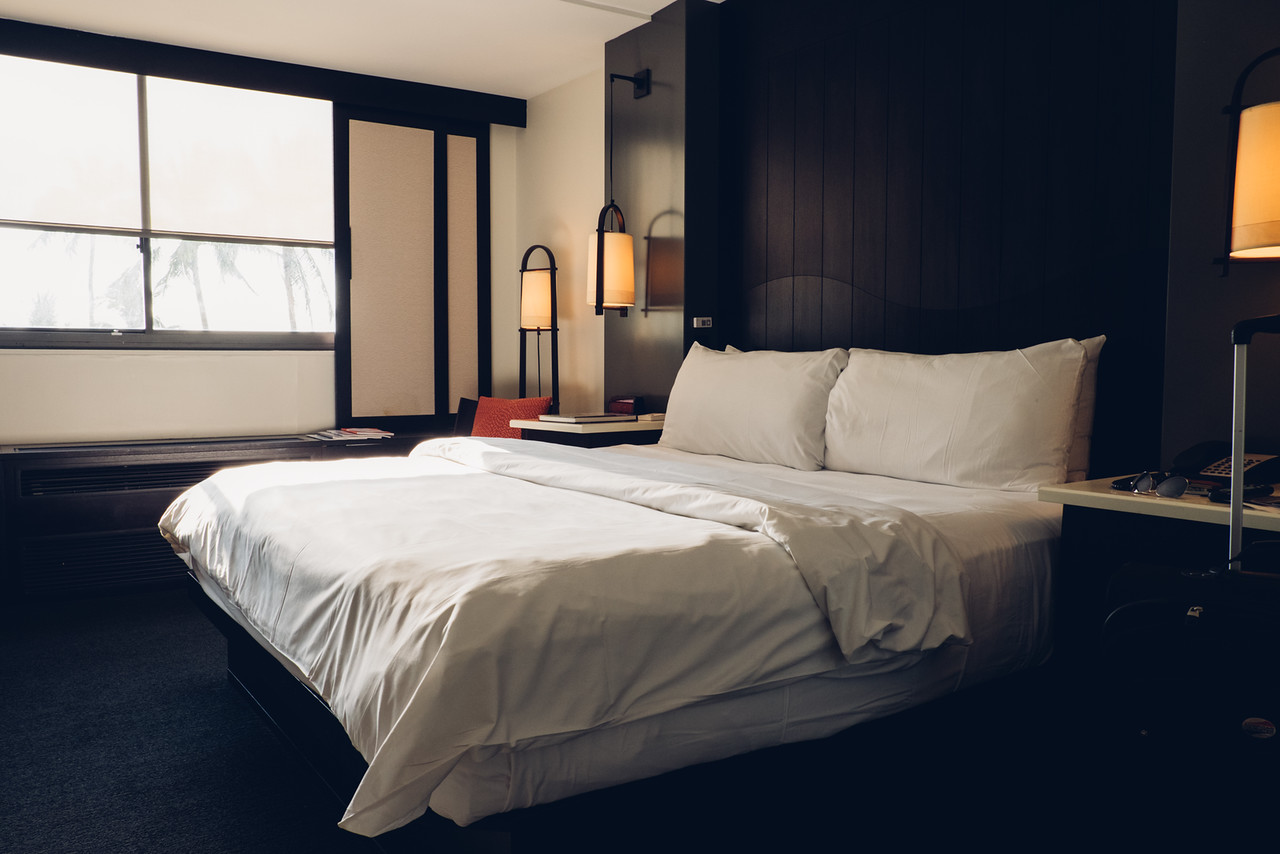 Pro Bowl Pep Rally
After dinner we decided to check out the Pro Bowl hubbub happening closer to the end of the beach where we were staying. They were holding a full-on pep rally complete with NFL cheerleaders, TV cameras, and music. We hung around for a bit but then had to get on the road to head to a University of Hawaii basketball game.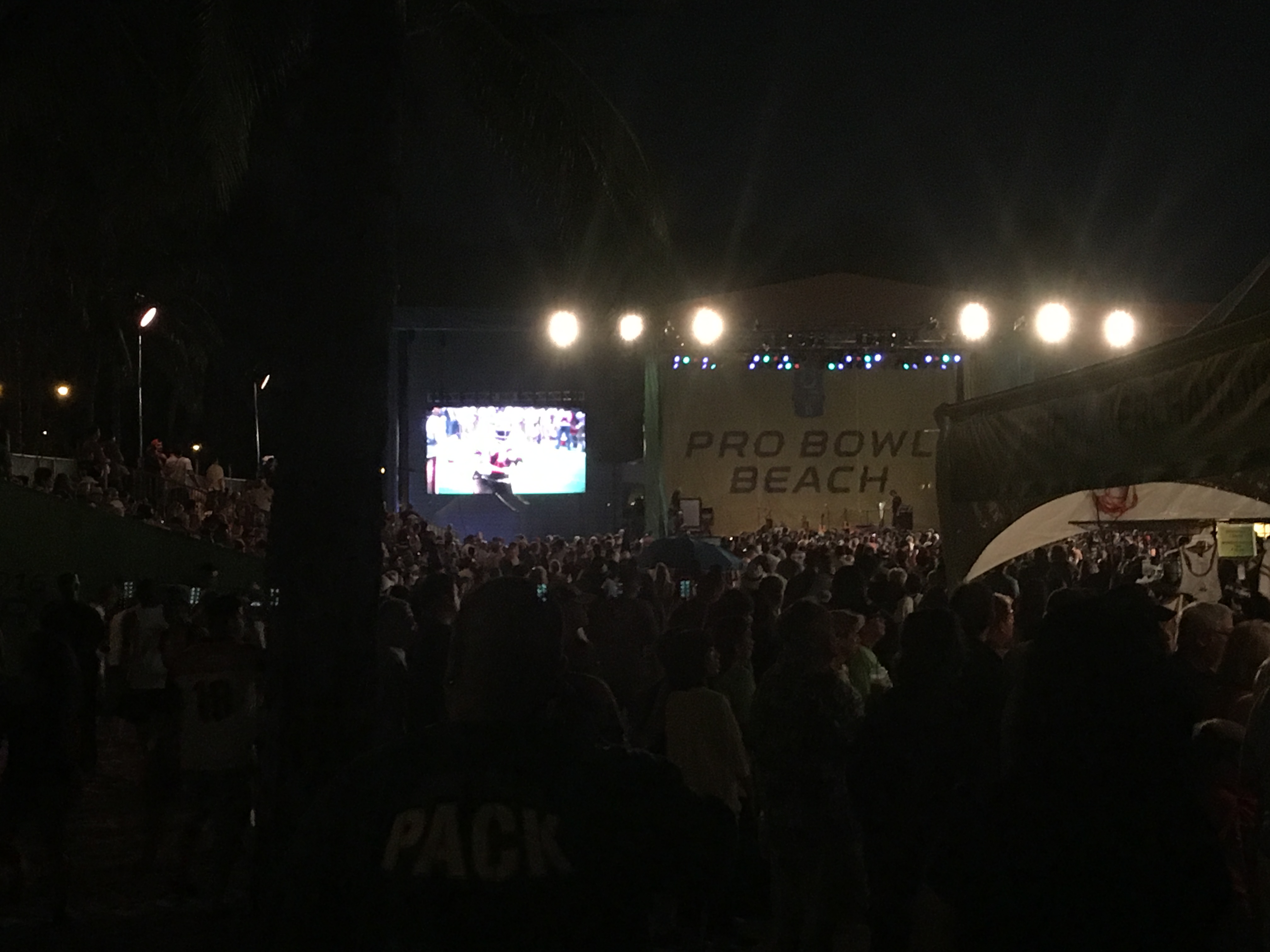 Basketball Game
You're probably wondering why on Earth we attended a college basketball game while in Hawaii, as any reasonable person would. Jordan's company has the team as a client and offered complimentary tickets to a game. To be honest, I was not thrilled at the prospect of attending a b-ball game, but I was interested in seeing what the college campus looked like and taking in the sports atmosphere of a place outside of Husker Nation. My favorite part was listening to the performance of both the national anthem and Hawaii's state song. I love how they incorporated both in the pre-game program. The team had been on an eight game winning streak prior to this one, and unfortunately it didn't end with a ninth victory. We must have brought bad luck from the mainland.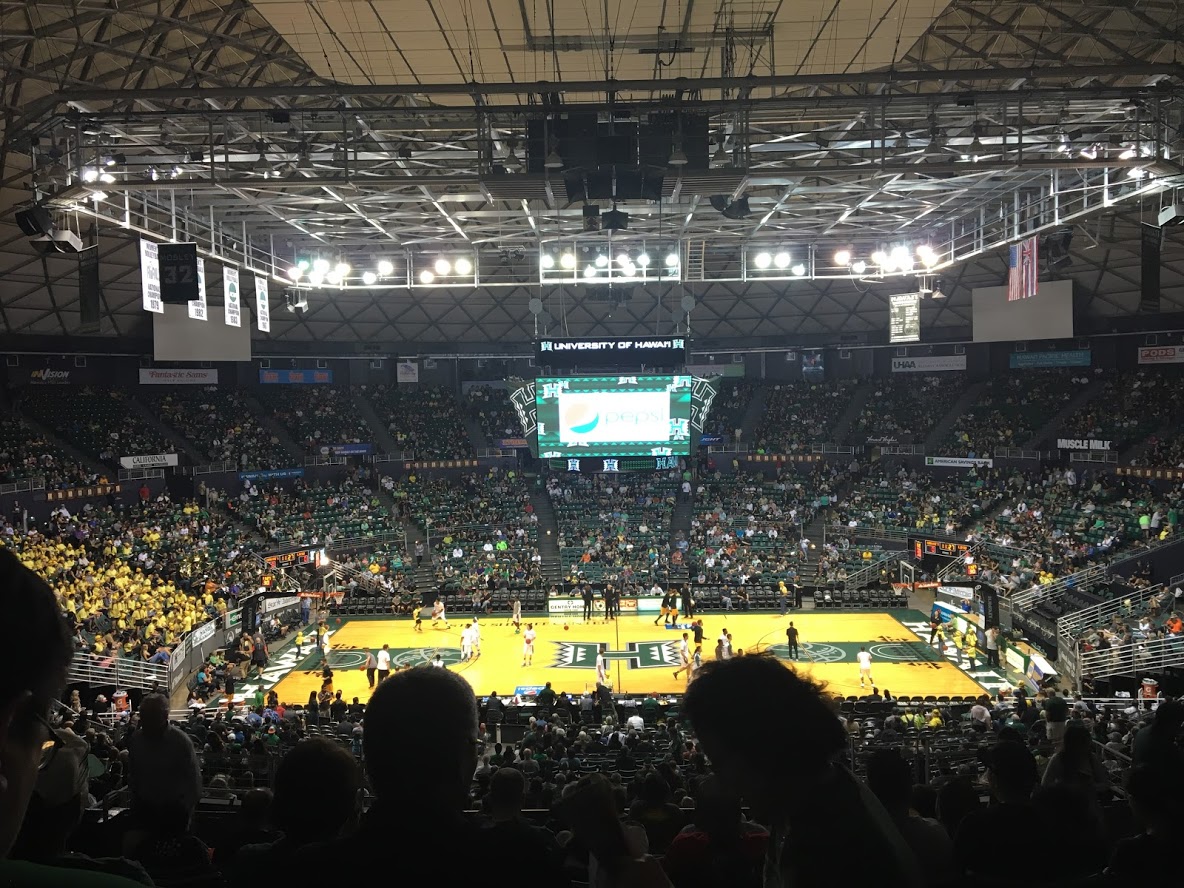 Day Two
Diamond Head Crater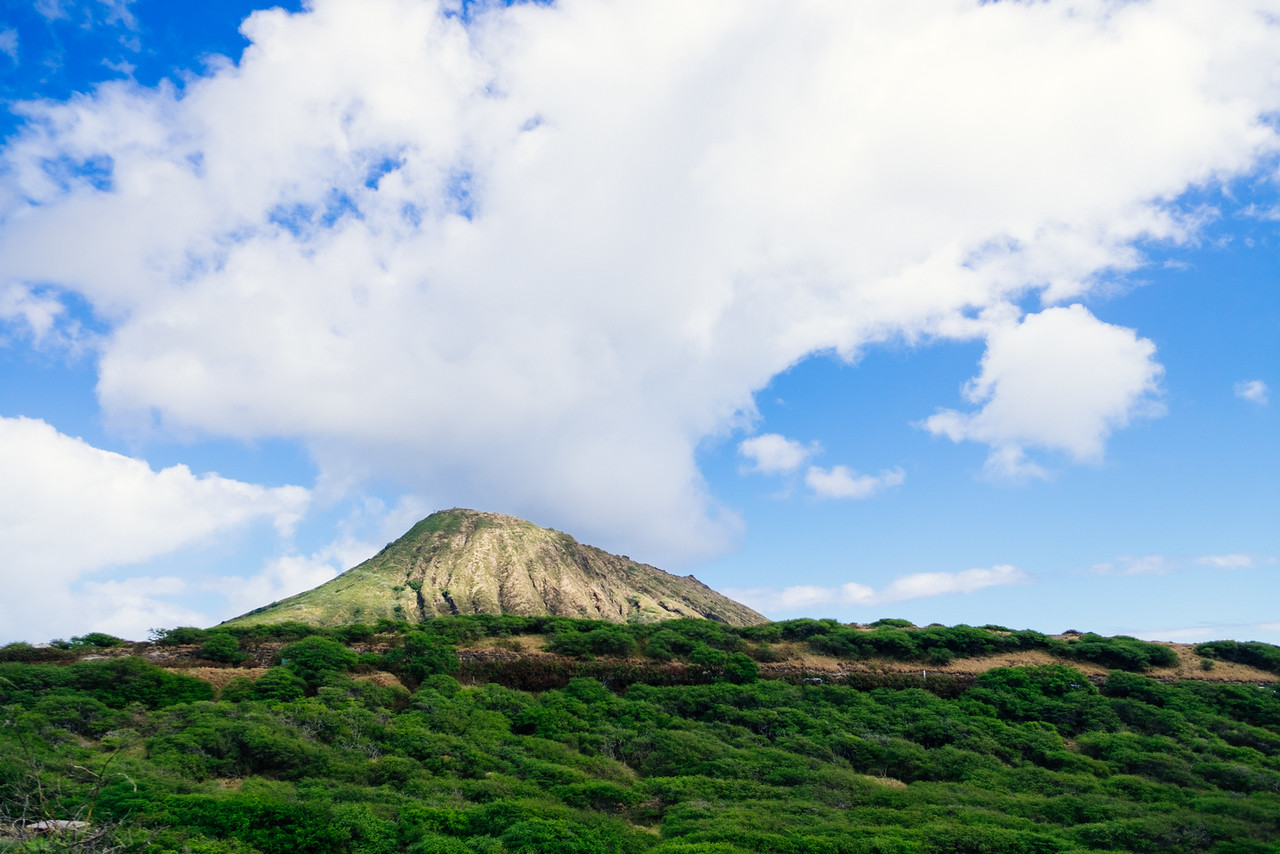 During my travel planning, I consulted Trip Advisor to check out the must-do activities in Oahu and Diamond Head Crater came up high on the list. It was a quick drive from our hotel so it seemed like a no-brainer to carve out a little time for some great views and bonus physical activity.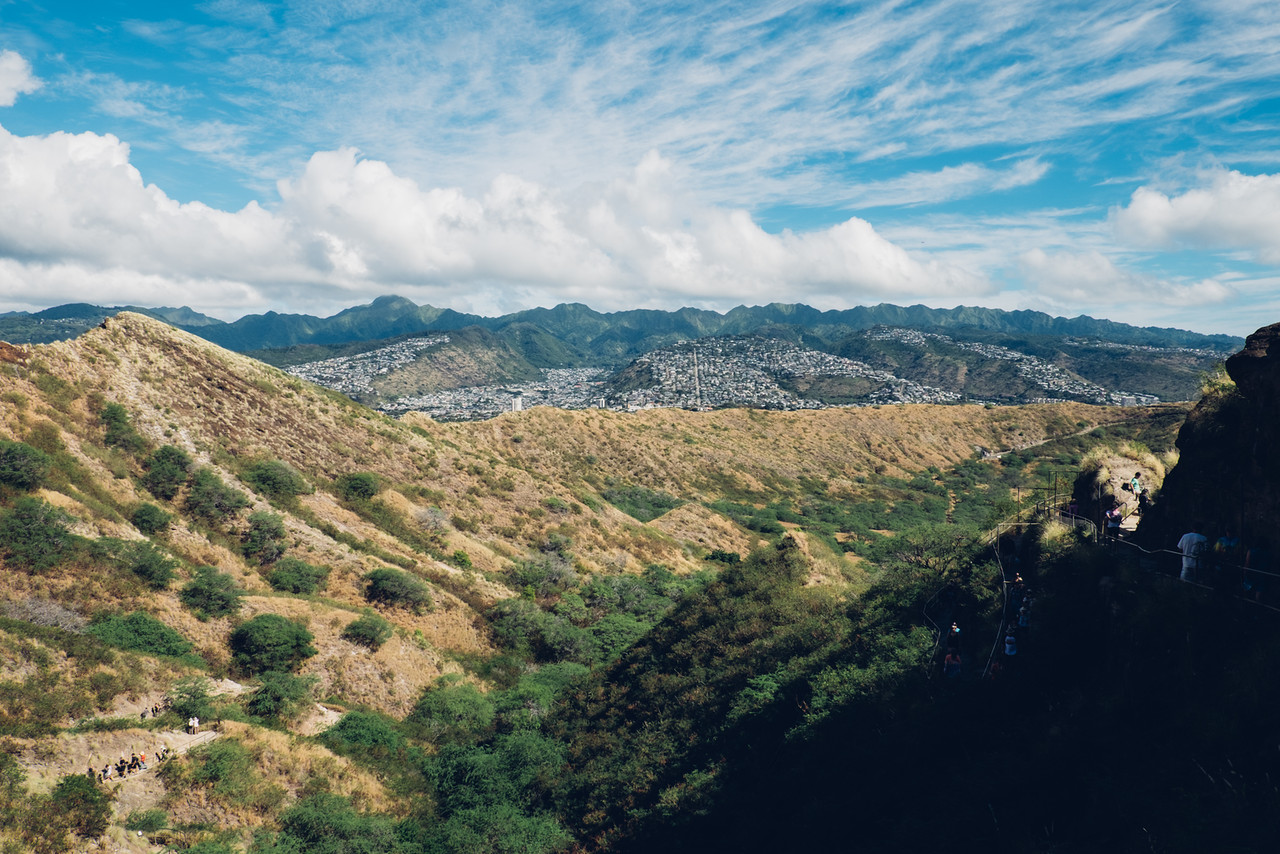 It took us about an hour to get to the top with varying difficulties along the trail. I'd say the most challenging part was climbing the steep staircase halfway through the hike.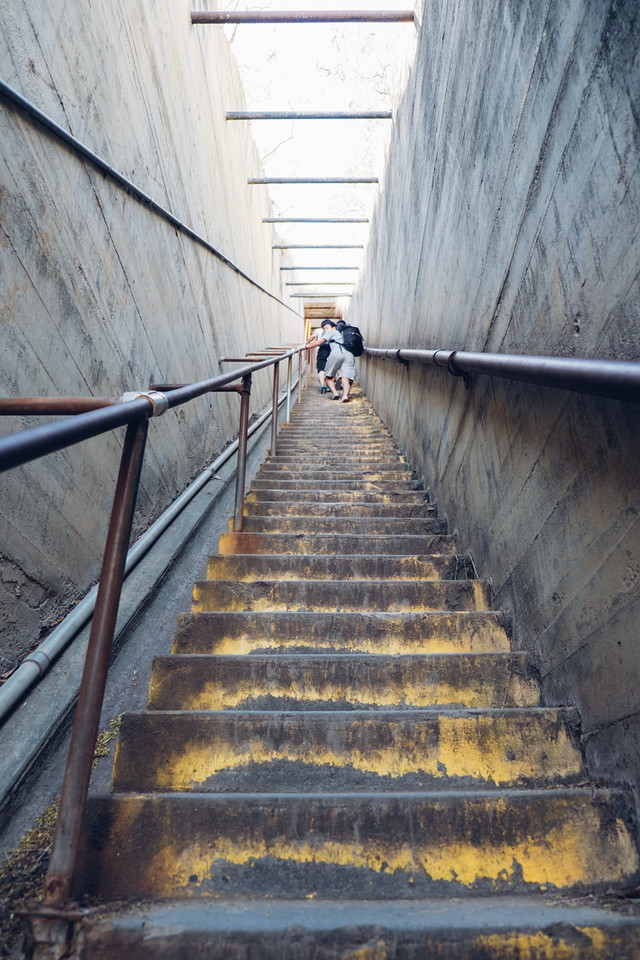 The views at the top were worth it, and it was fun to overlook the city of Waikiki as well as the eastern half of the island with less cityscape. There is a small fee to get in since it's a national park, plus there's a charge for parking. If you get hungry/thirsty there's a little food truck that sells burgers, hot dogs, smoothies, and other refreshments at the entrance.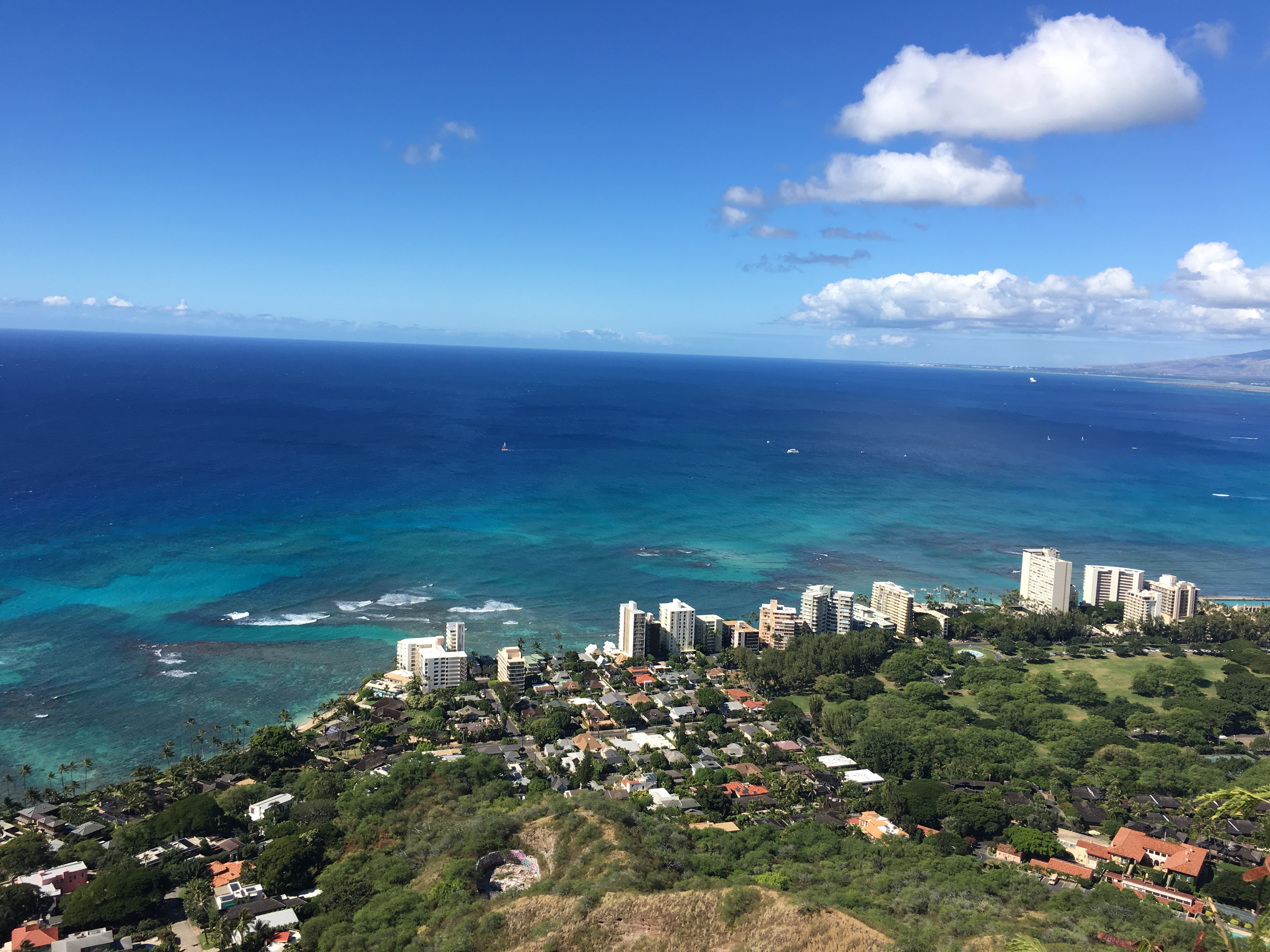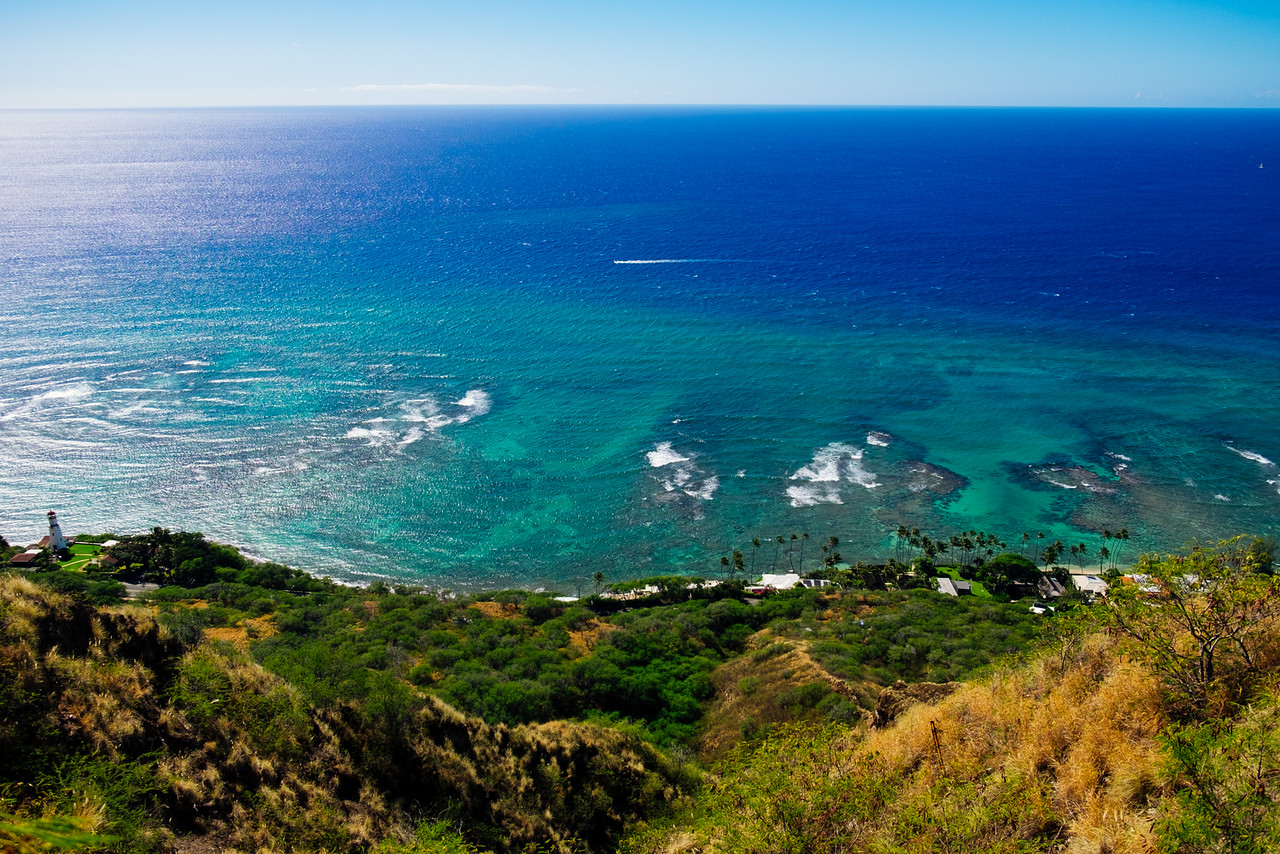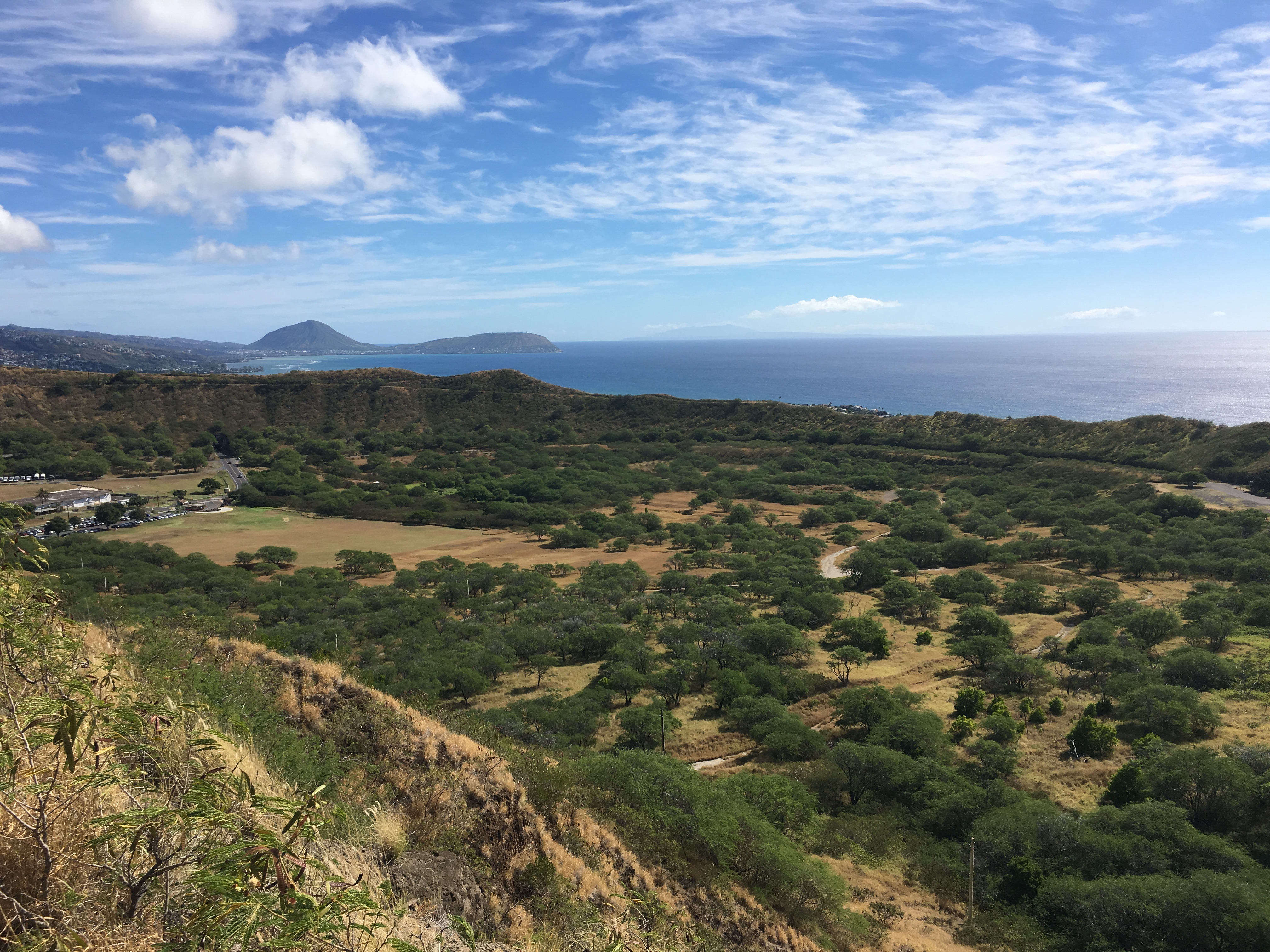 Pearl Harbor
Jordan and I were both equally excited about the next item on our itinerary – Pearl Harbor. I'm a big WWII nerd, and Jordan loves history in general, so we made sure to reserve our tickets ahead of time even though you could just show up the day of the tour to purchase them. We ran into quite the traffic snafu when in an attempt to find lunch before heading that direction, I misguided us onto an incorrect exit that ran us straight into a Pro Bowl traffic jam. Wife navigation fail. Thankfully we made it just in time.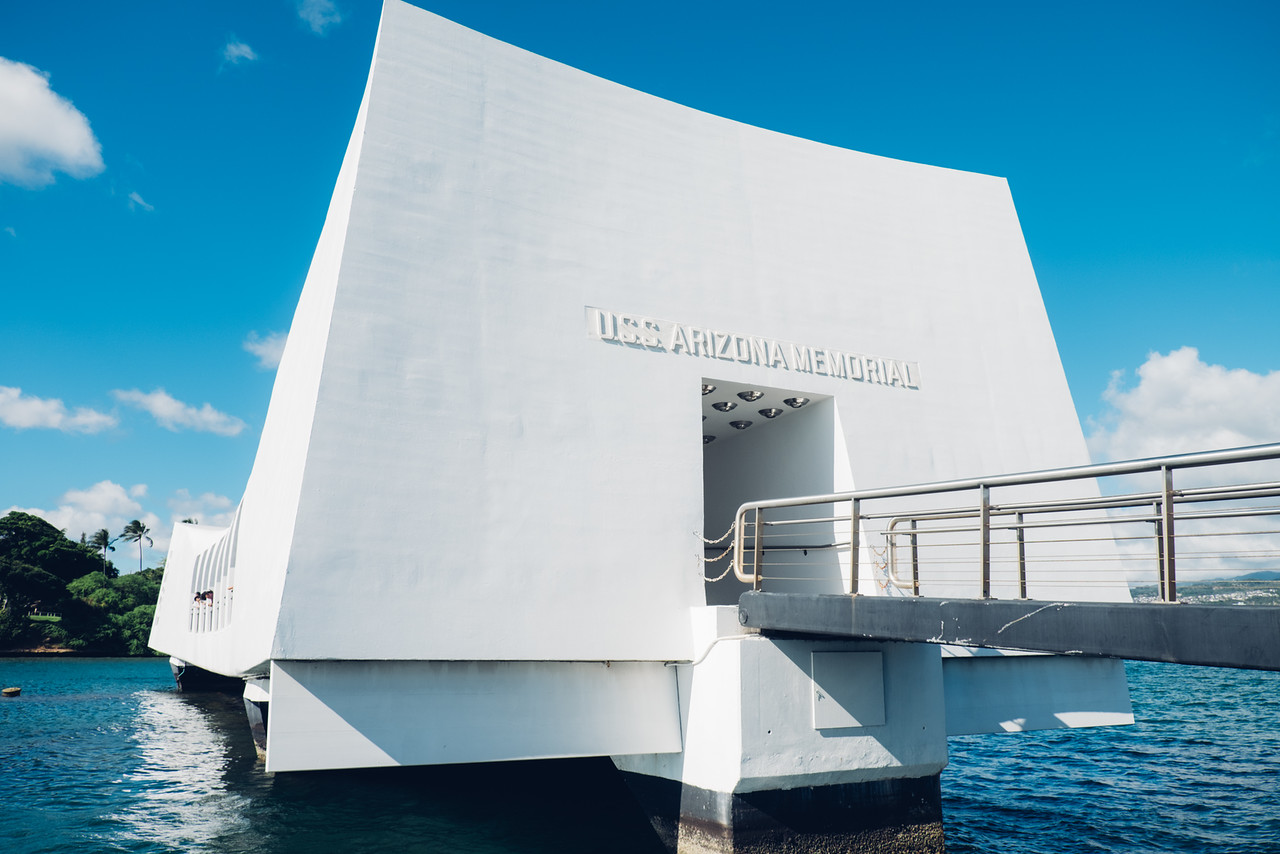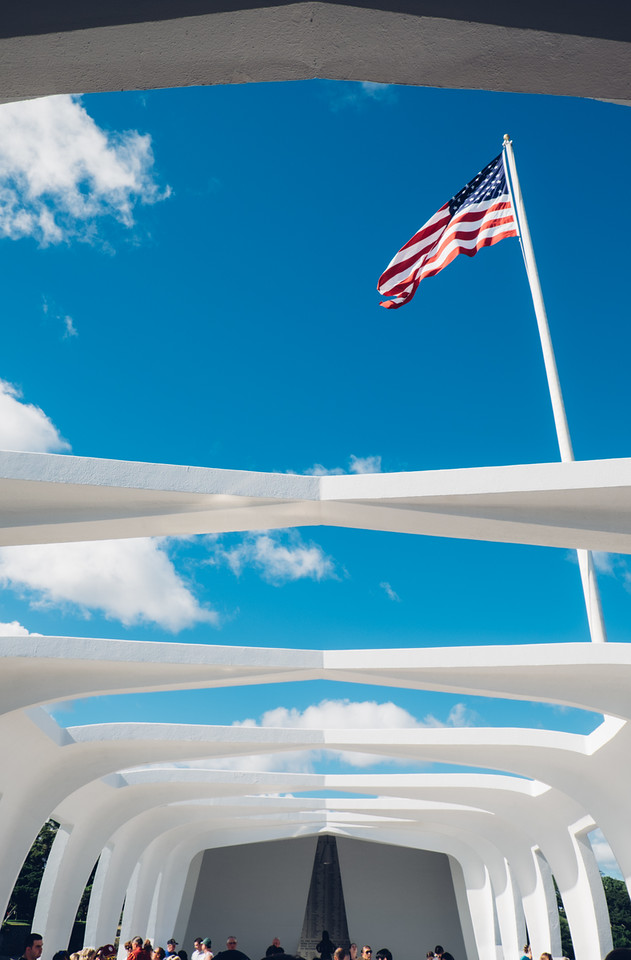 The tour started with a video in a theater that refreshed our memories on the world events leading up to Pearl Harbor, the facts on which ships were sunk and which were still standing after the attack, and the architectural details of the memorial. I was grateful for the mini history lesson so it was all fresh in my mind before we encountered the memorial. We were taken out via ferry and a had good view of the navy shipyard along the way, which is still in use today.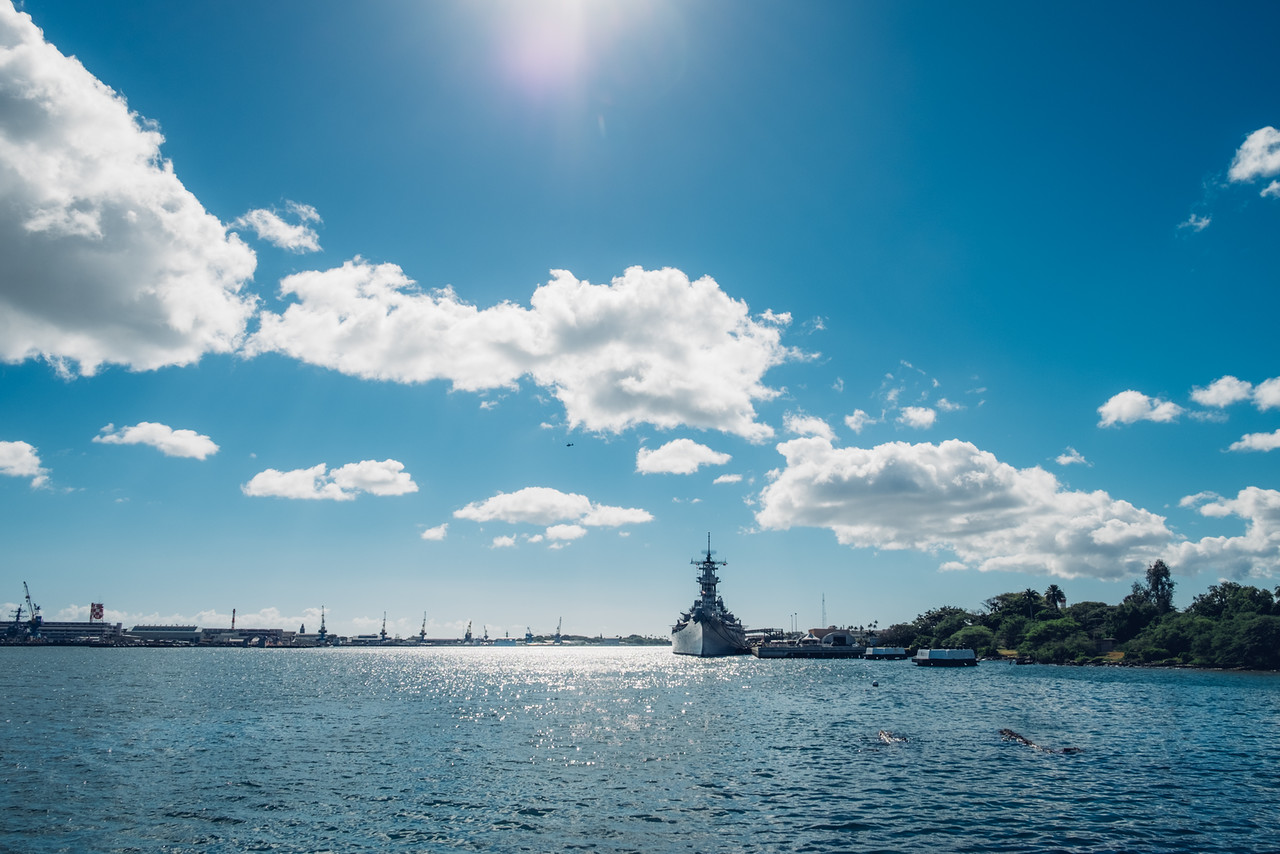 The memorial itself is pretty much what you see in photos, but what you don't get from photos is the somber feeling standing over the ship, knowing exactly what took place there several decades ago. You can still see evidence of oil leaking very slowly from the wreck and creating a slick on the water, and the severely rusted gun towers are visible from the platform.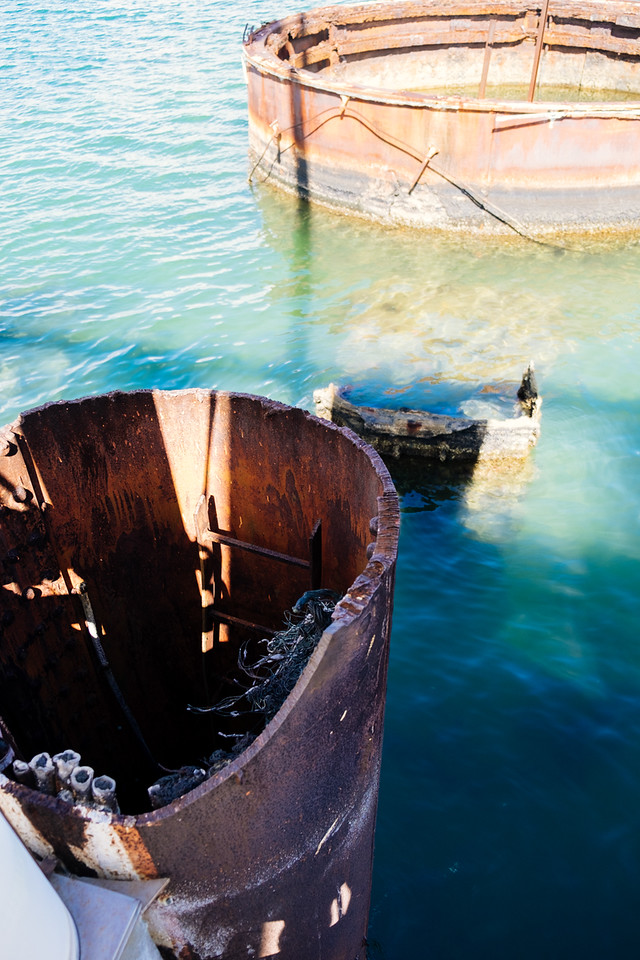 The room with the long list of names of those who lost their lives is also overwhelming and humbling. What took me by surprise is that several of the survivors of the Pearl Harbor attack have chosen to be cremated and buried in the ship when they die. What a tribute and testament to the brotherhood of the USS Arizona crew.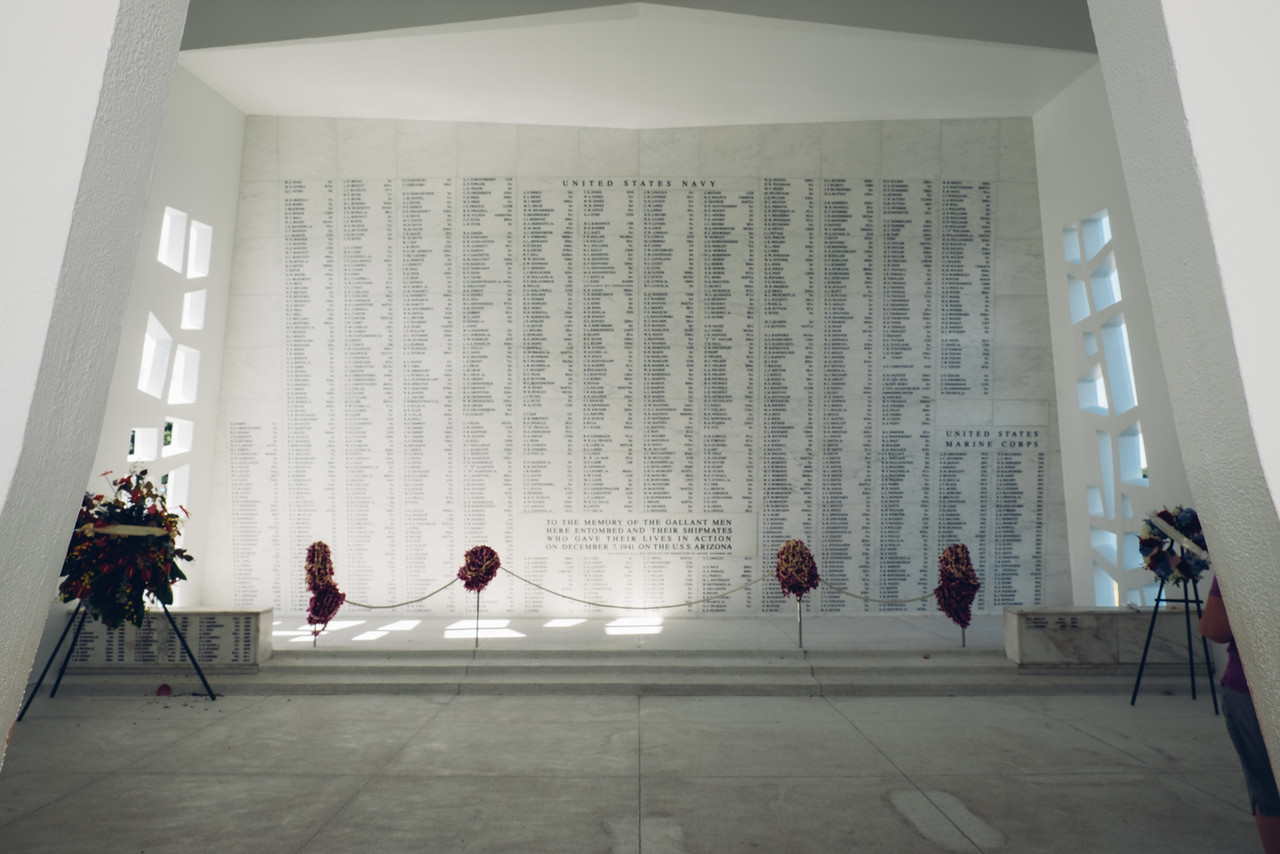 Day Three
Beach Time
Our last full day on Oahu was our "beach" day. We took a leisurely drive up the east coast of the island to check out Hanauma Bay (which was sadly closed due to a high incidence of jellyfish stings…more on our personal experience with that later), and several other lesser-known beaches.
Jordan and I aren't big on crowds, so we were looking forward to hanging out in some less populated areas than Waikiki. Similar to the coastal highway along Maui, there were several pull-offs along Oahu's eastern coast that allowed us to take in views that were classic Hawaii, such as Makapu'u Point. It was much like what we witnessed in Maui but a little less green and lush. We were pretty stoked to witness a parasailer! That dude was brave for flying between massive cliffs. It was pretty awesome to watch!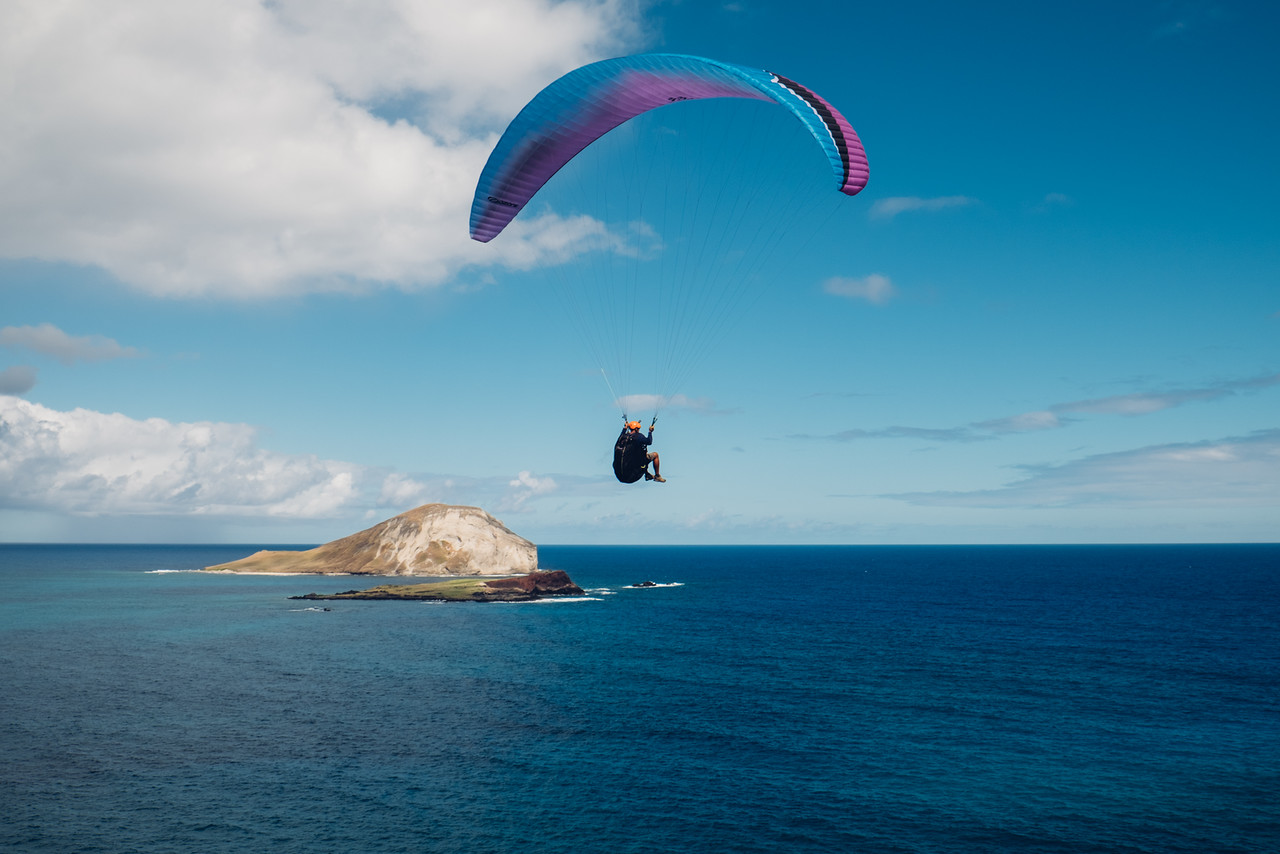 We finally decided to set up on Kailua Bay, a beach located about 15 miles from Waikiki popular for paddle boarding and snorkeling. I couldn't believe that what I was seeing in the ocean was truly a crystal-clear turquoise shade of blue. Per Hawaii, the weather was gorgeous and we enjoyed the quieter beach experience. We attempted to beach-hop over to Lanikai since its praises were sung by a few friends for the finest white sand and its picturesque ocean view, but it's located behind a private residential community where no parking was available when we drove by, so we gave up and headed back to Waikiki.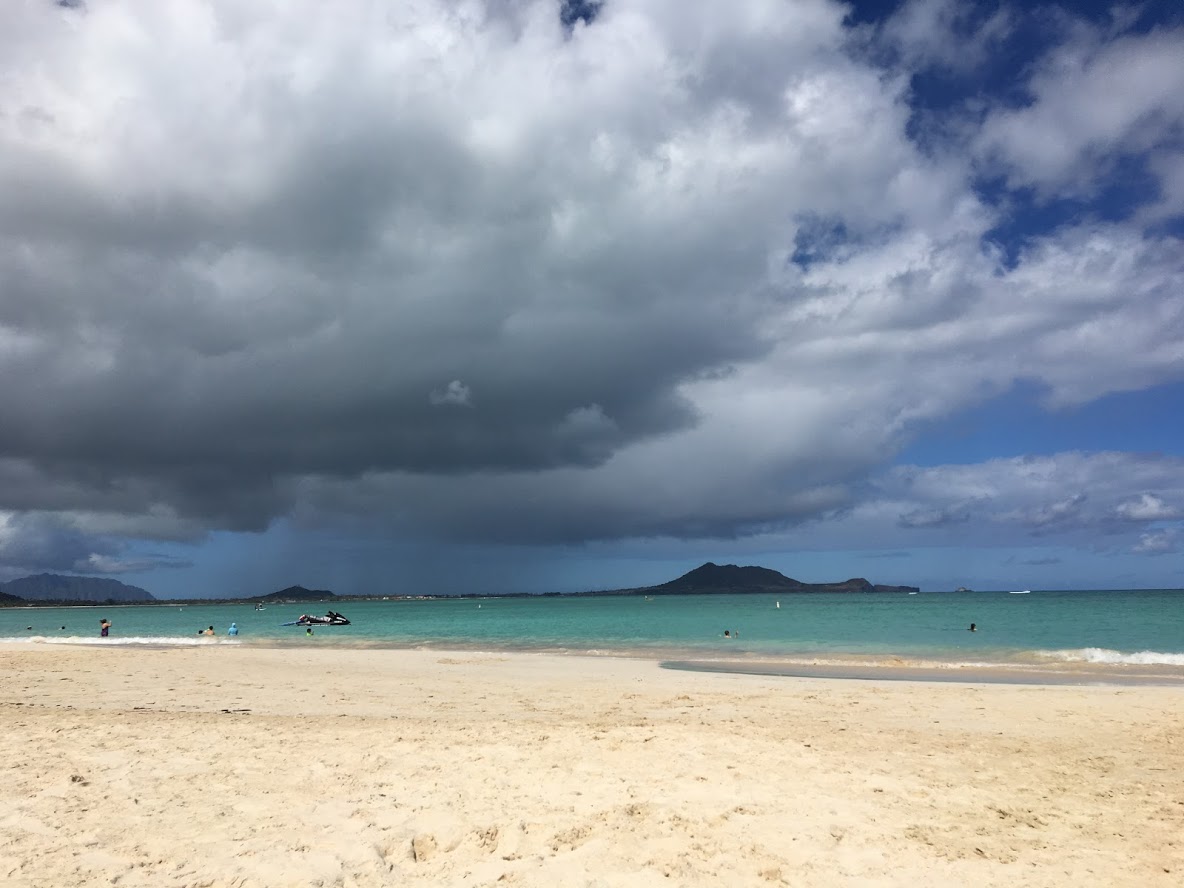 Because we had yet to step foot on the actual Waikiki beach, Jordan and I decided it would be the appropriate ending to our last full day on Oahu. We trekked over and laid out while reading since sunset was only an hour away. Jordan opted to go for a swim while I hung back. When he came back to our spot on the sand, he said "my arm feels weird and tingly," and I noticed it was red and patchy. I immediately panicked and Googled his symptoms to discover that he was probably stung by a jellyfish. He found a lifeguard who proceeded to grab a gallon jug of white vinegar and pour it over his arm. Apparently that neutralizes the poison that's released when the jellyfish stings. So, that was an unfortunate end to our short time on Waikiki beach…womp womp.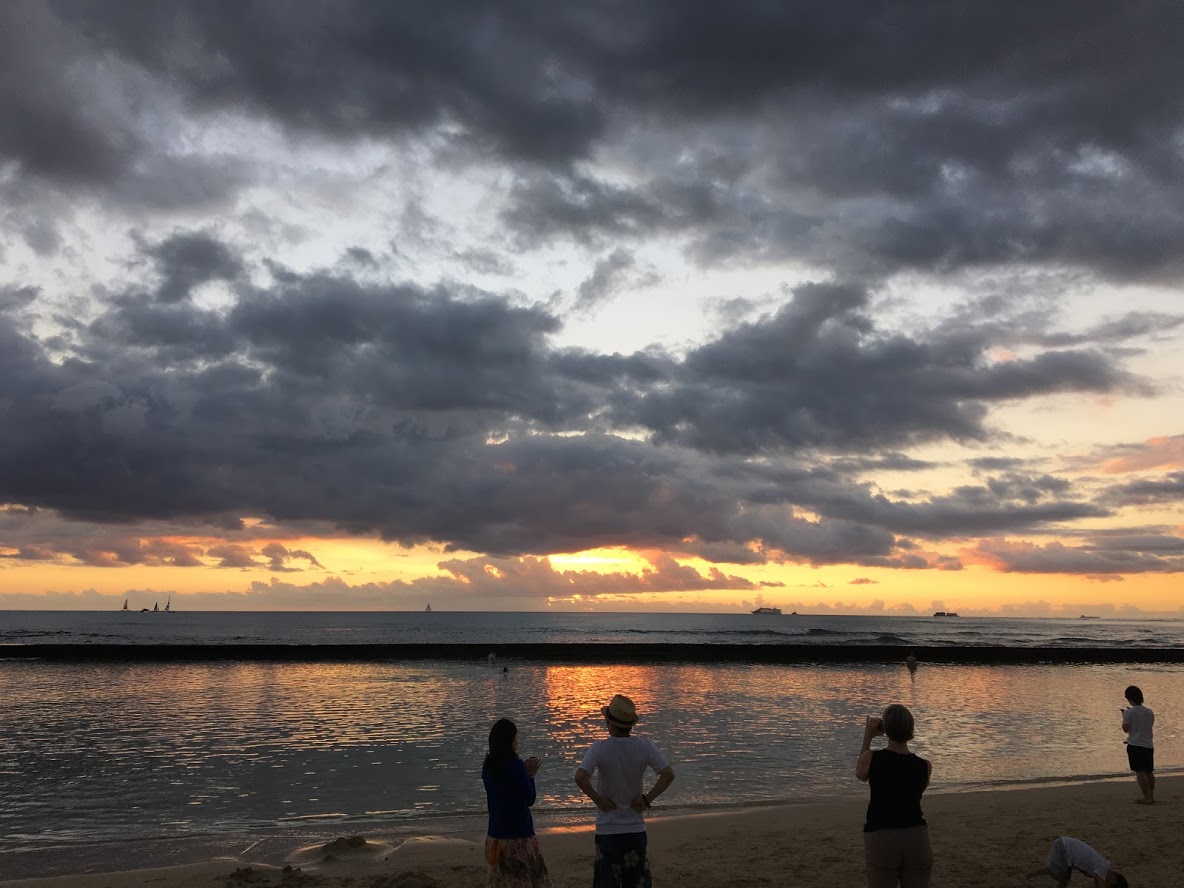 Day Four
USS Missouri
Because of our timing on the day we toured Pearl Harbor, we didn't get a chance to hop aboard the USS Missouri before it had closed for the day. We had a little time before our flight on the last day, so we decided to head back to the shipyard and check it out. It's best remembered as the site of the surrender of Japan, which ended WWII. Jordan and I had never been aboard a battleship before so it was really exhilarating to be on deck and in the living quarters.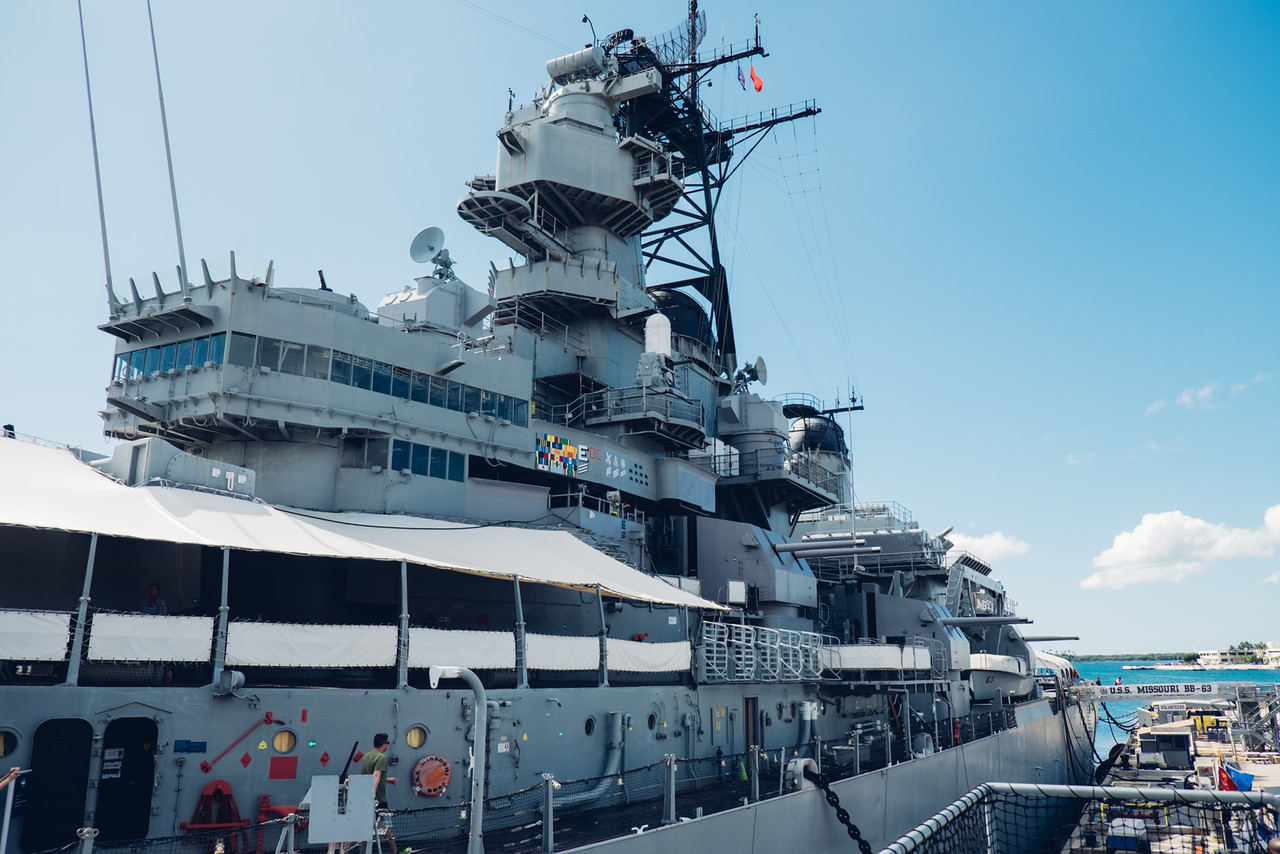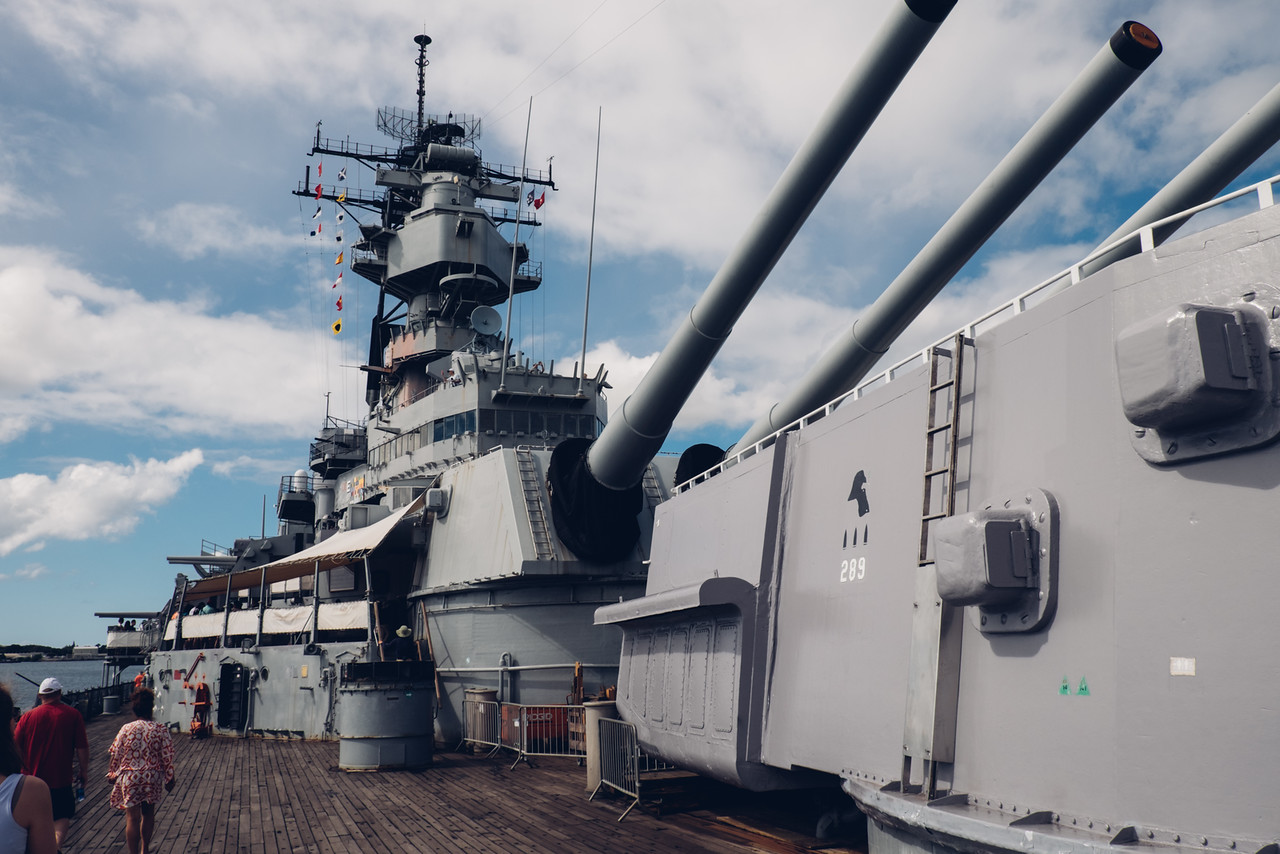 They've done a fabulous job of preserving the ship, and it was really neat to see the inner workings, such as the engine rooms and gun terrets. I also appreciated the self-guided, educational aspects. You could go on a group tour, but since we were in a hurry we just followed the signs. If you like history and have a love for navy vessels, you'll enjoy the Mighty Mo. Just a forewarning, the admission is a bit pricy but you can make it worth your while if you take your time going through everything in detail.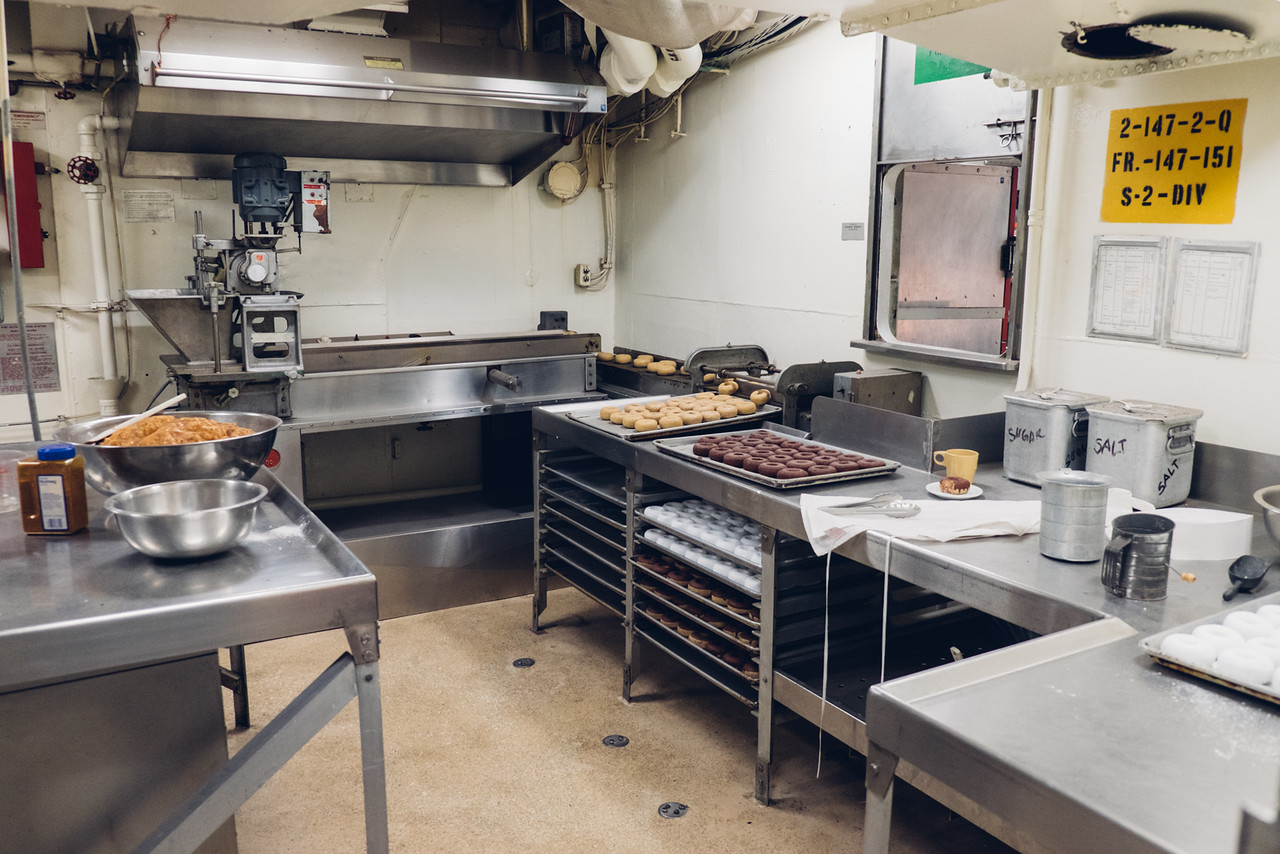 I'll spare you the rest of the complete trip details, but to sum it up we nearly missed our flight, ended up stranded in Minneapolis for several hours because of a snowstorm back home, and our luggage got lost (but made its way back later that day). At least the travel headaches happened at the end instead of the beginning. It was all worth it. Can't wait to start planning our next trip back! For now…Aloha, Hawaii.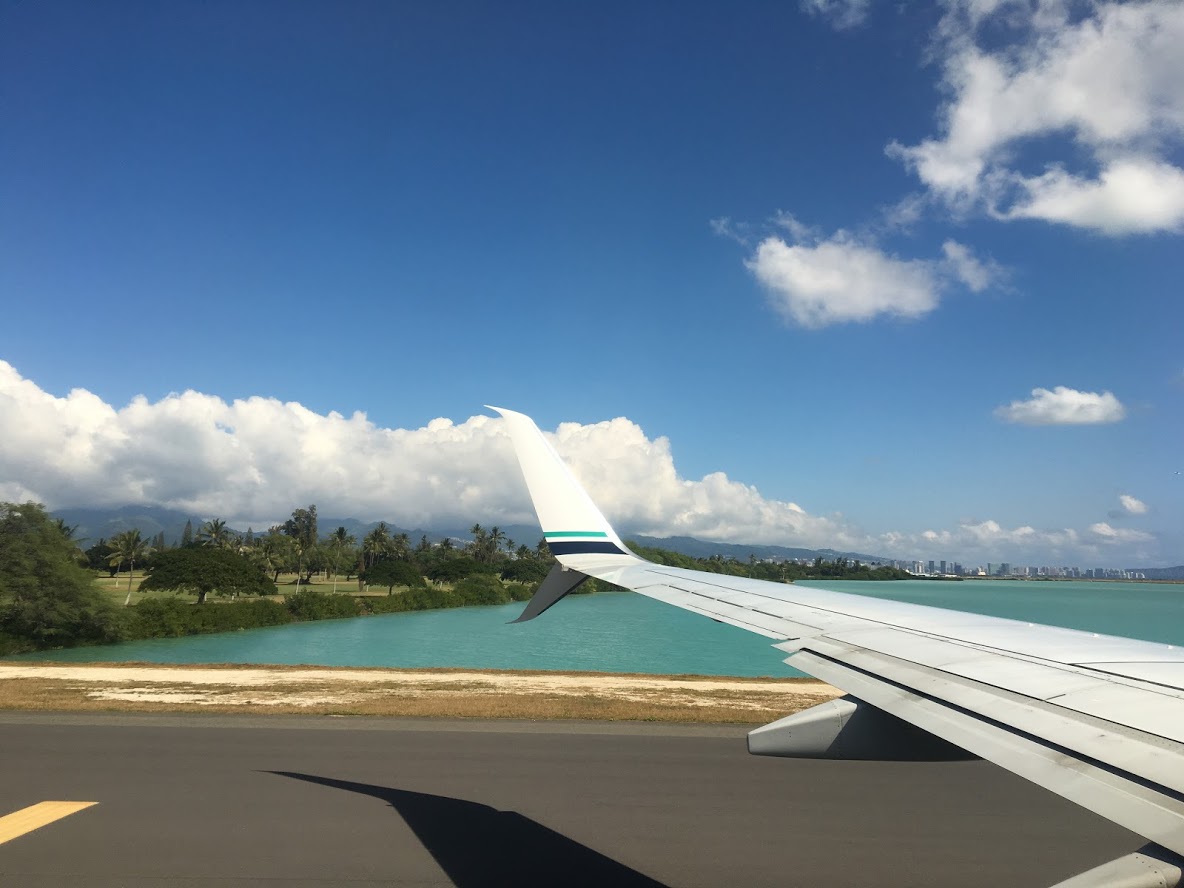 If you've been to Hawaii, what's your favorite island to visit?