This post was not sponsored by Blue Apron, and they don't know I have a web site. I paid for the service on my own in an effort to change up our dinner routine and bring a review to the readers of this site. Other disclaimer: I'm not a food photographer and only snap some quick iPhone photos here and there when I think of it – so don't let the low-quality pics trick you into thinking this food wasn't delicious. I included some photos from Blue Apron's site to show you the real deal!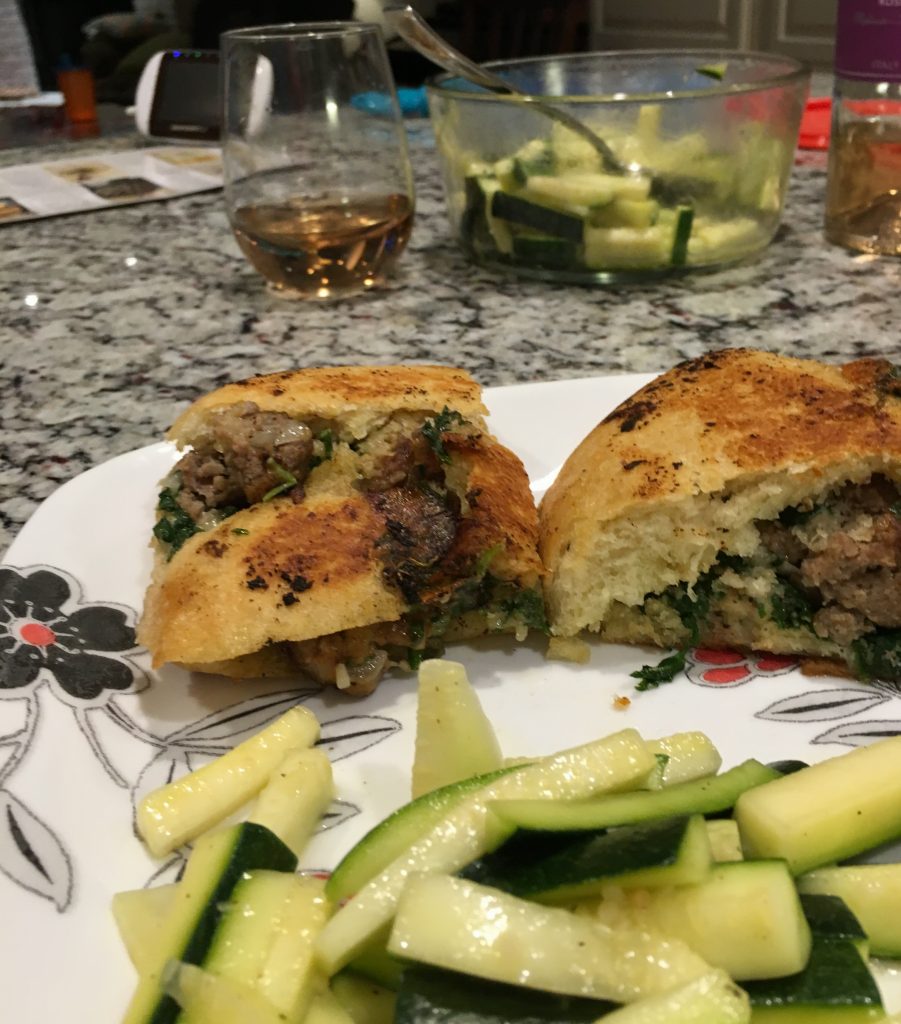 After being a longtime blog reader, I've seen many food and lifestyle bloggers feature Blue Apron dinners in their posts in return for a partnership with the meal delivery service. Once I  saw it appearing so frequently all over the internet it piqued my curiosity, and since I love to cook and try new cuisines I decided I wanted to give it a whirl. After receiving a few discount coupons from them in the mail, it helped make up my mind about trying it sooner rather than later!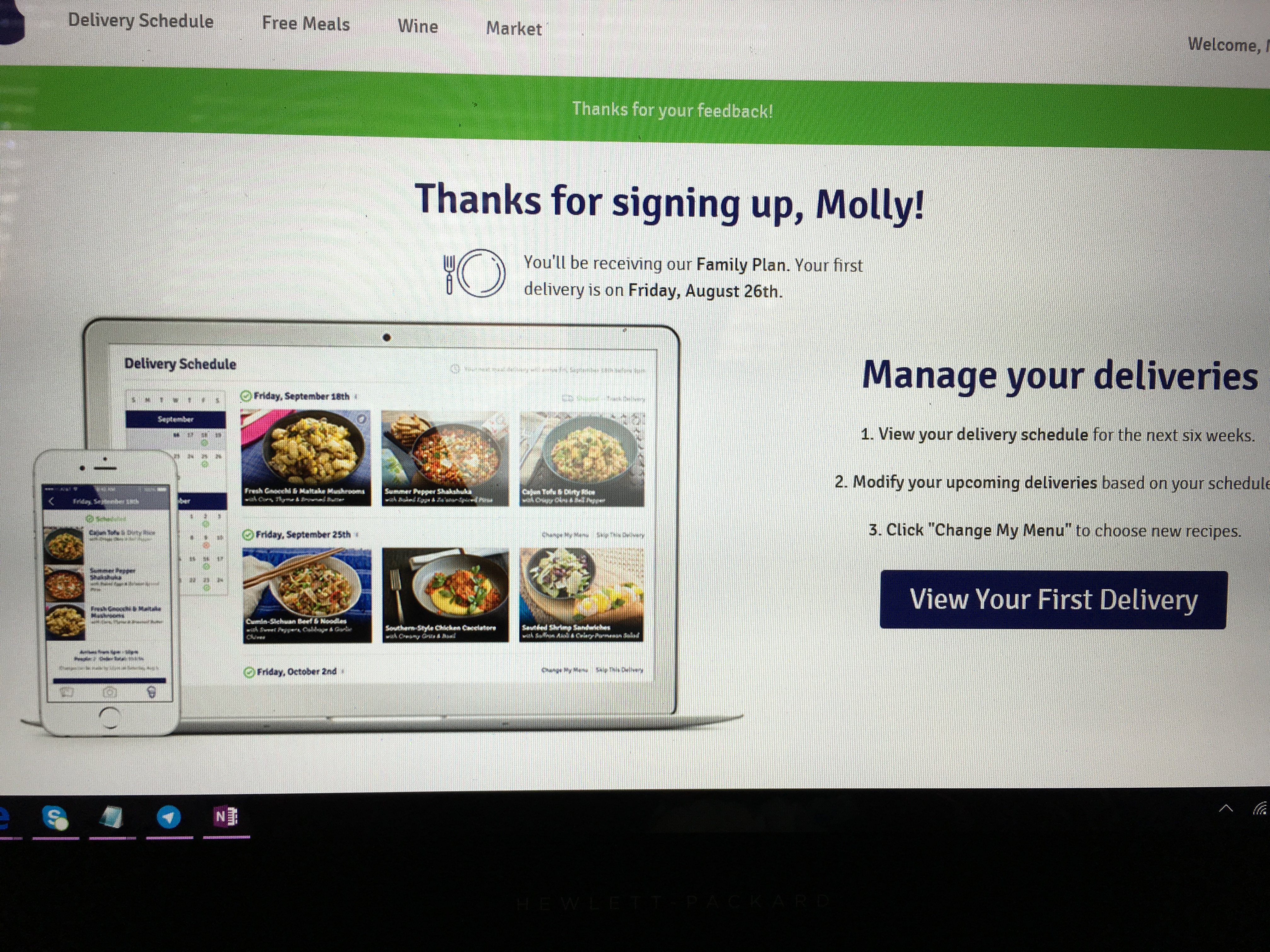 Blue Apron is touted as a great way to serve restaurant-quality meals at home. On their web site, they say their mission is "to make incredible home cooking accessible to everyone." Not to mention they place a high priority on quality sources for their food – valuing sustainable fishing, close relationships with local farmers, and investing in the skills development of home chefs.
Here's how Blue Apron works:
Through their web site, you can choose from one of two meal options: a 2-person or family plan (which feeds about four). You then select your delivery date, customize your dietary preferences if necessary, and also have the option of choosing what meals you'd like (they are already pre-selected for you but you can change it out for something else). In the shipment, you receive everything you need to make your meals, and it all comes in a refrigerated box right to your doorstep.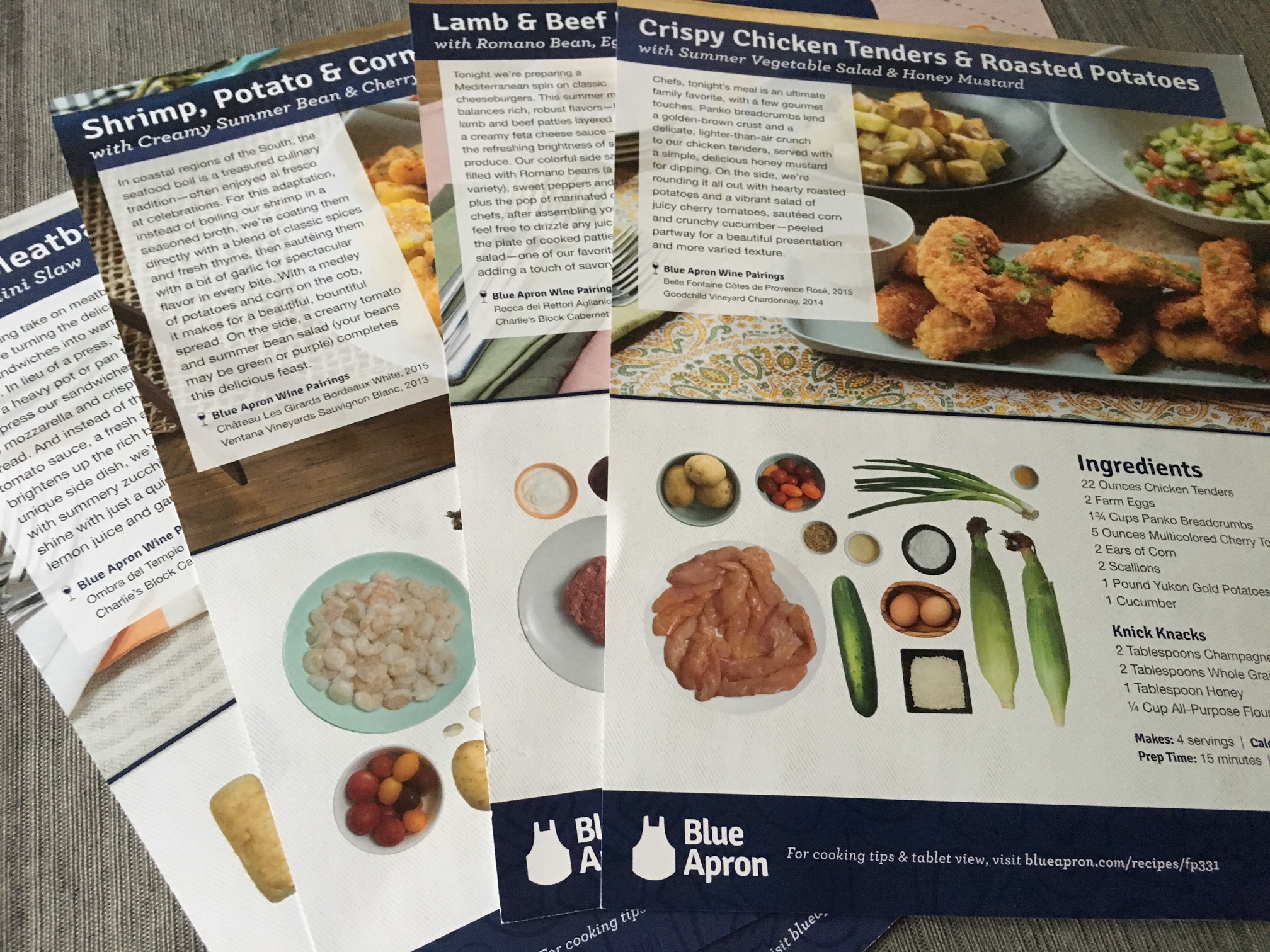 Each meal comes with a detailed recipe sheet that goes step-by-step through the entire cooking process. They even include some fact sheets covering fun information about specific featured ingredients. The other great part is that the basic recipe is provided if you want to recreate the meal at a future time by shopping for the ingredients yourself.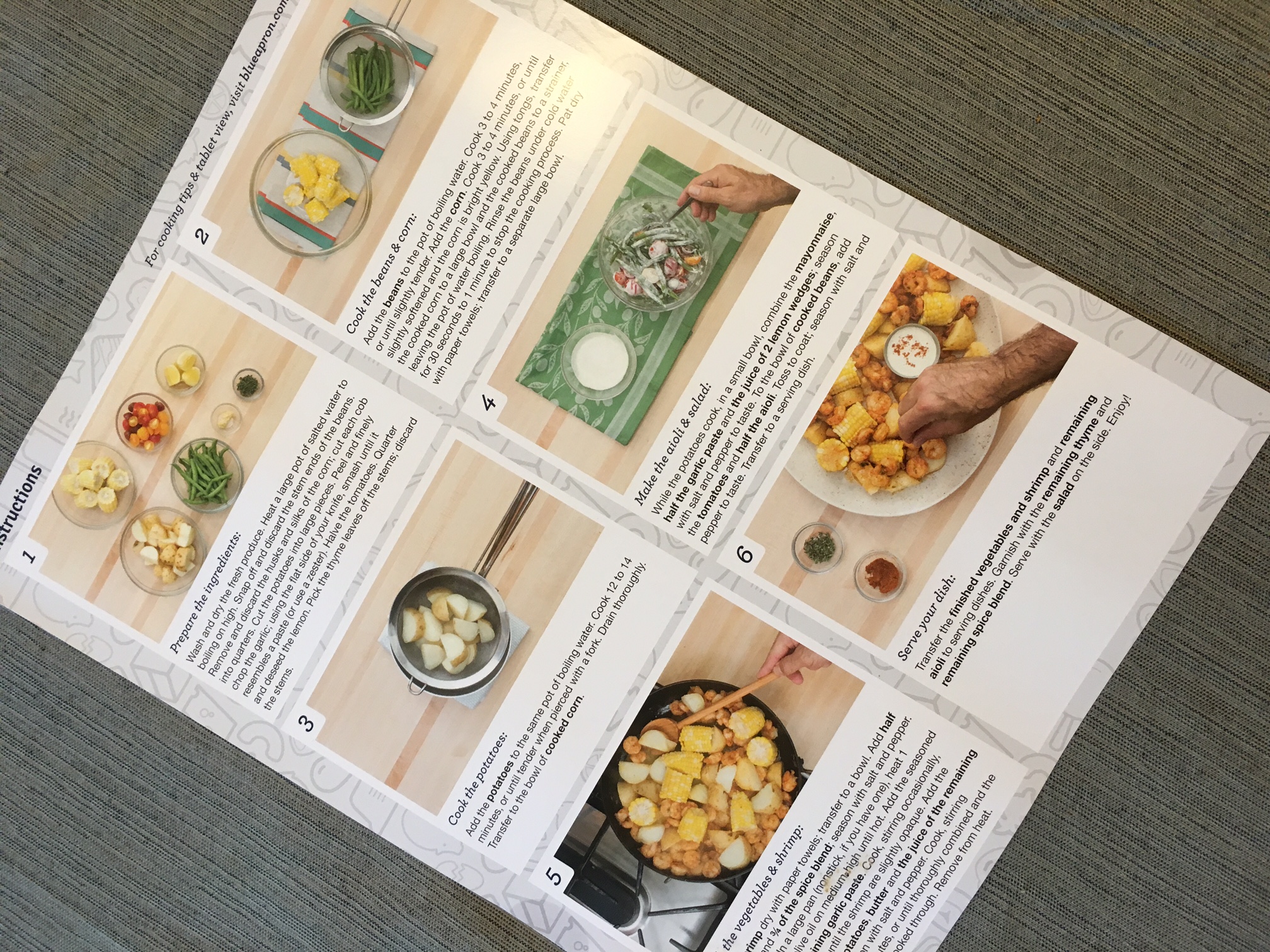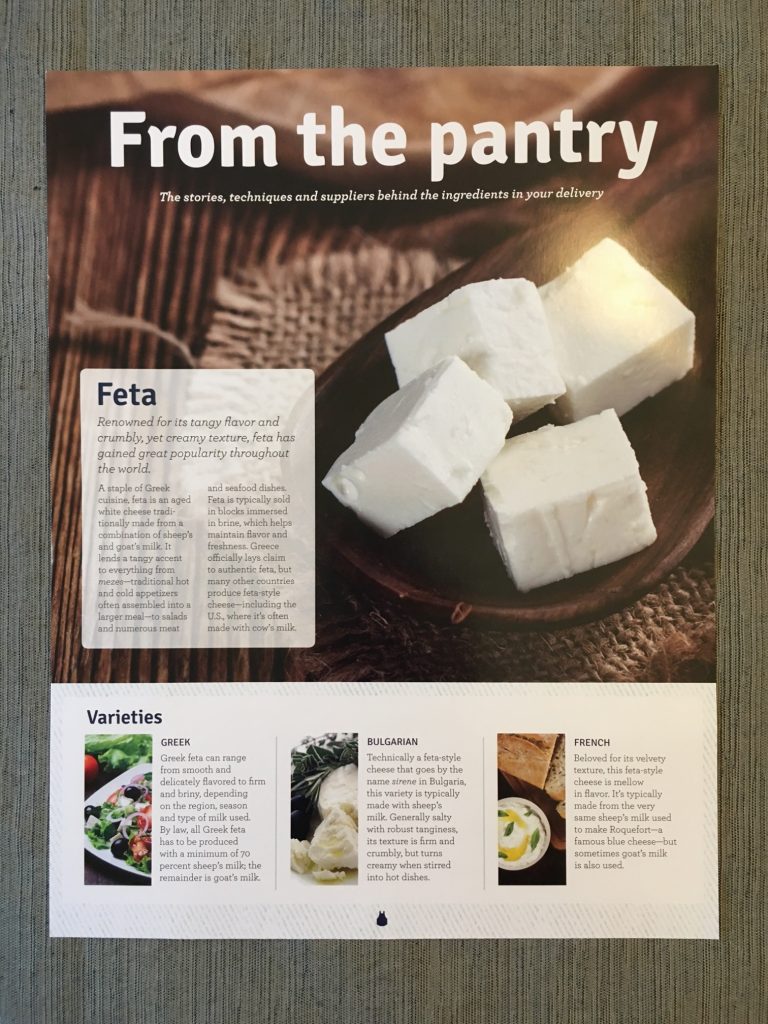 You can find more information on their FAQ page which thoroughly covers the ordering and delivery process.
Our meals the first week:
Otherwise known as the meal where I accidentally tried to destroy my family's taste buds with a whole head of garlic (due to me not reading the directions carefully, and by no fault of Blue Apron's). Whoops! Other than that, this meal was a total win.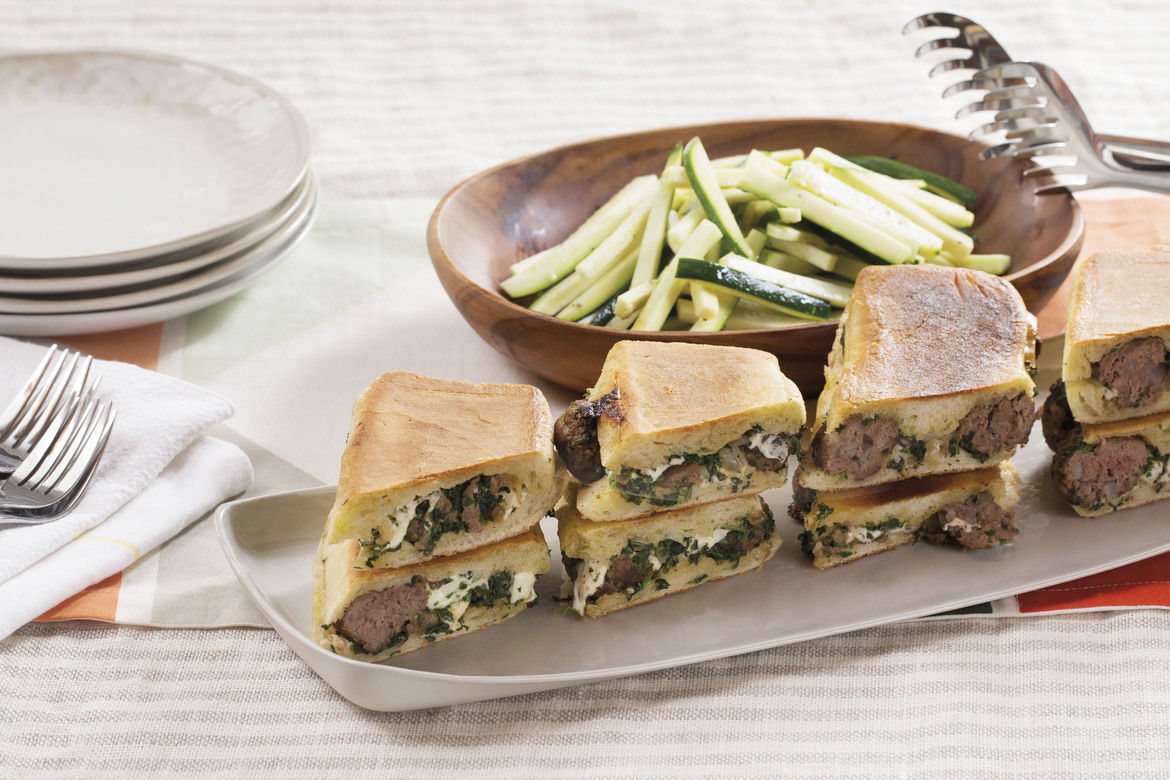 This was an interesting twist on a meatball sub. I would've liked a "saucier" pesto because the arugula "paste" was a bit dry for my preference, but overall I liked the concept. Plus, how can you go wrong with meatballs?
Our meals the second week: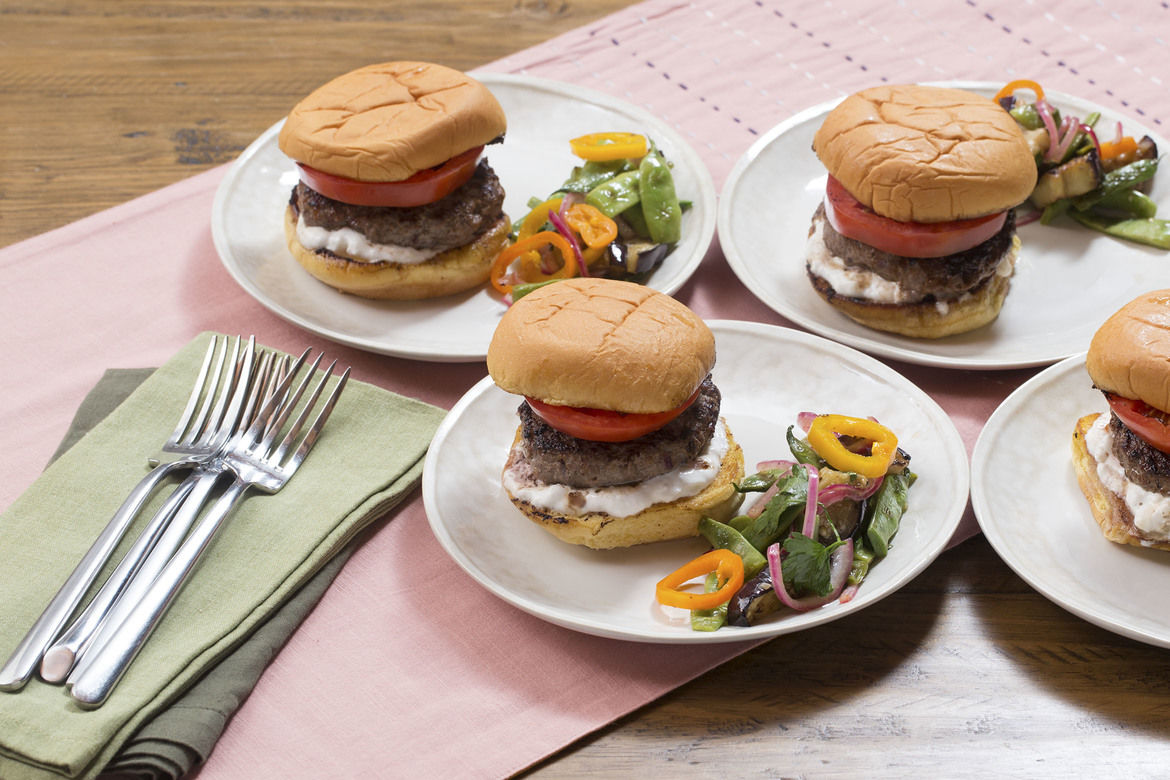 I haven't had lamb many times in my life, but this combo of ground beef and lamb was genius! And the Feta-Greek yogurt sauce was the perfect accompaniment. The salad took a lot of prep work, but I liked the unique texture of the raw, cooked, and pickled veggies all together.
This is on the docket for tonight, and I'll update this section once we've tried it. It appears to be pretty kid-friendly, so I'm looking forward to avoiding a dinnertime battle. 😉
Pros:
You enjoy a restaurant-quality meal at home each time, using various cooking techniques and flavor profiles than you might otherwise use on a regular basis.
It was pretty amazing to have a large majority of the menu planning and grocery shopping done for me, while using fresh and whole ingredients. They include everything – down to the one egg, tablespoon of mustard, or pat of butter, etc. that a recipe calls for. I think olive oil, salt, and pepper were the only pantry items I needed that weren't included in the box.
The simplicity of the ingredient list. As much as I enjoyed the main dishes, I loved the philosophy of the side dishes even more. Taking the vegetables and adding a simple aioli or vinaigrette really let the flavors and textures of the vegetables shine through. But that carried over into the entrees as well since each had under 10 ingredients in it – making it both healthy and wholesome.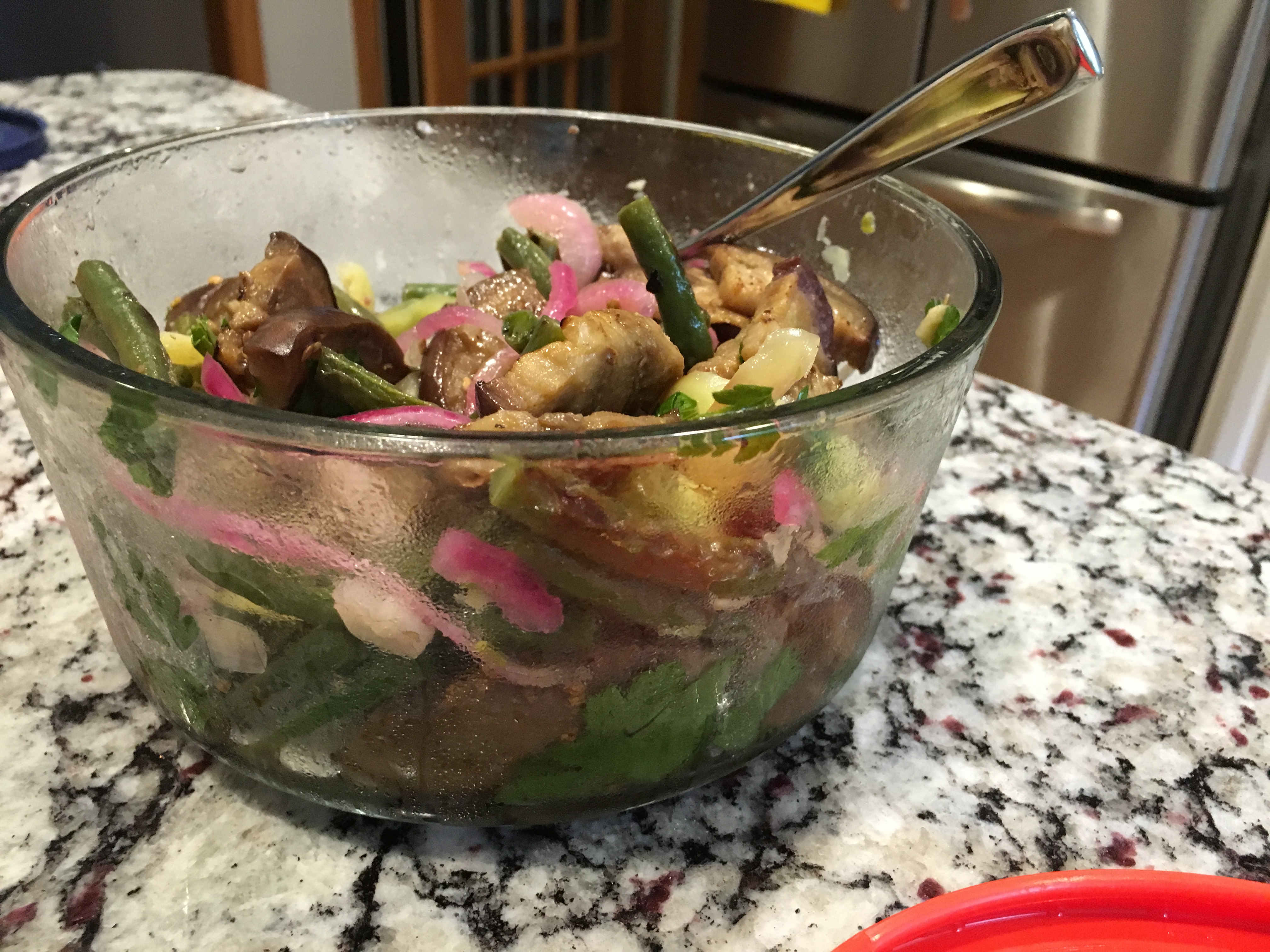 Generous serving sizes. We chose the family plan (four servings) because I love to have leftovers, and there was definitely plenty to spare after the first round.
The pre-measured quantities allow for a lot less waste and unnecessary purchases. How many times have we all needed a specialty ingredient for a recipe (requiring only a small portion), and then it ends up spoiling in the fridge months later? Blue Apron sends you just the amount you need.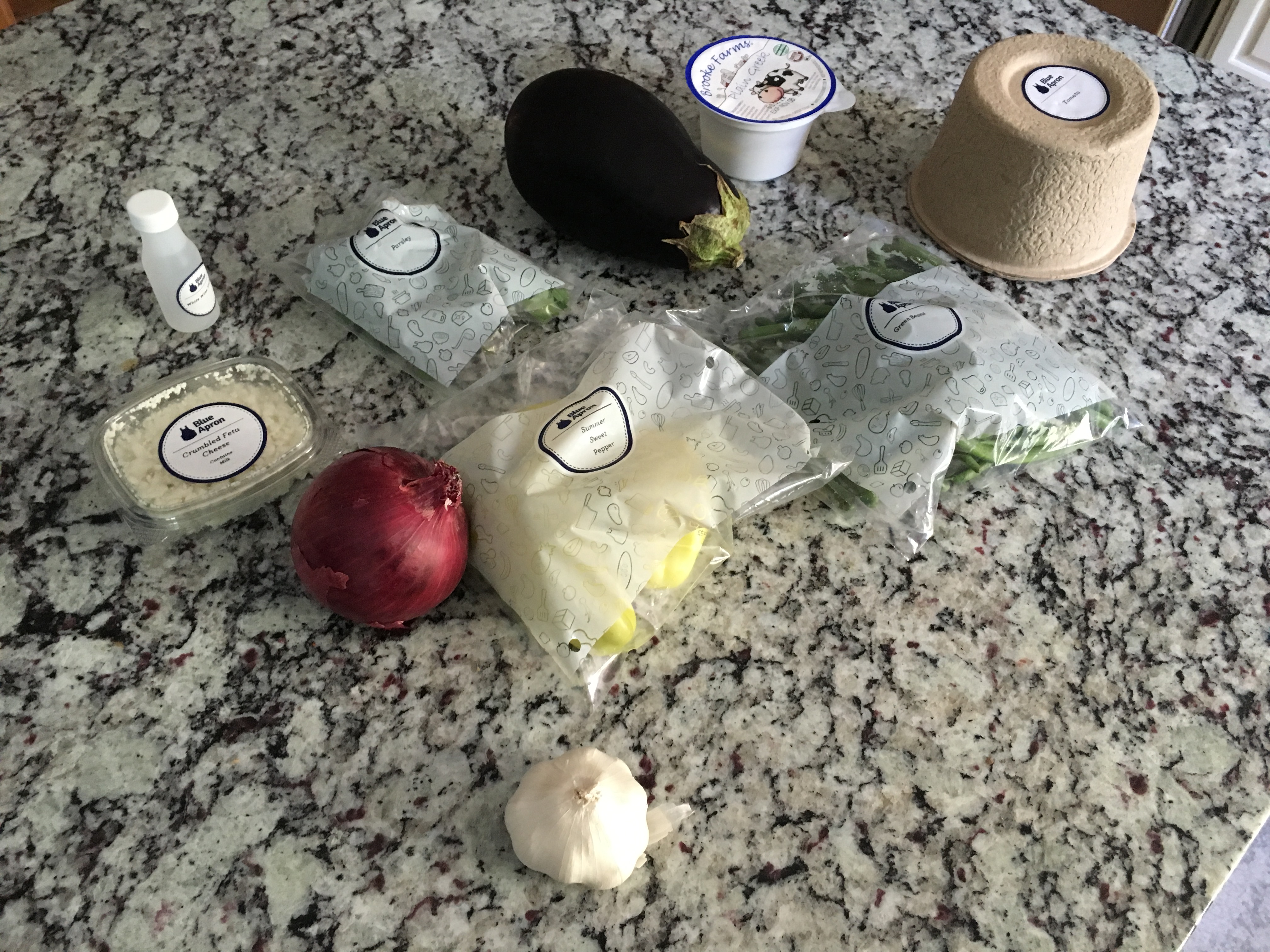 I'm a big proponent of eating local whenever possible, and I'm really impressed that Blue Apron goes out of their way to work with artisanal purveyors and family-run farms in offering seasonal produce options. In fact, with our second meal delivery we received a note that said they needed to swap out the type of beans in the side salad because of availability.
Packaging. The refrigerated box will keep for up to a day since it's in a fully insulated bag and packed with frozen gel packs. Everything was placed in there with care and I never found any bruised or browned produce upon opening – it was all fresh as can be as if I had just picked it up from the farmer's market myself. An extra bonus is that all of the packaging is recyclable/reusable.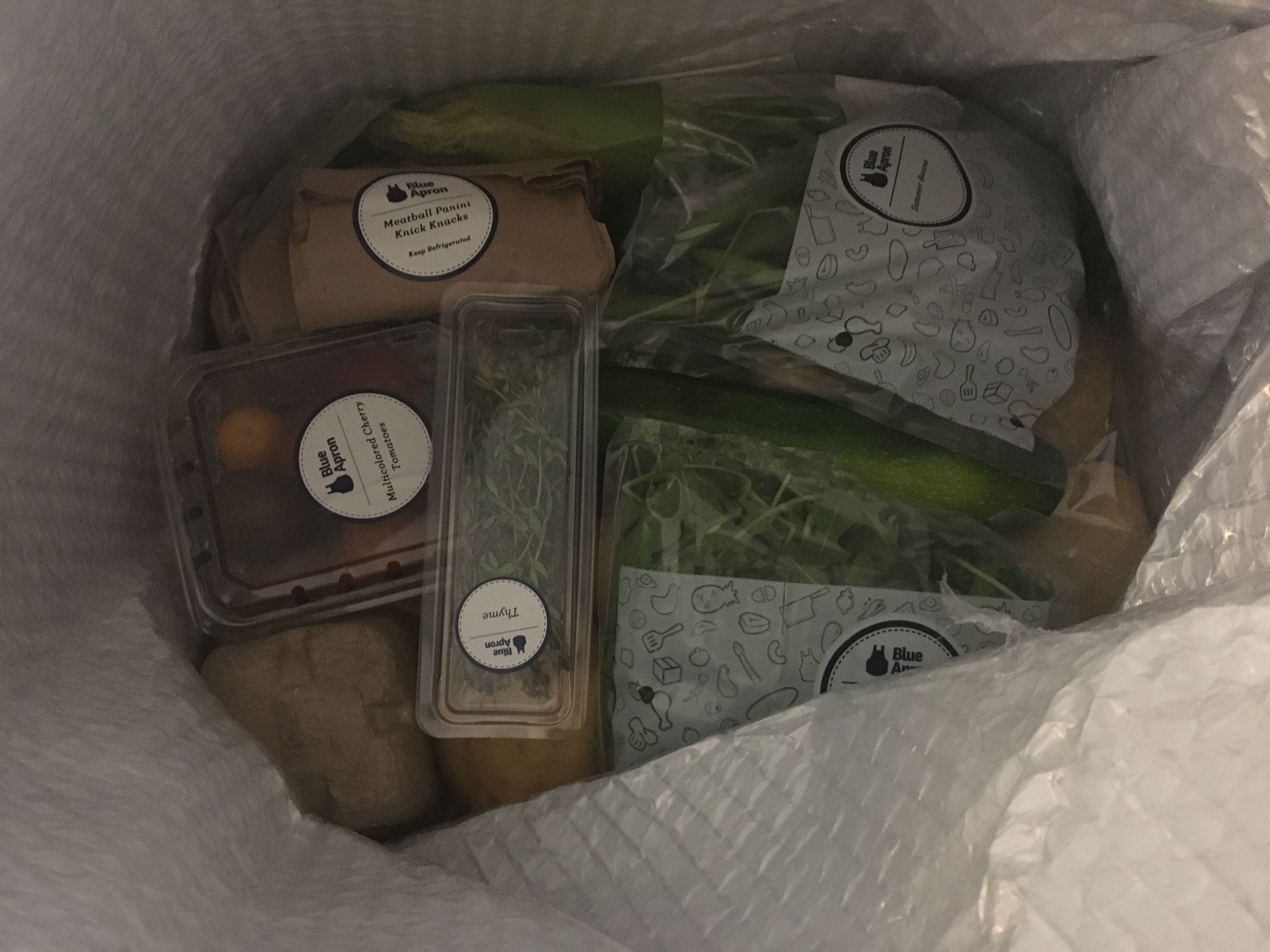 Cons:
The preparation and cooking process is time-intensive. I consider myself a pretty experienced cook and can usually knock out meals pretty quickly. In my opinion, the preparation time stated on the recipe sheets for these meals was grossly underestimated – the steps are pretty involved and laborious. I'm sure I would get used to preparing them quicker if I kept going through the process week after week, but at this season in my life I need something faster and less hands-on. It pains me to say that because cooking dinner used be one of my favorite parts of the day – a chance to wind down and make a fun new creation. Now it's a game of how fast we can slap the food on the table and please the toddler's palate. So in hindsight, I'd probably save these recipes for weekends when we're usually less hurried at the end of the day to make meals (and would adjust the delivery date according to that).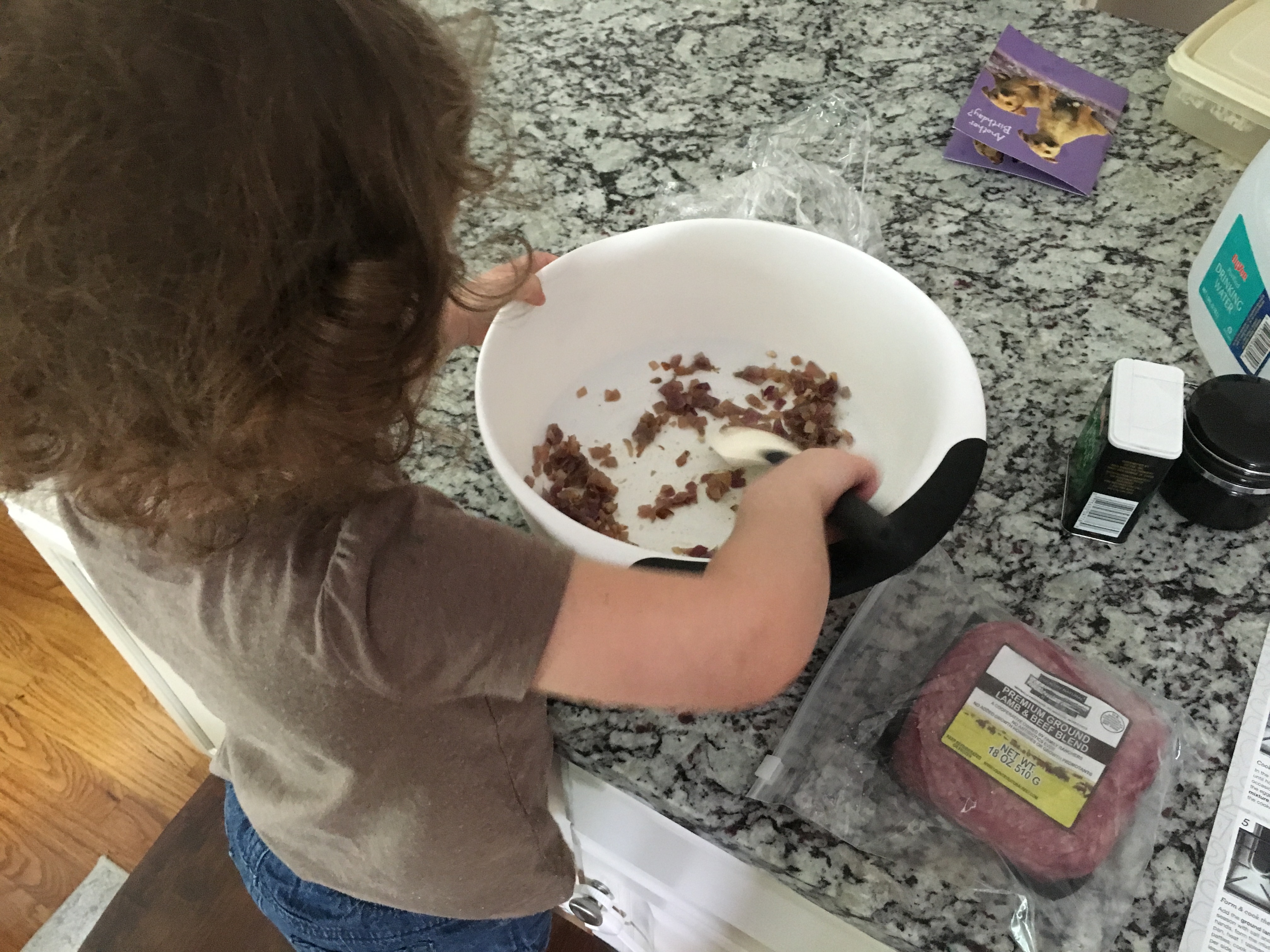 The cost. I initially scoffed at the price (before the discount) and questioned whether it was going to be worth it for what you get out of this service. This is definitely not a bargain dinner option (regular pricing is $9.99 per serving for the 2-person plan and $8.74 per serving for the family plan – shipping is free), but for the type of food and meals I still think it's a reasonable amount. You can easily spend much more than that when you go out to eat. Even though we had to prepare it ourselves, it was locally-sourced, fresh, and different than the norm, so I feel like that makes it a fairly good value.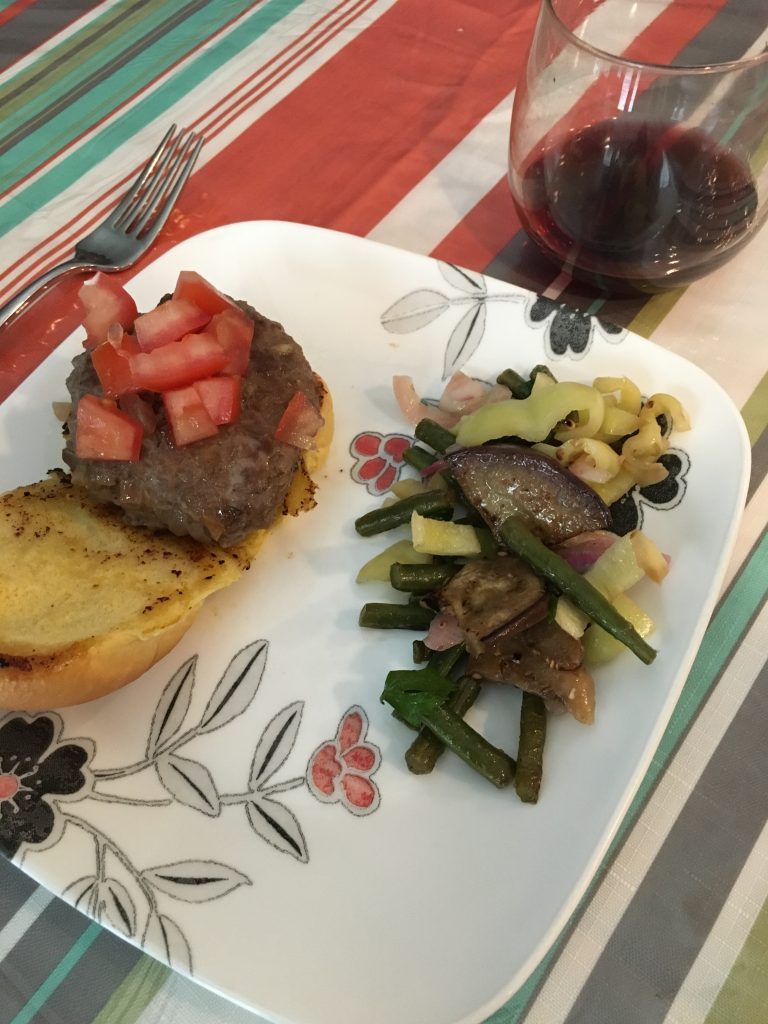 Overall, we really enjoyed the experience and the opportunity to try something new – it's fun to expand our horizons and be introduced to new dishes that we might not otherwise cook. It definitely won't be an every-week type of occurrence but we'll probably order it again. It's the ideal solution for busy weeks when you need the extra convenience or you simply want to break out of a dinner rut!
***For a limited time, Blue Apron is offering three free meals with your first order when you sign up!***
Have you tried any interesting new ingredients or recipes lately? How do you change things up if you're feeling uninspired in the kitchen?